Tips for Conquering Tokyo Disney Resort Like a Pro
Visiting Tokyo Disney Resort may seem like a daunting task for some, especially those who have never been to the Disney theme parks in other regions before. Considering the perfectionist I am, I wanted to make sure I had it all planned out. Again our philosophy is to make the most out of our time there. After digesting countless articles on Tokyo Disney Resort, we bring to you our key tips to tackle Tokyo Disneyland and DisneySea like a pro.
A few assumptions have to be made here:
You've got at least at full day per park, and are willing to stay from park opening to closing.
You want to experience the popular rides of Tokyo Disneyland and DisneySea.
No health issues and able have irregular and improper meals for the day.
Able to walk fast and for at least 5 hours, and able to stand for at least 3.
1) Purchase Your Park Entrance Tickets Beforehand
From where we come from, we've got several channels from which we could get our tickets. Klook is a popular platform to purchase touristy related stuff. And in Singapore, there are various tour agencies selling these tickets. JTB is a classic, and we'd recommend getting from there for the sake of convenience. In the name of time-saving, we strongly recommend getting the tickets beforehand, and not at the gates.
2) Stay in, or Near the Resort
You'd want to arrive at the gates at least an hour before park opening. Do check out the Tokyo Disneyland opening hours via their official website, because the operating hours are slightly different across seasons. Staying near the resort ensures you optimize your time without sacrificing too much sleep. Sleep is for the weak. We stayed at Sheraton Grande Tokyo Bay Hotel, which is literally like 15 minutes away from the parks, so we'd get more sleep. Because we are weak.
We recommend staying at Urayasu itself, preferably in one of the official hotels. If money is not an issue, consider going for the Disney Hotels for a more wholesome experience. Some of them have souvenir shops in their premises, so you can always get whatever you need on the day you check-out.
3) Plan Wisely
Failing to plan is planning to fail. Countless celebrities have used this quote, till Google doesn't even know who came up with the original. I suspect it's Sun Tzu. There's no need to explain why planning is important. Maybe except for the fact that I like to stress on: to maximize the time spent. I suppose you're as obsessed as I am, otherwise you wouldn't be reading this.
Choose a good time to visit: Definitely, the obvious periods to avoid are school holidays, Golden week, and weekends in general. It is inevitable that you'd hit one of these conditions. But yeah do check out the forecast beforehand. We'd recommend going to the resort between Tuesdays to Thursdays.
Choose your rides carefully: It is almost impossible to take all the popular rides (i.e. FastPass enabled rides). The official site gives you a good glimpse of the attractions you in the parks. park traffic forecast, fastpass ride forecast.
Choose which parades you want to catch: Again it is almost impossible to take all rides and catch all parades at the same time. Usually when a park-wide parade happens, the queues for rides get shorter. You can't have it all, that's life.
This article at TDR Explorer has the most accurate crowd tracker. It is a park traffic forecast, weather forecast, and FastPass standby time predictor all rolled into one. Do check it out.
4) Understand the FastPass System
What is the FastPass?
In Singapore, we've got the honor of hosting the famous Universal Studios Singapore. In USS, there's a system where you purchase an Express Ticket to be entitled to join the priority queue. Which supposedly is faster moving than ordinary queues. The flaw is this: the Express Ticket can be bought, and therefore in theory if half the park buys it, then these so-called priority lanes are as good as normal.
Every Disneyland or DisneySea ticket holder is entitled to utilize the FastPass. At selected rides, there'll be a FastPass machine that allocates a limited number of "reservation tickets". Once you receive the ticket, you have to be back at Upon utilizing it, you will be put into a 2-hour cool down window before you can clock in your next FastPass. In theory you could clock up to 7-8 FastPass rides from park opening to closing, because the cool down period may be actually less than 2 hours. That said, it is generally impossible because there is a finite number of ticket allocation. Therefore the more crowded it gets, the earlier the FastPass tickets would be completely disbursed out.
There are many guides out there that explain numerous strategies to fully utilize the FastPass. I wouldn't do that right here, but this is just a brief explanation of what it does. When I first read about the FastPass system, I was extremely confused. However after truly understanding how it works, I found it ingenious and truly appreciated this system. Use this information to your advantage.
The Anatomy of a FastPass Ticket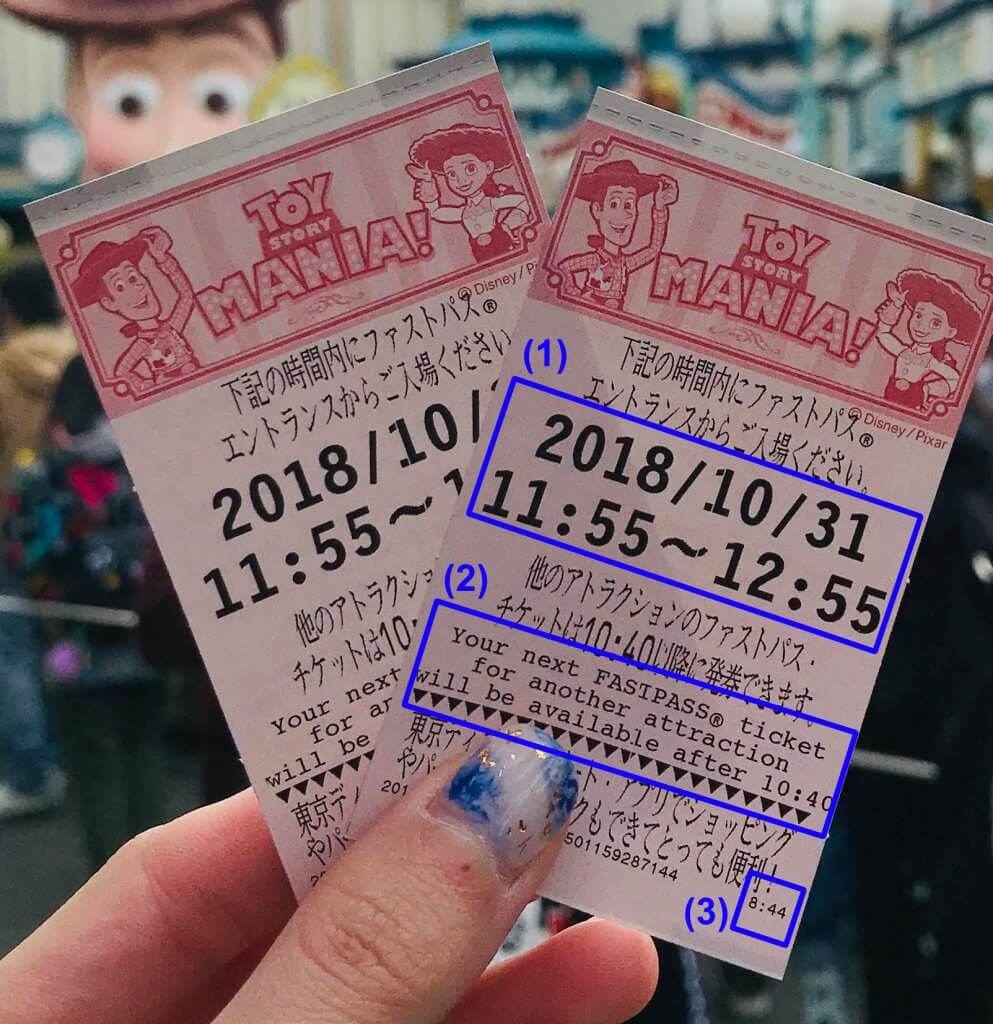 (1) Timeslot allocated
Be at the attraction at anytime within this hour. No refunds for missing the window.
(2) Next FastPass window
Usually after around 2 hours of clocking this FastPass. This is to give everyone an equal chance at it.
(3) Timestamp of current FastPass
As you can see, we snagged ours at 8.44AM and were allocated a slot in the afternoon.
How Do FastPass Tickets Look Like
In case you're wondering why we like to take photos of our FastPass tickets… Well I'm not too sure why we'd have them either. We just do. As you can see, the structure of FastPass tickets look really similar.
5) Don't Be Shy, Rush for the First FastPass
As a true blue Singaporean, kiasu is in our blood. In a non-Singaporean context, it simply means FOMO. Assuming you're already there an hour ahead of park opening time, you're still only 50% kiasu. You only earn the other 50% after you exhibit the spirit of rushing the moment you get past the gates.
Many others (Japanese alike), know exactly what they are doing. Therefore I urge you to study the FastPass system, and plan your first FastPass ride. Know it's exact location as much as possible, and once you get past the bag-check area, run for it. There's no shame in rushing, really. Everyone else who know what they are doing are also rushing for their first FastPass. It is important because it sets the pace for the rest of the rides, especially if you are going for the extremely popular attractions. You might have an advantage in Disneyland, because at least about half the population have kids with them. You may want to consider hitting the gym for a little to gain some stamina as it is a distance from the gates to the first attraction.
6) Don't Waste Time Dining and Shopping
The number one among our tips for Tokyo Disney Resort: do not eat at the restaurants. While it is tempting to want to try that Mickey shaped waffles or burger, you're gonna need an hour or so if you do that. Out of 10 hours, an hour is precious. That's why we assume you are able to have irregular and improper food intake. Get your calories from the snack shacks, and sit by the benches to eat. Benches are plentiful here, not to mention the food itself is cute and looks good with a Disney backdrop.
The next time waster here is shopping. If you ever so need to buy something, do it quick. I know it is tempting to browse and squeal at every single Disney merchandise out there, but yeah remember, one day is all you've got. Some of these souvenir stores are extremely popular and have endless queues. So that'll eat up your time as well. As above, my recommendation to stay at an official Disney (or partner) hotel will solve it as they do have Disney souvenir stores in their premises.
7) Be Well Equipped
It's pretty obvious and I don't need to tell you to bring a camera. In most cases, your latest iPhones will do. I recommend the Google Pixel 3. But! No selfie sticks allowed. Some jokers in the past must have stuck their sticks so far out it hit other visitors in the face. Don't try please, just don't bring it along. Do remember to bring extra battery packs, your phones aren't gonna last 10 hours with all that photo-taking.
Also, do bring a ground sheet on your visit to Tokyo Disneyland or DisneySea. Both parks have mid-day and night parades. Although they are in Japanese and you may not understand a single word, it is still worth to feast your eyes on the spectacular show. The Japanese are the most polite people in the world. At around 45 minutes before showtime, most would have already be seated by the sidewalks waiting for the show. Everyone has their own picnic mat or ground sheets, seated in an ultra-orderly manner. Just join in, there're ushers allocating you to the nearest gap.
In Conclusion
Our philosophy is simple – make the most out of your day here. From wherever you originated, I believe it has been a long trip to Tokyo Disneyland and DisneySea . You've made it all the way to the resort, and deserve to maximize the time spent and get the best experience. We hope you've enjoyed our tips to tackle Tokyo Disney Resort. Feel free to leave a comment should you have any questions. #MinAndLiang would be more than glad if we're of help.