Ebi Kani Gassen, Famous Crab Buffet Restaurant in Susukino
Smack in the middle of Susukino is a famous crab buffet restaurant called Ebi Kani Gassen. Foodies like us must definitely pay a visit to this place. My bff @instantliam recommended this restaurant to us, so it must be good. Furthermore it is just across the street from our hotel at The B Sapporo. We wanted to try it after our day at Otaru but it was full house, so thankfully we could make a reservation for today.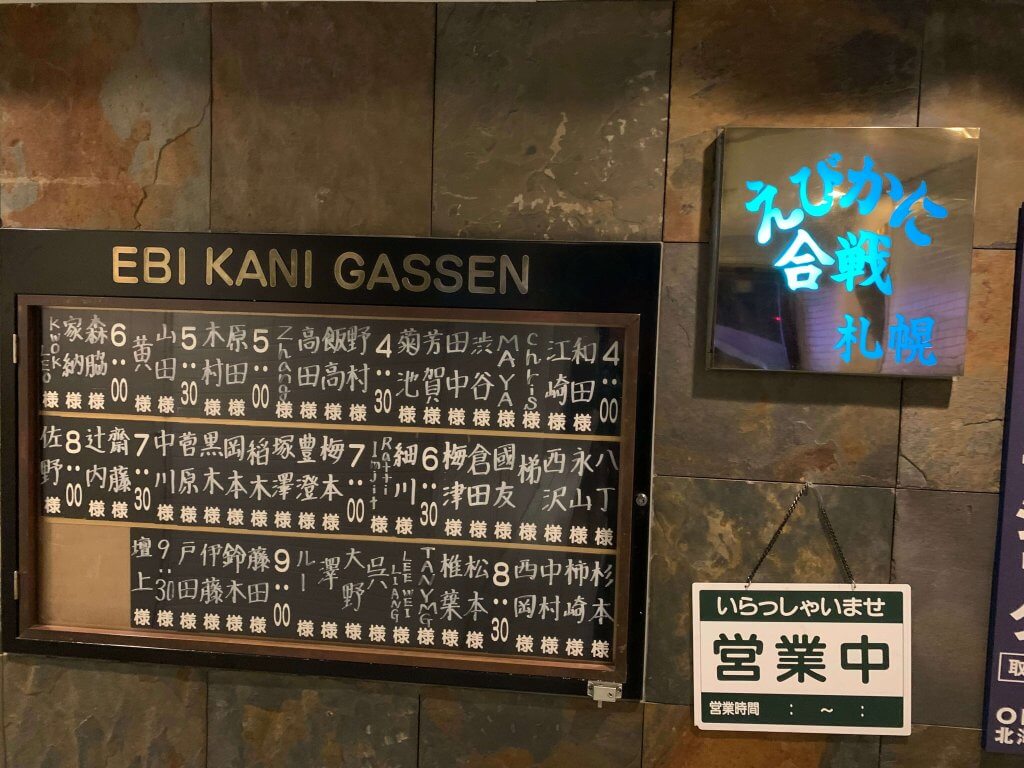 The restaurant is situated in a building called F-45 but the signboards are so puny it was difficult to locate the building at night.
All You Can Eat Buffet at Ebi Kani Gassen
Basically you come here for crabs. There are 2 ways to enjoy the food, you either go for the 'all-you-can-eat buffet' or the 'banquet full course meal'. The minimum patronage is 2 pax, you can't dine alone for some reason. The buffet price ranges from ¥6,500 to ¥7,500 for a duration of 90 minutes. While the banquet full course meal costs a ¥4,500 yen to ¥11,000 (depending on what quality of crabs you select) with a duration of 120 minutes.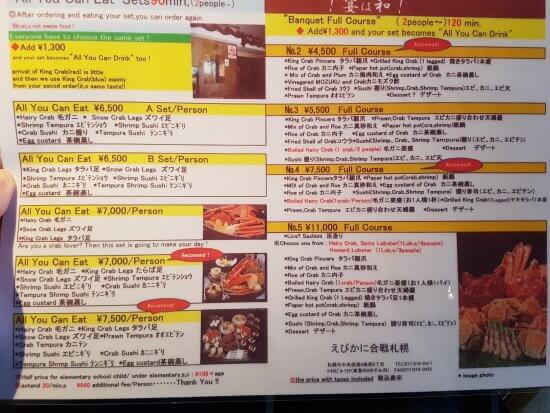 We went for the buffet without a thought. Singaporeans being Singaporeans, we need to get the most value out of our money. There are 2 sets to choose from. Set A being hairy crab, snow crab legs and side dishes of shrimp tempura, shrimp sushi, crab sushi, tempura sushi and chawanmushi. The only difference for Set B is that instead of hairy crab, it's king crab legs. We thought we could scam the system by ordering one each so we could share and have the best of both worlds. But naught, we weren't allow to do this.
Lots of Snow Crabs and King Crabs
So right off the bat, everything was served to us. Subsequently, you just need to tell the staff which item you would like, and they will bring it to you. The crab legs were really huge and fresh. This was our first time trying king crab legs. It was juicy, sweet and salty at the same time. However the shell were so thick and tough to cut through, so it was troublesome and we took a long time to eat. Now I know why they put a time limit to it, so you'd spend time cutting the shells instead of actually chomping down their crabs. Business strategy 101. And needless to say, the sushi sucks.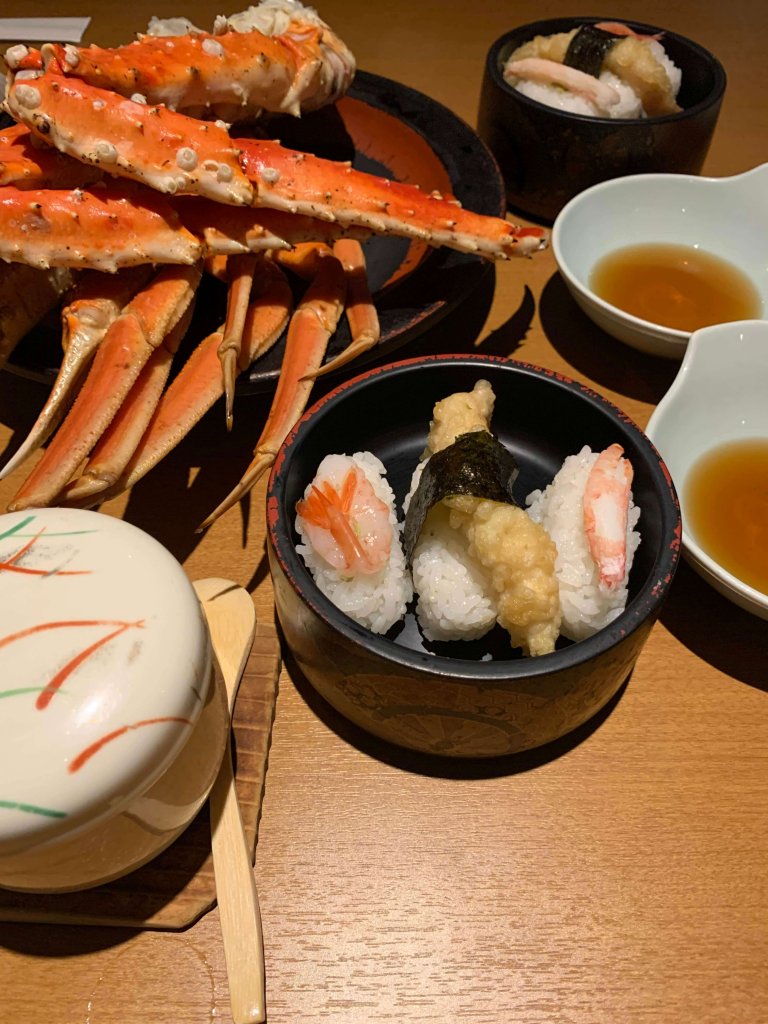 We had a total of 3 servings of king crabs, and 2 snow crabs. At this point, the cholesterol level is going to burst through our arteries soon. We compared the à la carte items against what we've eating so far. Basically our orders were exactly the price of the buffet sets. Just so we had a profit, we ordered additional set of chawanmushi and some tempura. In conclusion, we were considered really small eaters.
Information About Ebi Kani Gassen 蝦蟹合戰
Address: Japan, 〒064-0804 Hokkaido, Sapporo, Chuo Ward, Minami 4 Jonishi, 5, F-45ビル
Opening Hours: 4:00 p.m. to 12:00 a.m. daily
Website: http://www.ebikani.co.jp/
Nearest Subway Station: Susukino Station