Winter Wonderland in Shiroi Koibito Park
One of the most visited areas in Sapporo is the Shiroi Koibito Park, or commonly referred to as the Ishiya Chocolate Factory. Anyone who's had a co-worker visit Hokkaido, or Japan in general, would have eaten one of these Shiroi Koibito cookies in his or her lifetime.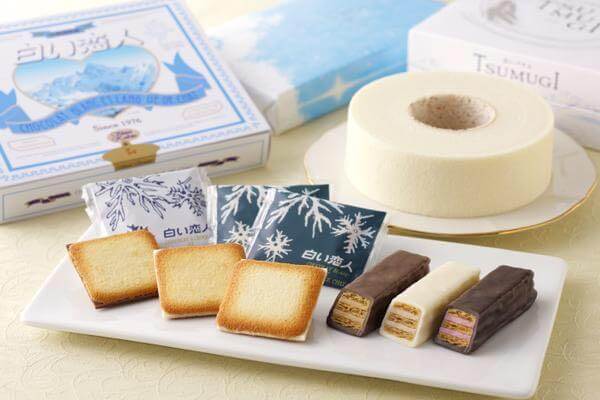 After we took our rental car, we drove to Shiroi Koibito Park. It was about 20 minutes drive from the B Sapporo. I figured it would have been much faster if it weren't for the fact that I'm driving in Japan for the first time. Moreover it is snowing so safety first. Admission to the park is free, including the parking too. There's no way you would miss the building as there are lots of signboards showing the way. Also, there are cute carpark assistants ushering you into the area.
Outdoor Area of Shiroi Koibito Park
Upon exiting the carpark, you'd see the outdoor area bustling with tourists. There were several connected Swiss cottages. The outdoor decorations were extremely gorgeous because of the snow. And there were food stalls selling hot drinks and snacks, pretty much like a mini carnival. We decided to leave the food for the last though.
There is a mechanical clock tower which comes to life every hour and we happened to see it in action. Basically the figurines around the area comes to life, pretty much like Disneyland. And equally not understandable as the songs are in Japanese. We were dying out in the cold so we headed indoors shortly.
Ishiya Museum
The main building was the Ishiya Museum, which was free to enter. Everything inside was so Christmas-y and pretty. There were souvenir shops, fresh candy production lines and restaurants. The museum brings you through the timeline of the Ishiya Chocolate Factory, and even had a miniature version of the entire compound!
We found a stall making cute chocolate box souvenirs. Basically you take photo with the digital backdrops, and they print it on one of those chocolate boxes. If you want your own images, you can too, but we chose their backdrops. Prices vary depending on whether you want your large faces printed on a huge box, or on a can of chocolate drink. It feels too narcissistic to have our faces printed on a large box and so we took the mini magnet version. Also because we are poor folks.
Chocotopia Factory
Next we went to the Chocotopia Factory, which was a ticketed area. The Standard Factory Tour which cost ¥600. If you are feeling rich however, the Premium Factory Tour will cost ¥1500. Not sure what is the difference, but we got the standard package. Also comes with a piece of Shiroi Koibito cookie yay!
And so in this area, you get to sneak peak at the cookie production process in the factory. It's feels very much like how we watch the fellas make Xiao Long Bao in Ding Tai Fung back home. Except that these cookies are machine manufactured by the hundreds. A smaller section within the area produces Baumkuchen too, some ring-shaped cake thingy. There was also a real-time display of the total number of cookies and cakes manufactured today. Amazing!
The other section of the factory is a miniature version of the production line, displayed with cute little dwarves. It's got the Small Small World feel to it, and there are interactive buttons that do random stuff when you push them.
Snacking in the Cold
We wanted to get on the Shiroi Koibito Railway, sadly it wasn't in operation in winter. The other attractions didn't attract us either. Well the food stalls did. What's more adventurous than eating ice-cream at 0 degrees? I got us a vanilla chocolate twist, which literally didn't melt the entire time. And a roasted marshmallow with strawberry sauce, which literally froze. We felt heroic so we sat out in the cold, but we regretted our decisions in exactly 2 mins. And so we hid in the display "bus" and consumed our snacks.
Shortly later, we did a last round of photo-taking before heading back to our hotel for the day. Tomorrow we'll be driving to Niseko, so we have to rest early!
Information About Shiroi Koibito Park
Address: 2 Chome-11-36 Miyanosawa 2 Jo, Nishi Ward, Sapporo, Hokkaido 063-0052, Japan
Opening Hours: 9 a.m. to 8 p.m. daily
Recommended Duration: 4 hours