Cup Noodles Museum Osaka Ikeda
Today's plan is to go to the Cup Noodles Museum. We read that there'll be an activity where you get to customize your cup before filling it up with actual instant noodles. Lots of tourist there, mainly family and kids. Why are we always doing kiddy stuff?
So basically we need to purchase an empty cup. Thereafter, we have to decorate it by colorizing and drawing whatever you want on the cup. And we bought 5 in total, 2 for ourselves, 3 for our friends. We then proceeded to the tables. Time to unleash our creativity.
Spot my Rila!

2 of us drew 5 of it
It turns out we are natural born artists. And look at those designs! I'm sure Nissin would have hired us as product designers if they saw this. Next up, we get to choose 4 ingredients and 1 soup base flavor for each cup. The entire process was interactive and informative. Both Minmin and myself felt like primary school kids once again!
Ippudo Ramen
For all the ramen lovers out there, you've probably heard of Ippudo. There was a store nearby, right outside the Cup Noodles Museum. Not sure if there was any relation between the two, but definitely a strategic placement. It was crowded, but we were placed in relatively quick. Apparently we don't get thirsty after having ramen in Japan. Those that we have back in Singapore made us super thirsty even though we didn't drink up the soup.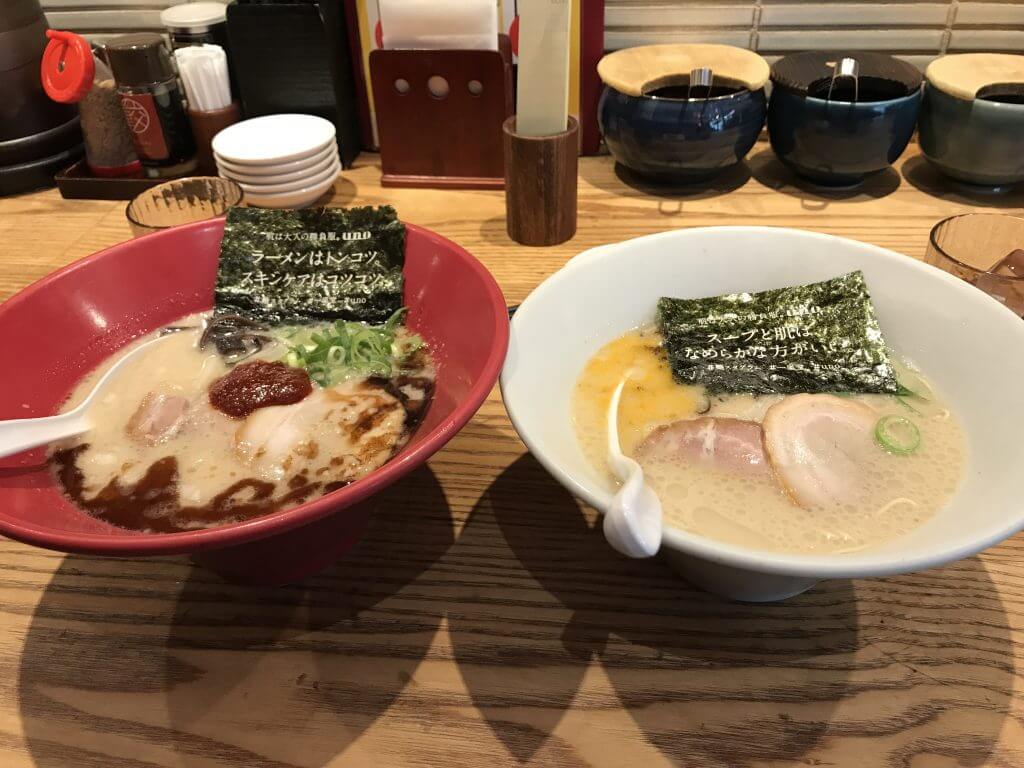 Meiji no Mori Minō Quasi-National Park
Actually that subheading is just the full name of Minoo Park. We came here just to explore the place, and to enjoy the tranquility of Japanese nature trails while we are still here.
During the course of this trip, we realized that a huge part of our trip had some kind of nature trail. Well, it is scientifically proven that surrounding yourself in nature actually improves your mental well-being. Not to mention, it makes us happy! No doubt we had to climb almost 3 kilometers upwards, but reaching the top was fulfilling.
On our way down the shopping streets, we found out an interesting fact about this place. After seeing majority of the shops selling fried maple leaves (like what the..?) we actually did some research on the spot. For what it's worth, this is an interesting tradition from the 1300s. And it seems that maple leaf tempura can only be found here!
Seeing the amount of fallen maple leaves on the sidewalk, it is pretty clear and smart of the townsfolk to fry them for sale. (In case you are wondering, I am just kidding, it is actually processed properly, not swept up from the sidewalk)
Everything was maple flavored, including the ice-cream. By now, I guess we're almost close to having pagotophobia. In all seriousness, nobody gets sick of ice-cream! Specifically, nobody gets sick of Japanese ice-cream!
Fried Maple Leaves snacks

Sweet potato ball

Maple leaves Ice cream
Cat Cafe, Neko no Jikan
This trip felt like an animal discovery journey. Not only did we visit the farm, but also several pet cafes. Literally visited everything that had to do with animals. In addition to the list, our next destination is the cat cafe – Neko no Jikan.
They are oh so lovely. Oh my oh my, the cats will roam around the room. Some will even fight with each other, most spent their time sleeping and ignored us. But most importantly, they all look so adorable! Fluffy ones, grumpy ones, timid ones, cute little creatures!
As much as she wanted to, the animals just avoided her, and it's pretty difficult for her to get a close shot. Just look at the cat's epression when Minmin touches it. On the contrary, I'm able to get up-close and personal with the kitty. All in all, I guess I'm well loved by everyone and everything.
Can't decide who is cuter

Clearly, cat's not impressed

Why you betray me~
Back to Shinsaibashi
After all the walking and kitten-chasing, we're famished. While looking for our dinner location, we chanced upon a Calbee+ store! I've previously tried it in Tokyo, and didn't know they had region specific flavors. Unique to this area, they had takoyaki flavored Calbee chips. Awesome!
Then we had beef rice for our dinner. You've never been to Japan if you've never had one of their local chain stores. And one of these places we've been looking for is Matsuya. Whenever we aren't purposefully looking for it, we'd see it everywhere. And when we are hungry, we can't find any outlets. Took us a lot of walking in the drizzle to finally find one here.
The reality is starting to kick in. As one of the last few nights in Japan, we really wished time didn't fly as fast. Better yet, we wished time could stop right now for us.