Castle Hunting Day at Hikone, Shiga
We are going to visit our 3rd original castle, and its accompanying garden. Hikone Castle is situated in the Shiga Prefecture, and is well known for Japan's biggest lake, Lake Biwa. The abundant natural environment made it optimal for cattle, hence the famous Ōmi beef in the area. A little-known fact about Ōmi beef, is that it's one of the top 3 wagyu brands of beef in Japan.
The only way to get to Hikone from Nagoya is via Shinkansen to Maibara station. From there, it would be another 5 minutes ride to our destination. It was a little off the beaten track, and the station itself didn't look as well maintained as the central urban areas.
Tebasaki flavoured snacks

Tea and Coffee

Shinkansen ticket

Hikone Station

Hikone Station
The National Treasure, Hikone Castle
Among the 100 or so castles in Japan, Hikone is one of the 5 designated as national treasures. Just like Inuyama Castle, it is one of the 12 remaining original castle keeps of Japan. After about 15 minutes walk from the station, we arrived at the castle grounds. Being a type of hirayamajiro, the castle was constructed on hills in a plain, and thus had many uneven steps. Knowing that their target audience is old folks like us, they provided us with bamboo walking assisting sticks. Apparently, as you can see we were fooling around with it instead.
The weather was perfect, it was slightly sunny but it wasn't hot at all. And the sky was clear blue, which made it perfect for pictures. If the trees were laced with sakura in spring, it would be perfect. Heard that the festival is one of the best in Shiga. However though, it wasn't that bad now either. The autumn foliage had a mix of green and some balding trees though because we were nearing the end of autumn.
Hikone Castle Genkyuen Garden
Genkyuen is situated right next to the castle grounds, just a few minutes walk away. There was even a river/moat ride, much like our very own Clark Quay River Cruise. We didn't opt for the ride as it was getting too sunny. The Genkyuen garden was very pretty, zen like any other Japanese garden, with a pond and a circular walking trail around it. You can even see the Hikone Castle keep in the distant.
Omi Beef Sennari Tei Kyara
Lunch for today is Omi beef of course. This trip, we've had the opportunity to try 2 of the best wagyu brands in the whole of Japan. We were lucky because there was a Omi beef restaurant ahead in the direction we're walking towards. It had a decent review too, so we gave Sennari Tei Kyara a shot.
The restaurant's interior design had a very traditional look, you've got to remove your footwear to enter the tatami area. We were seated on the floor and our tables were the low Japanese tables called chabudais. The style of beef in this restaurant wasn't the same as yesterday; it was either soup based or semi-rare. The beef was fresh and flavorful and had an amazing texture. Comparing this to Hida beef was like comparing apples to oranges. Both were great, but our verdict was for Hida beef. It could be because of the grilled meat that we preferred over rare beef. If both meals were cooked in the same manner, perhaps it could have been a fairer comparison.
Yumekyobashi Castle Road Hikone
We continued with our exploration along the Yumekyobashi stretch. The town was really quiet, and we enjoyed the peaceful environment. We even wandered into random alleys, and as you can see even these alleys look so pretty. We also found Hikonyan, the mascot of Hikone town. It seems that the town was pretty proud of him, most of the souvenir and food packaging had the mascot printed on them.
Back to Downtown Nagoya
On the way back from Maibara, we stopped by Otobashi Station to visit Don Quijote. We also needed to get to Kanayama Station for a collectible eki stamp. (It was one of the 3-piece Meitetsu commemorative eki stamp series) Oh the things we do just to complete our collection. Along the way we walked past a pet shop. That sad doggo's expression is so cute yet heartbreaking, and we hope he'll find a loving home soon. That's us, tomorrow. So sad, we don't want to go back to Singapore.
Look at the clear blue sky

Don Quijote

Sad doggo
Kawai Nagoya
The other night we walked past a Kawai music store. But it was already closed. Today we made it a point to come back before closing hours. I needed to buy a gift for my piano teacher, as well as any piano score book from X-Japan. Although I'm sure the book's gonna lay in my cupboard until years later when I can play the piano properly, I just wanted to buy it.
Concentrating~

Look at that piano!
MacDonald's and Tebasaki Chicken Again!
Having blow our budget once again, tonight we'll be having MacDonald's for dinner. The pork burger is seriously good, one that we'd never have in Singapore. The fun part about MacDonald's in Japan is when you have to separate your trash: clearing the ice from the plastic straws, cap and paper cup. Because we had a budgeted dinner, we still had money for Tebasaki chicken. This time round, from a different stall. It's not as nice as the ones we had yesterday, but still good.
MacDonald's

Texas burger

Chicken Teriyaki burger

Tebasaki Chicken
We were looking for an ink date stamp at Don Quijote earlier on. And so this is what our current stamp collection looks like at the moment. Pretty sweet!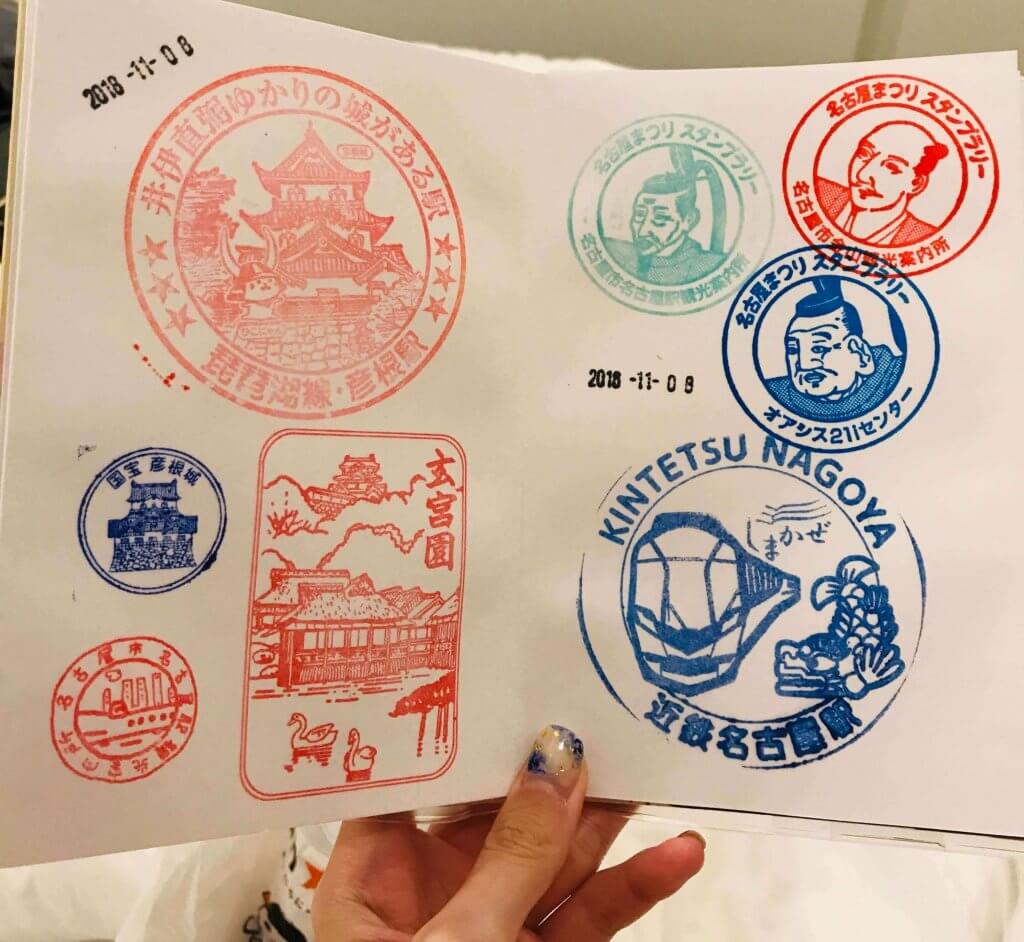 Tomorrow we'll be heading to Inuyama Castle, once again to visit another original castle of Japan. And to collect more eki stamps!