Getting Ready to Ski
The highlight of our trip, is the skiing experience up here in Niseko Annupuri. Prior to this, Wataru-san helped us coordinate with one of their partners for our ski gear, which was promptly delivered on the first night. We paid a total of ¥24,000 for our gear for two days. The man in charge of the rental gear was very helpful as well. The size of the boots that he brought over was too small for Minmin, and he arranged for a larger pair to be delivered to the hotel just an hour later. Wataru-san made sure we had a great time, by making a reservation for us for a private ski class at the school so we won't have to wait or be subject to availability. Kudos to him!
Our First Lesson at Skiing in Niseko Annupuri
After having our breakfast at Negula, we drove over to the ski area. Minmin wore her boots first, while I couldn't because I had to drive. It was such a pita to wear my boots by the carpark, for the lack of space in the car and snow constantly pelting on my face. By the time we carried our skis from the carpark to the center, we were dead beat. We totally underestimated the weight of the skis and the difficulty of walking in ski boots.
Oh boy the entire ski center was crowded. There was an equal number of tourists and instructors in here (wearing blue). We got to the counter and mentioned that we had a booking from Negula and was promptly assigned an instructor, Toshi-san. He was a friendly and patient person, and helped us adjust our masks, helmets, and even made sure we had a warm drink before heading out.
Out in the snow, it was actually not as cold as it seemed. The ski jackets were doing their jobs in keeping us warm. What was freezing were our fingers and noses, which constantly had mucus dripping down. Toshi-san brought us to the kids corner and taught us the basics of moving, braking, and most importantly, getting up from the ground. He also taught us how to carry our skis and poles while walking. Toshi-san was a cute instructor, he cracked lots of jokes and was very cheerful and patient in guiding us. Two hours zipped past, and now we're officially graduates. Kinda. Thank you Toshi-san!
Lunch Break at Restaurant New Sanko
Two hours of lessons got us an entire week's worth of calories burnt. It was damn shag yo, it may look like a cake walk, but in fact our legs were crying for help. We took a break at the cafeteria in the area, called Restaurant New Sanko. We dumped our skis and poles outside, as with everyone else. Pretty safe I'm sure nobody would want to carry this heavy thing.
There were like a bajilion number of skiers and snowboarders in the place. You first had to order your food outside, and pay via the vending machines, before heading into the restaurant to look for your seat. Fortunately most people ate and left, as the Japanese were courteous and thoughtful by nature. We too, ate quickly and left. The food wasn't fantastic, and very pricey (not surprising for a touristy place). But we needed a meal, so we shared a set of Mount Fuji Curry Rice. Totally didn't look like Mount Fuji, but whatever.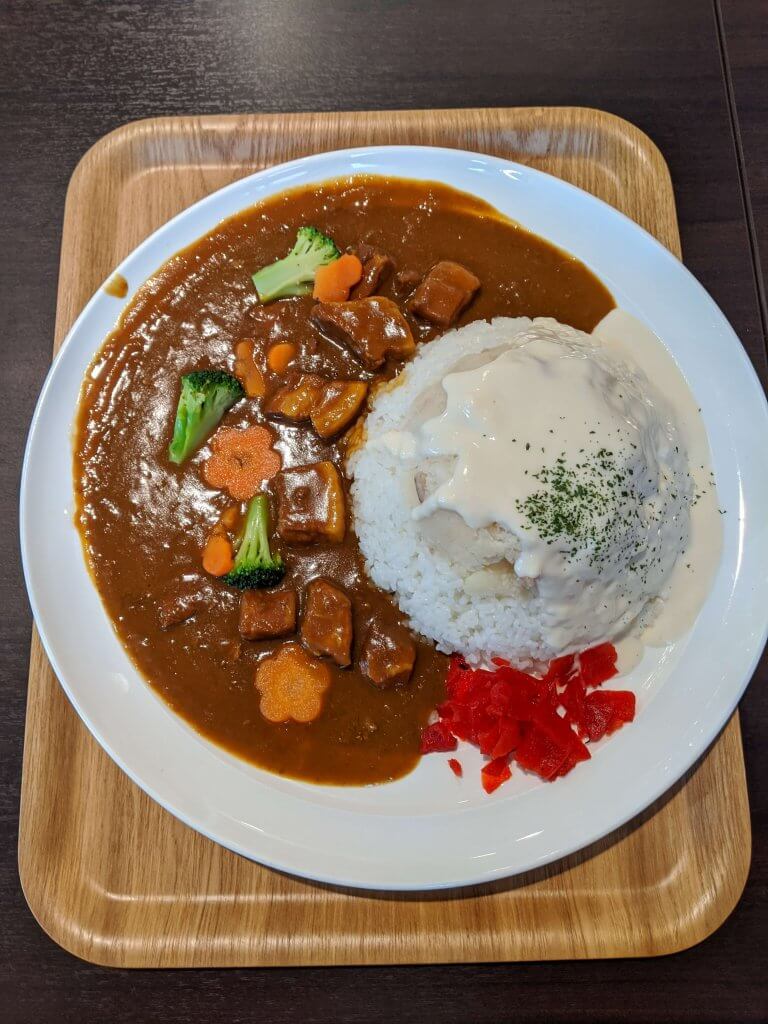 Going Solo
It is now time to ski without Mr Toshi. Hope we won't disappoint you as students! The weather was much better now, skies were clear! We spent some time rolling around, before deciding to get the lift tickets. There are a total of 6 different types of lift, bring you up to different routes. Of course, we took the easiest route, Junior Course. We could also see the other end of Dream Quad Lift #1 from where we were, so that means we will have no issues when we ski back down.
The hours of operations are different for each type too, do check the map or listen to the announcements. Whenever they deem that winds were too strong, they'll pause the higher gondolas for safety reasons. Because it was our first time, even going up the ski lift was such a fun experience.
For some reason we didn't return our helmets earlier on, and thought we could borrow them for the day. However, some random instructor came by to ask us which group were we from and where's our instructor. We then knew, there was a logo on the helmet which indicated that we were students. He told us to return the helmets cos our lessons were over. Boo. Anyway we continued skiing without helmets on, had a few runs up the newbie lifts and took photos and videos along the way. We had a great time playing in the snow!
Night Skiing in Niseko Annupuri
After our afternoon session, we decided that our legs can no longer hold up our weight. Thus we headed back to Negula for a nap. Literally drenched our legs in Tiger Balm lotion before sleeping. At around 6 p.m., we headed to Matsuri for dinner, before going for our night ski. It wasn't as crowded during the night as it were in the day. Partly because it was also snowing heavily. A side of us felt like giving up and not going up the slopes. However, this was the only chance, no matter how tiring, we're going to do it.
Since we had a couple of runs down the Junior Course in the afternoon, we decided to up the stakes. This time, we got ourselves tickets up the Jumbo Quad Lift #1, which will bring us a little higher, to another beginner friendly Family Course. Honestly it was a little scary because the lights were clouded by the snow. We were the only ones going up the lift, and it really had the feel of Frozen, the movie. Not talking about the "let it go, let it go" kids movie, but this thriller instead.
Because of the snow, we couldn't really see well, we felt so helpless because we kept falling down. It was a real energy drain, not to mention it was the first time we did this course, and we don't exactly know where to go. Occasionally, some pro snowboarders would zoom past us, that's about it. We skied, braked, and fell our way throughout the course. After a grueling 30 mins or so, we finally hit the common ski area. This was one hell of an adventure! High-five!
An Exhilarating Adventure in the Powder Snow of Niseko Annupuri
All in all, we had 4 sessions of skiing from 27 to 28 December 2019. On the first day, we had a morning training with Toshi-san, an afternoon session ourselves, followed by a thrilling night ski. And on the second day, we came back to ski in the afternoon after visiting Takahashi Farm Milk Kobo. After all, we've already rented the gear for two days, so don't waste it.
It was truly an amazing experience, being able to ski in Niseko, one of the best places in the world with powder snow. We'll definitely be coming back in the near future. Meantime, onward to our next adventure, Otaru!
Information About Skiing in Niseko Annupuri
Ski Gear Rental: ¥12,000 per adult set for 2 days
Ski Lessons (Private English): ¥35,000 for 2 pax for 2 hours
Website: https://annupuri.info/winter/english/