Hello Shinjuku, We Meet Again
Mixed feelings this morning, as we waved goodbye to Sheraton. And took the train from Maihama back to town. At least we had lots of time this morning to make our way back to Shinjuku. Today's itinerary was to visit the 3 Aces of Tokyo: Asakusa, Akihabara and Ameyokocho. Ok well the 3 aces part was made up by me, they just happened to start with the same letter.
Kani Douraku, Shinjuku San-chome
A couple of days ago before we headed to Disney, we found the signature crab signboard. It has already been decided that today's lunch will be our favorite snow crab meal. From now onward, each visit to Japan shall include an (at least one) indulging meal of snow crab.
We wandered around the nearby streets first since we were early and the store only opens at 11.30AM. Words cannot describe how exciting it is to eat here. At 11.30AM sharp we went up, and there was already queue. You got to be kidding… On a weekday morning hello? It wasn't a long queue by it was surprising nonetheless.
Anyway the restaurant was too pretty. The seats were the traditional Japanese types, the interior design and all had a very Kyoto-ish feel. Somewhat different from the one we had at Dotombori. This place felt more atas. But the food was equally delicious by Japanese standards. Likewise, we also intended to wait for every single dish to arrive, take a photo thereafter, then eat.
Of course, a (crab) family portrait first
Asakusa, a Traditional District in a Modern City
After our wonderful lunch, it is now time to (slowly) make our way to our first Ace. Asakusa, a historical district that still has the old Tokyo vibes. Definitely one of the more touristy spots, among all the skyscrapers and modern buildings of Tokyo.
Again, I've been to this place before. It really felt so familiar, almost nothing changed over the last 2 years. I brought Minmin here to check it off from her "been there done that" list. There are two main attractions here, Asakusa Nakamise shopping street and Sensoji temple. And of course, the shopping street was bustling with crowd. Like any other famous Japanese temples, the Sensoji temple had so many visitors it was nearly impossible to get a clear shot without anyone in the background.
Asakusa Don Quijote
Serious question: What is the difference between a Don Quijote and a Don Quijote Megastore? We've got no idea. Every Don Quijote encounter in Japan is always a crazy mashup of random products spanning across several storeys of a building. We'd always almost never buy anything when we purposefully enter. And we'll willingly spend an hour or so getting lost in there, thinking to ourselves, "Oh we'll find better stuff elsewhere". (Only to be back on the last day to grab last minute souvenirs for our folks at home.)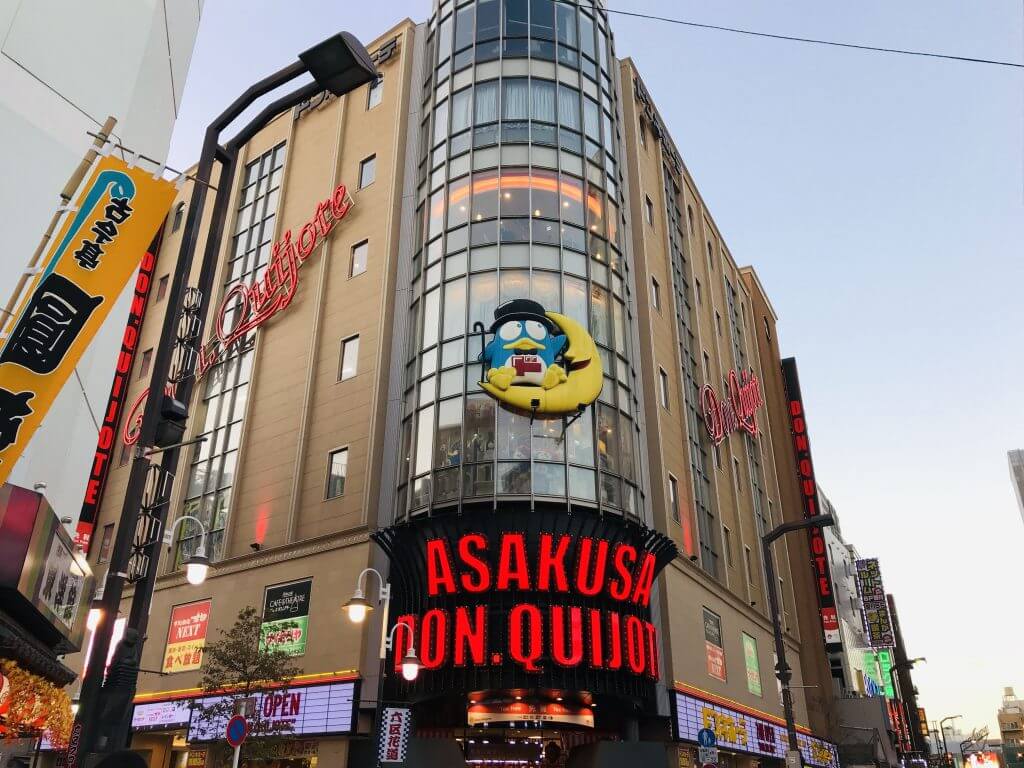 The Neon Lights and Anime Posters of Akihabara
Akihabara comes to life after dark, with its plethora of neon signboards. Akihabara, or Akiba, is also home to the famous AKB48 girl band. They debuted with 47 members, and now have 134 girls (and counting). Either way their band name doesn't make sense. Why not AKB47? Perhaps it sounded too much like the AK-47 assault rifle.
This place is also for Minmin to check off her list. Anime don't interest her. Neither am I exactly a fan of anime. Games maybe, not anime. Of course perhaps a cute little anime waifu could bring out the otaku in me. We wandered around the random electronics stores, expended our loose coins on claw machines (with zero loot), and checked out collectible card hobbyist shops in the area. Oh, and the 18+ shops too. Our favorite, if you know what I mean.
You kiss liangliang.

Minmin punch you.
While we were heading back to the station, we saw a huge crowd of generally men clad in office wear hanging around the station. They looked like working class adults, both young and old. Curious us went to check it out and found that they were actually playing Pokémon GO. So it is still a fad here in Japan.

Ueno and Ameyokocho
I still recall checking out the park when I was here with my friends. We didn't have time to do so today, or rather we were hungry. And cold. Ameyokocho is another popular shopping district, with lots of clothes, shoes, and eateries. I wanted to bring Minmin here because I once ate the awesomest ramen here with @eventualchan and gang. The ramen was wok-stirred, and by far the most unique broth ever. Based on my memory, backed by the Google location tracking on my photo from 2 years ago, I'm pretty sure the shop has now become a shoe store. Duh. No choice, we went for another ramen shop nearby, which is really still very decent.
We decided to take it slow after walking thousands of steps at Disneyland so today's plan wasn't as hectic. Again, like most nights in Japan, we checked out Family Mart to fill our tummies for supper and to get snacks for breakfast tomorrow.