Beitou Hot Spring and Huashan 1914 Creative Park
Woke up early for the highlight of the trip, our Motorcycle Maniacs tour. Seems interesting because these guys are the only ones conducting this kind of rides in the whole of Taiwan. We got our tickets from Klook and were all so ready to go for it when we received an unfortunate text from the coordinator, AJ. He mentioned that there's bad weather forecast and we'll have to cancel the trip, but he'll try his best to help rearrange. It was really disappointing, but in unforeseen circumstances like these, we just got to be fluid about our plans. We'll swap our itinerary with tomorrow's plan and head down to explore the Beitou Hot Spring area then!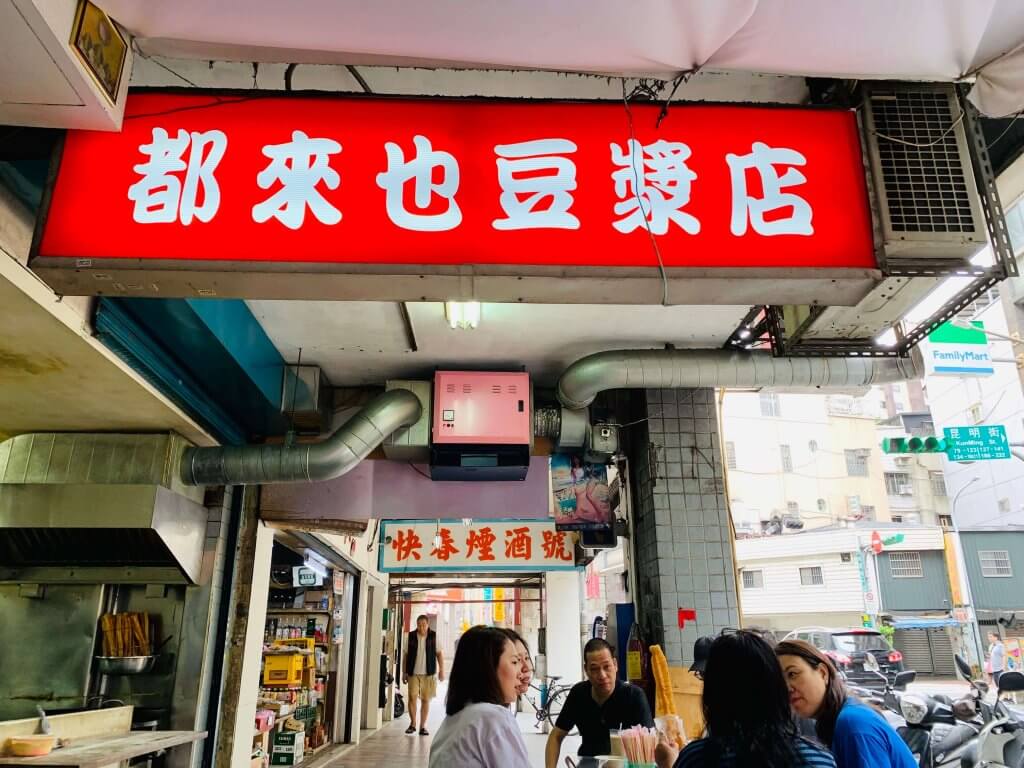 But first, breakfast! We had a traditional Taiwanese breakfast near our Airbnb area. A very common breakfast dish is the Taiwanese Egg Crepe (蛋餅). We had a portion of carrot cake to share, and a glass of warm soy milk. In fact, this combination is like a typical Singaporean breakfast, but much nicer. Since we'll pass by The Red House on our way to the metro station, we'd might as well take photos when there aren't many people around.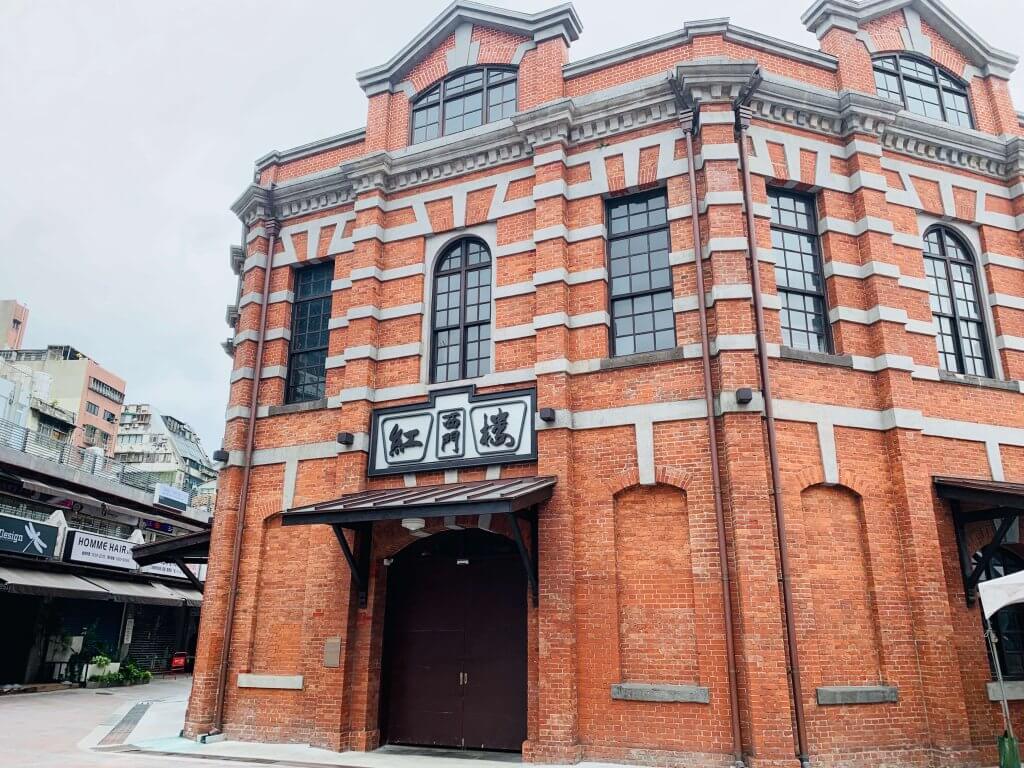 Beitou Hot Spring Park
It may sound counter-intuitive at first, but Beitou Hot Spring Park is actually closer to Xinbeitou Station instead of Beitou Station. Right outside the metro station, you'd see the restored version of the original Xinbeitou Station. The area is well known for its many hot springs, be it private or public baths. I'd like to think of this area as a mini onsen town. We walked past an open-air public bath house and went in to take a peek. Think of it as going to a public swimming pool compared to a private estate's pool. Not gonna lie, it was a major turnoff due to the sheer number of people in the pools. It's just going to be a huge piss-fest. Hot pee in this case. So nope… We'll spend our money and get us a private bath later.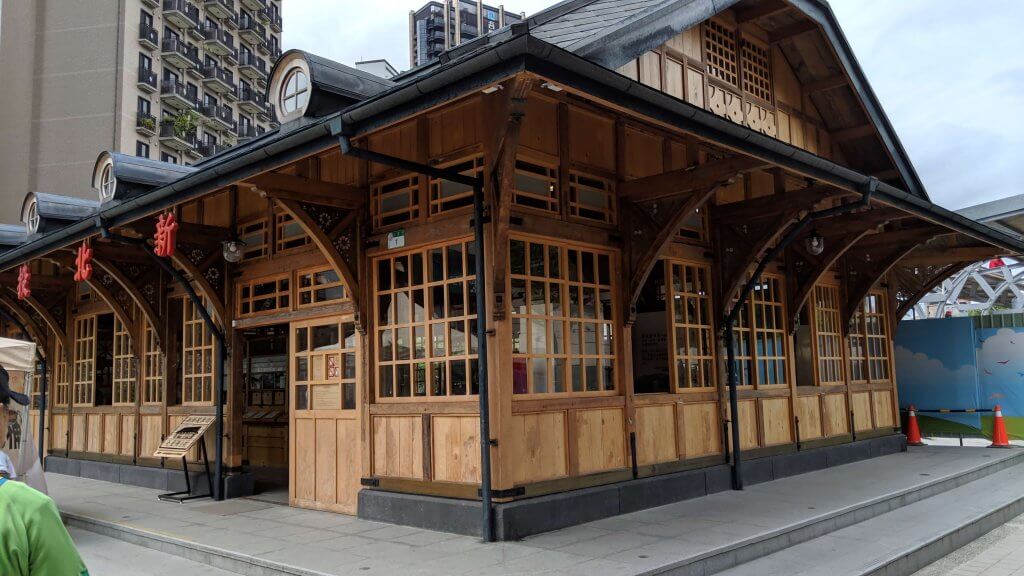 Taipei Public Library Beitou Branch
For those interested in unique architectures, the public library is one interesting building. Just round the corner from the metro station is the Taipei Public Library Beitou Branch, thought it would be interesting to check it out. As we got closer, we realized at almost corner, there's someone taking a selfie of themselves against the library as backdrop. Well, I would estimate that of the entire population in the library, 90% of them are visitors taking selfies. 9% are the actual people in the library reading/studying. And the 1% are like me, looking for the toilet to take a piss because high-tide.
We went in, collected our Eki stamp for this building and immediately headed out. The library wasn't air-conditioned, so it was pretty warm. Besides there wasn't much we could do inside.
Beitou Thermal Valley
One of the main attractions here at Beitou Hotspring area is Beitou Thermal Valley, which is just a short walk from the library. As we approached the area, there was the familiar smell of sulfur, just like Ōwakudani Valley but maybe not as intense. Not sure why the lake exudes an emerald green color instead of yellow. Clearly we both failed our science in school.
Once in awhile, as the wind blows in different directions, you'll get that blanket of fog covering the area. Gives you the Tom Cruise getting ambushed by Samurais feeling. Maybe not the getting ambushed part, but the picture does look a bit like Tom Cruise.
Beitou Hot Spring Resort
Soon we headed back towards the main area where the baths were. We settled on Beitou Hot Spring Resort as there were good reviews, and was one of the few that had private baths. There was a hot spring tub, a cold water tub, a shower corner, and a resting area (for us to you know rest). Not sure how she can tahan the hot water, my butt cheeks feel like they're getting cooked in there. It's a really nice and relaxing place and all we need now is a view of Mt Fuji to be perfect!
Feeling all smooth after the onsen hot spring session. The package entitles us to some pastry and drinks at the cafe. Luckily we checked with the staff, else we'll have one less cake to eat!
Mala Top Double Soup Hot Pot Restaurant 马辣顶级鸳鸯火锅
We needed to head back to our apartment. Because stupid me left the entire stash of cash in my luggage. We didn't have enough for lunch because we paid a premium for our private room just now. Read about this place on Daniel Food Diary called Mala Top Double Soup Hot Pot Restaurant, which had many outlets across the city. We went to the closest one in Ximending because our tummies couldn't wait.
Their gimmicky sales tactic is the unlimited atas ice-cream from Häagen-Dazs and Movenpick. Seriously how much ice-cream can you eat? What's more important is the reasonable pricing for hotpot buffet!
AJ called us to tell us he found some riders for our tour tomorrow! Oh my!
If you think Hai Di Lao is good, oh man, you've not tried this yet. We order shit tons of meat, seafood and many more "high perceived value" food. Because Singaporean = kiasu. We came in hungry, and we left smelly. Like smelling like hotpot kinda smelly.
Huashan 1914 Creative Park
We heard of this place called Huashan 1914 Creative Park, which is a cultural area which the young hipsters of Taipei go to. Therefore the young hipster Singaporean couple is headed there. The area was built as a winery in 1914 during Japanese rule, thus the name. The original buildings were preserved and transformed into cafes, museums and indie handcraft shops. It was a lively place, not sure if it's for an event, or it's just like this during the weekends.
Apparently we weren't too hip after all. Everything was in Chinese and we didn't know what was going on. What caught our attention though, was a young street performer who was doing his warm-ups. It was amazing how he could go full split in his jeans. We sat down on the floor right in front of him cos we knew there's going to be a performance soon. Basically he's a contortionist, extraordinarily flexible and could fit himself into a box. Impressed! Naturally the audience, us included, donated some money for his awesome show.
Rilakkuma Café Taipei 拉拉熊咖啡廳
Every holiday includes a trip down to a shop or restaurant that is Rilakkuma related. This is like our norm. We took a bus down to Rilakkuma Café and almost got lost because of the confusing network. I must agree that the cafe is really nice and cute inside. As for Minmin, she just went crazy without saying, spamming lots and lots of pictures.
The cafe has a minimum order policy, each person needs to order at least a drink. So we ordered coffee and a dessert, we didn't want to have any heavy meal because we were not hungry yet. Also because we intend to visit Huaxi Street Market after this, we got to save some space for another round of eating.
There were lots of Rilakkuma merchandise too, but sad to say there aren't any key-chains. In fact, we don't see any Rilakkuma key-chains in Taiwan though, can't add to Minmin's collection.
Huaxi Street Night Market 華西街觀光夜市
Huaxi Street Night Market is located conveniently next to Longshan Temple and Bopiliao Historical Block and is one of Taiwan's more traditional markets. The cab driver explained the history of Huaxi to us, and he actually made it sound quite scary. It's like any other night market actually, just with the added foot massage shops and health-oriented spa.
I read online that this place is famous for snake herbal soup. Apparently the driver told us most of the serpent shops were closed off. We scoured the entired place and only found one shop selling it. But we didn't try it in the end because to be honest, it's quite scary.
We didn't get anything to eat as most of the stalls look exceptionally dodgy. As we headed back, we visited Longshan Temple. Nothing spectacular, just a huge temple with lots of tourists. Also, en route back, we passed by the Bopiliao Historical Block. We didn't get to explore the area because it was late. A pity that we don't have enough time to visit this place.
It was a long walk back to our apartment. Got ourselves some snacks for the night and we need to wake up early tomorrow. Because we will finally be going for our Motorcycle Tour (but only for the morning session). Pray hard that the weather will be good for us tomorrow!