Onward to Qing Jing, Officially Goodbye Taichung
Today we will head eastward, into the mountainous areas, right smack in the middle of Taiwan. And we will land at Qing Jing, part of the Ren'Ai Township, famously known for Qing Jing Farm.
Rise and shine to a full view of the lake! A pity we didn't get to spend more time here, but then again there's really nothing much else to do except to enjoy the view. Breakfast at the hotel was lackluster, not much to shout out about. Also no appetite partly due to the fact that we've just lugged our luggage down 3 floors and were pretty tired.
Good bye Richforest Hotel, good bye Taichung. By far the prettiest hotel in all our travels, 10/10 would recommend. As usual, our driver, Mr Wu, arrived punctually to fetch us to Qing Jing.
Wenwu Temple (日月潭文武廟)
Mr Wu knew that we wanted to visit Wenwu Temple, we told him we didn't get to visit it because it was at the opposite edge of the lake. Since we'd drive past the temple, he offered to let us check it out. Absolutely thankful for his kind gesture. And lucky for us, it was 7.30AM and there was not a single soul there. Perfect for photos of the temple in full majesty. The temple is really really huge, lots of steps up and down. We didn't tour the whole temple though, but we found some Eki stamps! We didn't bring our stamp book along because we left our bags in the car. Elated about it as I rushed back to grab our book to add this temple's stamp into our collection.
Julie's Garden Fon Chin Homestay
Our driver brought us up the mountains to Julie's Garden Fon Chin Homestay at Qing Jing, our stay for the day. For some reason the weather was extremely hot. My take is that we're closer to the sun in that altitude… Just kidding. The minsu was cosy, with a scenic landscape and lots of pet dogs and cats! As a pet lover, it felt so heartwarming when the doggos greeted us when we dragged our luggage in.
The owner is a really nice and friendly old lady. She explained everything to us, pointed on the map the places we could visit. Though this place is a bit inconvenient to get around by foot, there was a free shuttle service around. The owner offered us coffee and playtime with their cat while waiting for our shuttle. Coincidentally, we met a Singaporean family checking out at this moment, going towards the direction of Taichung. What a small world!
Julie's Garden Fon Chin Homestay
Qing Jing Farm, or Green Green Grassland
The shuttle driver dropped us at the entrance of the farm. Oh my, yet another ultra crowded attraction. Hordes of *ahem* tourists from a certain region, and it was a major turnoff. The weather ain't helping either. Because of our sun-kissed expedition around the lake yesterday, the sunny weather is causing a burning sensation on our skin right now. So much so that we had to activate our umbrella.
It's Day 5 and we should've long stopped comparing this against our Japan trips. But damn, this farm ain't as nice as compared to the one we visited at Rokkosan. Since we're all the way up here, let us momentarily enjoy ourselves. There were free roaming sheep, so the first thing we did was to get some sheep feed. And needless to say, everywhere was filled with sheep poop. And the poop looks just like their food. These little woolly mammals must have been eating so much that the food just passes through their digestive system without being processed. Along the way we found some stall selling milk ice cream. It's nice to have ice cream in such a hot weather but it melted really quickly.
Guan Shan Pastoral Area
Apparently the farm is split into 2 parts, the northern area has the free roaming sheep. The southern part has some other farm animals. And the connecting point is a rest area with several food stalls. We thought of trying to get our hands on some light snacks but the place is crowded. Didn't really feel like checking them out eventually. We just wanted to quickly get away from here. Help!
As we emerged from the masses, we reached the Qing Jing Skywalk. It was a choice between doing the skywalk, or strolling down the pastoral area, because both paths would lead us to our next destination. We took the pastoral area, because the sun was blazing hot and we'd probably melt on the skywalk.
We saw some horses in their stables and decided to play with them. They seemed to be ignoring other tourists, but one of them came up to me. He even allowed me to pat him! I think I'm an animal charmer in my past life, just like how I attracted those farm creatures at Rokkosan. I fed the dude with whatever grass I could pluck, he seems to be enjoying it more than his stack of hay. We spent most of our time taking photos and art-directed many tourists just so they could capture the perfect windmill shot for us.
Carton King (紙箱王)
The general direction of the pastoral area led us to our lunch area at Carton King. Highly recommended by our colleague @YiennLoo, we decided to give it a shot. This restaurant is a unique one, with almost everything inside made of cardboard. Pretty much from the tables and chairs, to their cutlery, to the decorations in the place, everything you can imagine was made of cardboard. I would think this place is a fire hazard though.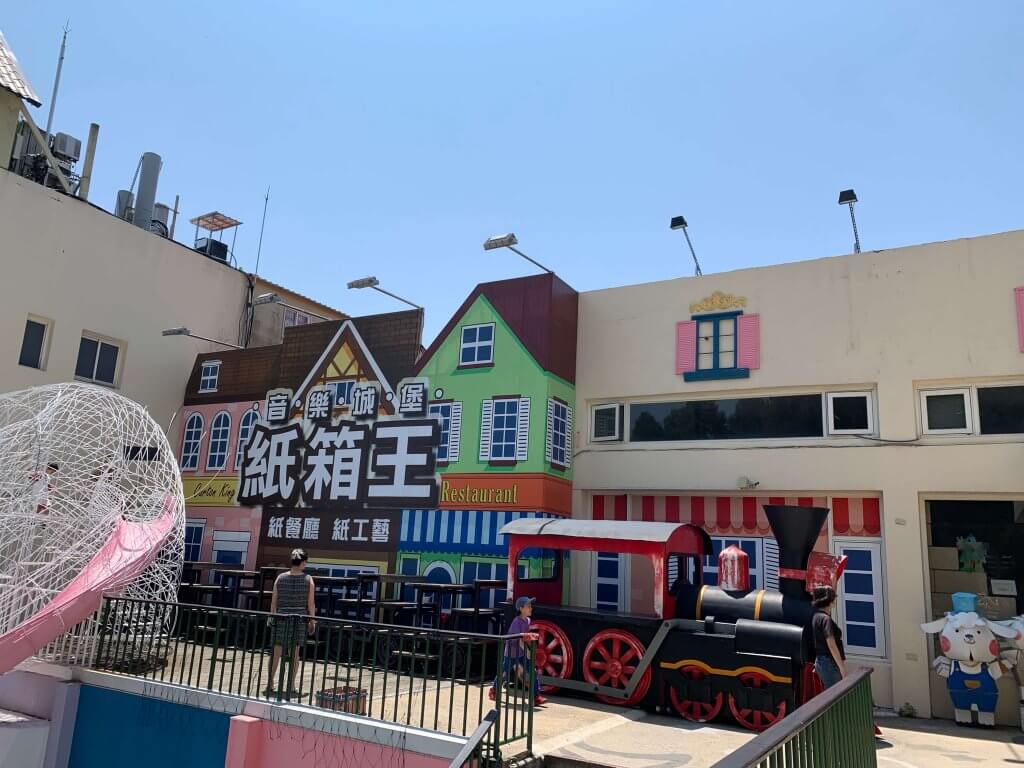 We have to admit that the entire place was very pretty though. Even the presentation on our meals were perfect. We spent so much time taking photos of our food and the flames of the hotpot were nearly gone by the time we started eating. Don't ask me why, but the paper hotpot doesn't burn up amazingly. You would have also guessed by now that nicely presented food will usually not taste fantastic.
Tummies filled, now it's time to walk around the place. The cashier told us that our lunch spending entitles us to 4 train ride tickets. Cool! Of course this would have been cooler if we were kids. As you can see we barely fitted into the train seats. Whatever, age is just a number! The train rode us through their merchandise shop, to the outdoor area and back. We took the ride a second time because we can. But it got boring haha. We didn't get any of those overpriced cardboard merchandise, but we got ourselves some aloe vera cream because were were badly sun-burnt.
Qing Jing Small Swiss Garden
Our next stop was the Small Swiss Garden. As the name suggests, it is a small European style garden. What's important is that there is no crowd. Shortly after entering the premises, we found out why. The garden wasn't exactly small, and it was 3pm in the afternoon. No one's gonna be strolling here in this heat. Nothing spectacular, just some decorations around for you to view.
We still had time so we hunted for our eki stamp. While doing so, we also met our driver Mr. Wu who was eating at Mos Burger nearby. There was nothing much left to do in the late afternoon, so we called our shuttle back to the minsu, while chilling with our ice blended coffee at the nearby Starbucks.
Back to Our Minsu
We finally got to check out our room at the minsu. It is indeed a different kind of stay, very laid-back countryside style. The interior was wooden, and there's a small balcony area. We didn't really spend much time at the balcony area because there are random insects that keep flying into our room if we left the door ajar. Plus there's no air-conditioning! That's nature for you! We were worried that we will feel warm at first. But after taking a nap, the freezing cold set in after dark. Now we know why there isn't a need for air-conditioning!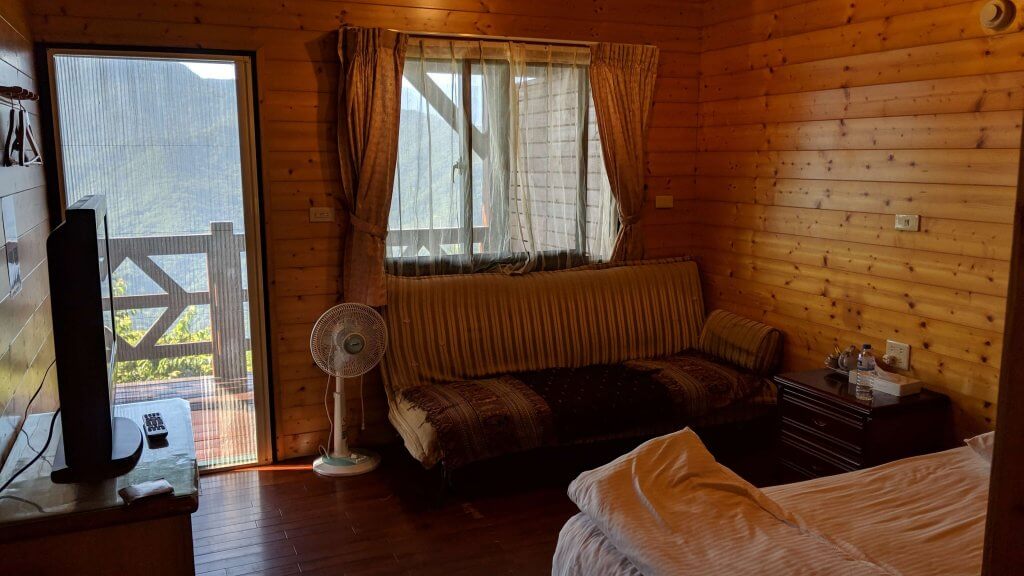 We headed to the dining area for our hotpot dinner at 7PM. I guess we wouldn't mind having a warm meal in such a cold weather! Also, it was a good break from the endless night market food in the past few nights. Apparently it was only us having dinner tonight. And special guest appearance – the resident kitty called Ju Zi (橘子, which means Orange in Mandarin). She literally crawled up and snuggled with us while we ate, how cute!
After dinner, we initially wanted to get the shuttle out to the 7-Eleven to get us some snacks. But by the looks of the cold weather, we decided to go back into our room. It was so cold we almost didn't want to shower. Covered ourselves in layers of Heattech and hibernated early tonight. Tomorrow would be another ride downhill towards Hualien!