Our One Day Itinerary of Sun Moon Lake
Today we say goodbye to Taichung, as we headed inwards to Sun Moon Lake. The national scenic area is home to the largest freshwater lake in Taiwan. An exciting journey indeed! Our driver Mr. Wu, arrived at Lumi to pick us up on the dot at 7:30 AM. He was a chatty and friendly driver, constantly telling us about the passages we passed by. Along the way there were lines of Bing Lang trees, and he explained to us the tradition behind them. Unfortunately we never got to see any of these famed scantily clad Bing Lang girls.
The hour and a half long journey ended quickly, because Mr. Wu was such an entertaining driver. Our accommodation at Richforest Hotel was just wow. The stay at Taichung pales in comparison to this place, just the exterior itself beats Taichung hands down. A pity we can't check in yet (the room, as you'll see later, is the bomb) so we dumped our luggage with the receptionist and went off for our adventure.
Richforest Hotel

The lobby area

Swimming pool & restaurant area
Onward to Sun Moon Lake's Shuishe Pier
There are two main areas to stay at Sun Moon Lake: Shuishe Pier or Ita Thao Pier. These are the main piers that were closer to the more popular attractions in the area, and had better accommodation choices. We picked Ita Thao, that's where our hotel is located at. Read reviews that the food around here is good too (though you'll read about our unfortunate plight later).
We got our ferry tickets for the round trip lake tour and headed up to the pier with our 7-Eleven breakfast. Totally keeping up our Japanese tradition of onigiri breakfast. Happy food to start the day! And because we were like the first (of two groups of) passengers to board the ferry, we could literally sit anywhere we liked. Took the outer seats that could have a view of the lake in its entirety. The journey from Ita Thao to Shuishe was only about 15 mins, and we took the chance to snap as many selfies as we could while enjoying the morning breeze.
Scoot, Scooter, Scooting
As what we've read, Sun Moon Lake has a world class scenic bicycle path around most of the perimeter areas. Our plan was to rent those couple bicycles to travel around the lake. But we got an even more ingenious idea: rent an e-scooter. Lots of these scooter shops around Shuishe pier. We were excited yet slightly fearful at the same time, because we (or just me) got zero experience piloting the e-scooter. But whatever, let's do it. It was scary at first but once I got the hang of it, it was such a fun experience.
Our first scoot destination was some random structure just a few minutes away from the store. As we got off, I realized I jammed the scooter stand and can't get it back in position. Clearly I wasn't paying attention to the storekeeper just now. Hence I've got to call him over to save us. Haha! Oh my, most malu situation ever. Anyway the storekeeper begrudgingly rode here to save our situation. Now I know how to set the e-scooter to rest properly.
Scenic Route of Sun Moon Lake
We took lots of of pictures along the route, including iconic stone structure with the Chinese words 日月潭 engraved on it. Surprisingly the weather was blazing hot. We initially thought the temperature would be cooling, in the low 20s. This woman beside me was still wearing long sleeves. We nearly died of heat exhaustion. We rode all the way to Xiangshan Visitor Center. It was just a spacious architecture, not even worth taking photos of. Bought some pudding just because we wanted to sit at the cafe to escape the heat.
The next stop that caught our eye on the map was Long Feng Temple. For the first time, we're gonna visit a Taiwanese temple. Nothing much in the temple. It was decent, but nowhere near the zen and beauty of Kyoto's temples. It is lunchtime soon. We first needed to return our e-scooter, and have a tight schedule before the next ferry departs towards Xuan Guang Pier. We gobbled down our beef noodles and braised pork rice meals at some random shop right beside the scooter rental store. And off we go to catch our ferry to the next stop.
Xuan Guang Pier
The journey from Shuishe to the next pier, Xuan Guang, was also around 15 minutes. However the ride wasn't as enjoyable probably because of the sheer amount of people on the ferry. The deadly combination of the hot afternoon sun and the after-lunch syndrome made us extremely sleepy. The Z-monster is exceptionally strong this afternoon.
When we alighted at the pier, gosh, we wished we never came here. This place was the second most Chinese place I've ever been to in my life. The insane number of Chinese tourists was pretty much, well, insane. After all, the most Chinese place I've been to was Beijing actually.
We decided to skip the attractions at this pier. Enough said. We could totally relate to this guy's experience.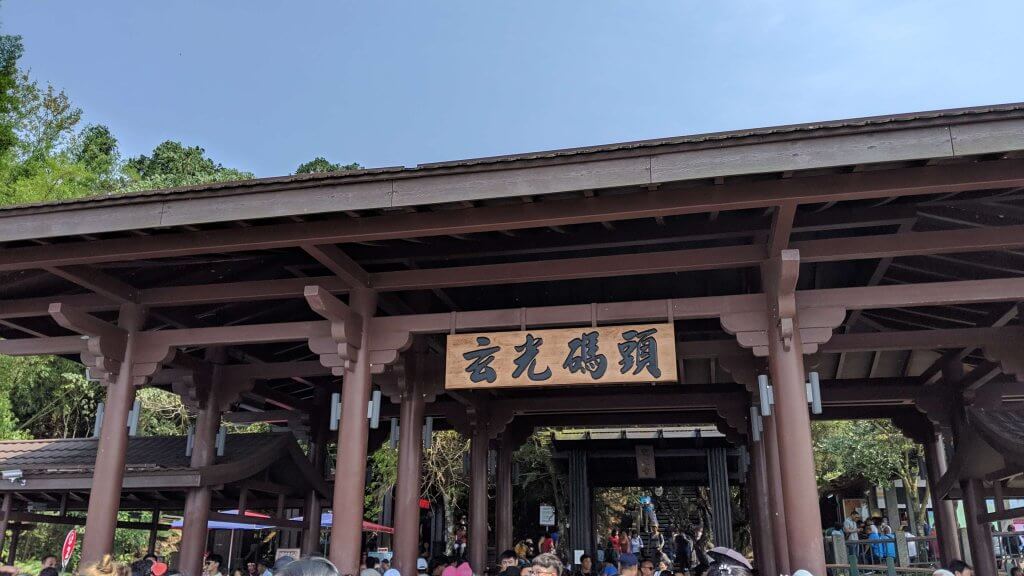 Back to Ita Thao Pier
So we took the next ride back to Ita Thao. The next item on our itinerary was to take the cable car up to the Formosa Aboriginal Culture Village (九族文化村). It's basically a theme park, but we didn't have time to spend a day here so we thought we'd just ride up here to check things out. Call us bias, but Tokyo Disneyland is the only theme park you'll ever need to go to.
By now we've lowered our bar already, we didn't expect much. But we didn't expect it to be that bad. Halfway up the cable car ride we were already complaining. The heat (not that it could be helped), and the nothingness of the area, made this place an absolute waste of time. The total amount of time we spent here admiring the place was about 2 minutes. I spent more time in the toilet taking a piss than anything else. Let's go. Back to our cosy hotel room.
Not bad la, the sky makes it look decent tbh…
Richforest Hotel, Sun Moon Lake
On the way back to our hotel, we saw a stall selling Assam Black Tea. In fact, along our not-so-exciting escapades around the area today, we chanced upon several stalls selling this drink. I thought that Assam was that fish thingy we eat from our Malay hawker stalls. Who the hell would make tea out of it? Was expecting a grotesque combination of fish and tea. Turns out it is actually just teh-o-peng. Not impressed nonetheless.
Singapore so called 'Teh-O beng'

Beautiful hotel lobby

Our cosy room

View from our room
Everything was lovely in this hotel. The lobby's got a woody smell, and a European feel to the entire place. For one thing, our window faces the lake and the view is absolutely stunning. If you must come to Sun Moon Lake, you must stay at Richforest Hotel. Most importantly, the air conditioning was working damn well. We almost didn't want to get out of bed for dinner. But our tummies got the better of us.
Dinner at Ita Thao
We read online that the best place to have night market food in Sun Moon Lake is Ita Thao's area. Little did we expect that, the stalls were mostly closed because it was a weekday. Losers can't be choosers, thus we bought every damn thing available, from every stall that was still opened.
The first dish we found was some glutinous rice wrapped with a deboned chicken wing. We've come to realize that Taiwanese love to wrap every damn thing in glutinous rice. Another significant item on repeat was their wild boar (山猪肉). It was like wild boar meat this, wild boar that, everything. We bought a pack of wild boar meat with spring onions from a stall that looks straight out of a horror movie. From an NEA hygiene rating perspective (of A being the best, and D being the worst), this stall would have been graded E. And finally, the last stall opened, was selling wild boar skewers and sausages. Got them both, again we ain't got no choice. Come to think of it, this wild boar meat's got a very porky taste, indescribable with words. You've got to try it to know it.
The weather was chilly, and it's time for ice cream. Assam black tea ice cream. Seriously we were only half-full, and blessings upon us, there was a 7-Eleven right ahead. We got ourselves some instant noodles, some drinks and a pack of chips to end the night. In fact, Taiwan is an eco-friendly country, most convenient stores charge some cents for plastic bags to discourage the usage. Since our hotel is just nearby we carried everything back. For the record, we were still only 75% full after eating. Just got to endure the hunger for tomorrow's adventure!