Senkoji Temple, Experience Heaven and Hell Here
Before we head down to Tempozan Harbor Village, we routed towards Senkoji Temple. Saw this online and thought it might be pretty interesting. The focus of this shrine was to give an experience of heaven and hell. It was pretty much like Singapore's very own Haw Par Villa. Except that everything is in Japanese and we couldn't understand anything at all. Small attraction, but cool place to visit if you have spare time.
Dainenbutsu-ji Temple
The Heaven & Hell thingy wasn't entirely an attraction. We completed it in less than an hour. However, the town of Hirano was quaint and peaceful. Worth to mention that there are also several temples scattered around the area. Thus we picked one along the heritage trial, one that had a zen-ish sacred Shinto tree. It's amazing how huge these trees can get ya!
Doing the Marilyn Monroe

Hall of grandeur

Sacred Shinto tree
McDonald's Japan. Must Eat.
They say you must eat their McDonald's when you're in japan. Why? Because they've got pork burgers over here! Notably, the key difference is in the way the Japanese clear their trash. First, empty the ice before separating the food stuff. Then separate the paper trash from the plastic trash. Admire their way of recycling, hope that Singapore adopts this eventually.
The menu which is all in Japanese.

Our Macdonald's meal
Tempozan Harbor Village
Tempozan is like a mini amusement area by itself. Think of it as a less commercialized Sentosa. Passed by an automotive museum that had vintage cars on display. Not sure if they are actually selling the cars or not. Admission to the inner exhibit was not free, therefore we gave it a pass.
Tempozan Ferris Wheel
Yes! The Tempozan Ferris Wheel. When it opened its doors on July 12, 1997, it was the tallest Ferris wheel in the world! There are two types of cabins, the covered ones and the transparent ones. Of course we'll take the transparent car. Perhaps only those with severe vertigo issues would take the covered cars. The queue was lengthy, but it was worth it.
Tempozan Ferris Wheel

The ticket

View from inside the ferris wheel

View from inside the ferris wheel

Featuring Liangliang

Us in the ferris wheel
Universal City Walk Osaka
We took a ferry across the lake, from Tempozan to USJ. It's basically like our USS. And there was that iconic Universal Studios globe. Had to take our mandatory tourist shot, even though we didn't exactly step foot into USJ. Hearing the screams from the nearby roller-coasters, we figured out that USJ is not suitable for us, the faint-hearted.
Takopa Takoyaki Museum
Takoyaki Museum next, this is more like it. Tummy exercises suit us more than thrill rides. Now, I'm wondering why on earth they term it "museum". We came here expecting it to be some sort of an educational place, perhaps about the history of how takoyaki came about. In contrast, it was just a collection of about 8 to 10 different takoyaki stalls. Duh, English fail. Nevertheless, whatever we bought tasted good. But our verdict is that those at Dōtonbori were much tastier.
The Osaka Takoyaki "Museum"

Look at the Tako balls!

Our 2 different Takoyaki balls
Our Last Dinner Here in Japan
Time, why you fly so fast? As we explored Kuromon and Nippombashi one last time, we found an Izakaya selling horse sashimi. Don't think we've ever seen this dish in Singapore, so we're gonna be the adventurous folks to take up the challenge. In fact, it didn't taste funky at all, and it was rather pleasant and delicious.
Our flaming sushi

Horse, beef, and not sure what
Saw this Taiyaki stall so we decided to have it. More importantly, I wanted to expend the loose coins. We picked the item that could clear us off the most number of coins. And guess what, we forgotten about the tax when we made payment, so we ended up with more coins. Duh!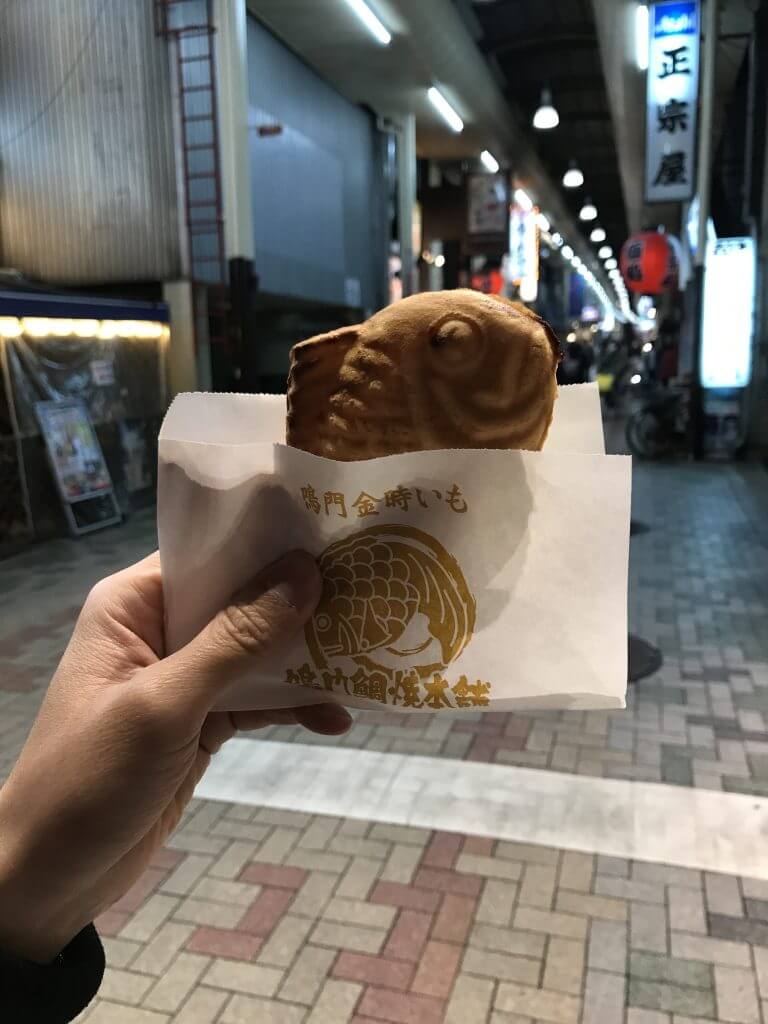 The struggle is real as we reluctantly packed our baggage tonight. But I had a great time. Minmin had a great time too! Japan has treated us well, we love you! And we'll be back, I promise.