The Arashiyama Bamboo Groove
Again we woke up super early to start our day. After losing to the crowds at Fushimi Inari yesterday, we are determined to beat them at Arashiyama today. We are Singapore, Singaporean. Kiasu is in our bloodstream.
Damn. Dam.


Artsy dumpling lookalike dessert.
Pro-tip: You better be damn early. Like way too early. Those Instagram shots of an empty groove, probably happened while you were asleep. Or basically 他妈的高手PS出来 one. It wasn't crowded for like 15 mins. Then. It was crowded.
Above the fold.

Below the fold.
There was a couple taking their wedding photos. A big round of applause and congratulations to them. We admire their determination. Their determination to take photos without any photo-bombers. Either that, or their studio editors are top-notch.
The Japanese are polite, and they'd give way when they see you taking photos. Even so, it was pretty daunting to take photos without bombers at the back. From time to time, we got pockets of opportunities to take clear shots. And we made it. Today, we've attained the status of Master Selfie Takers.
There's a bag there btw

Still can't hide the strangers behind us

Not bad, managed to hide everything behind

All eyes on us only please
Random note: Some tourists chartered a rickshaw down this alley. In the first place, walking amidst the crowd is already difficult. Do not be like them. I repeat, do not be that idiot.
Tenryu-ji Temple, Arashiyama
Time for us to squeeze our way out. And move on to our next location, Tenryu-ji Temple. At this point we kind of figured out that the gardens look more or less the same.
Usually, around this time, nature calls and my bowels act up. Almost routinely. This wasn't the point, but it was noteworthy to mention that it is the first time I've seen an unheated toilet-bowl in Japan. Meanwhile, le girlfriend was basking in the sun outside.
Not bad still got Sakura

Not sure why she loves to smell
Sakura so much
The Kyoto Arashiyama Orgel Museum
Next station. Apparently there are 2 of these music boxes museums in Arashiyama. I love this place, tiny music boxes with familiar Japanese tunes. Eventually, we spent some time here, looking for a gift for my piano teacher. To thank her for her patience in teaching this dumb student.
Arashiyama Rilakkuma Sabo
And now it's time to visit Minmin's favorite place. Rilakkuma shop! As can be seen, she went a little crazy over her idol. Though she was going absolutely bonkers, she refused to let me buy any of these souvenirs. Rilakkuma ice-cream, that's the only thing I'm allowed to buy right now. Duh.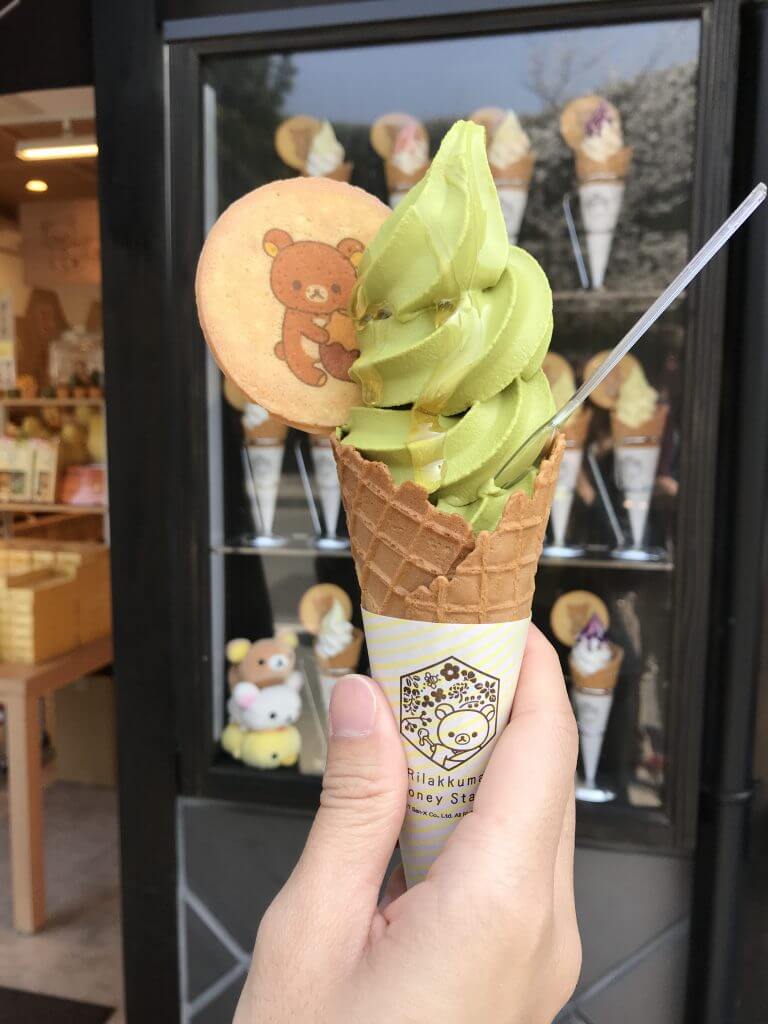 Sagano Romantic Train
Next on our itinerary, the Sagano Romantic Train ride. It's actually not romantic at all. Why? The passengers are noisier than aunties at Tampines Round Market on a Sunday morning that's why. To think I actually went all out to Airfrov a pair of reserved tickets for this. On the bright side, we could rest our legs for 20 minutes.
Butaya Ton'ichi Kyoto Teramachi
It's hard not to emphasize the quality of the food here. In fact, in Japan as a whole, what we deem quality food (by Singapore standards) is basically the norm here.
Kyoto Mameshiba Cafe
Chanced upon this doggo cafe yesterday. And since we're free this afternoon, why not pop by. Kawaii! These tiny creatures are extremely adorable. Most of them were actually afraid of us. But there's this one tiny boy that automatically climbed onto our laps! Perhaps it's the tonkatsu smell on our clothes that attracted them.
Geisha Hunting at Gion

For some reason we went back to Gion, to try our luck with Geisha spotting. Generally speaking they'll make a point to avoid public contact. Which made us even more determined to spot one. We felt like perverts loitering these corners and snapping away whenever we saw one. But it was eye-opening. And we learnt the difference between Geishas and Maikos. According to Okami-san, and by my interpretation, maikos are geishas wannabe. And then there is this Minmin, who is a maiko wannabe.
It was a fruitful day indeed. We were still full from the tonkatsu, thus we packed some takeaway sushi from the convenient stores on our way home. Light bites and an early night, for tomorrow's destination.

Our takeaway sushi