Fushimi Inari Taisha
Had breakfast prepared by Okami-san before heading out to Fushimi Inari Taisha. So nice of her to have prepared some bites for us even though our accommodation didn't include breakfast for today.
Today we learnt that Japanese sweet potato is called Satsuma-imo. You know, that purple-skinned version that you see at Somerset's Don Don Donki. It has always puzzled me; why would someone queue for 20mins for a piece of sweet potato? Finally, we knew what those crazy folks were queuing up for.
I initially held back on emphasizing on the crowd. But look at that! A picture speaks a thousand words. Or shows a bajillion people, for this matter.
Fushimi Inari Pilgramage Hike
We soon realized that it is a path up the hills. Not many are interested in completing the entire pilgrimage hike. As a result, the crowd thinned as we climbed higher. The main objective was to get a picturesque shot, to signify that we've been here. And today we learned, patience is a virtue. Eventually we'll land some shots without any passerby. We too didn't complete the hike, because we don't have much time. In all honesty, we were tired.
We spent some time shopping the streets nearby. Basically I was only looking for 2 things. One, ice-cream. Two, Rilakkuma keychains. Me thinks Minmin is going to get fat as a result of consecutive ice-cream chomping! So going to get slapped for this hehehe.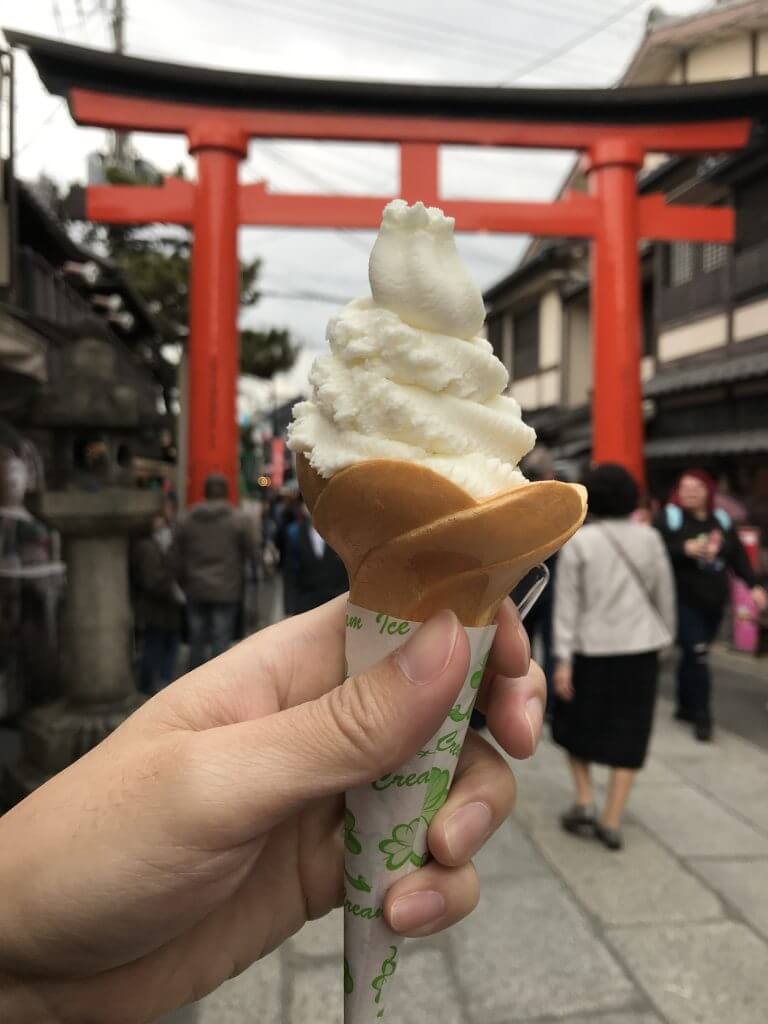 Traditional Kimono Rental
In Kyoto, everyone wants to be a part of the culture and learn more about the tradition. Literally about 20% of the women you see on the streets are clad in the traditional kimono clothing. We were having a snack, when we saw 2 girls sitting beside us, in vibrant colored kimonos. I initially thought I'll look stupid, but seeing them in these, I think Minmin would also want to. And so we literally walked into the nearest rental store to experience it for ourselves.
There were lots of kimonos to choose from for the ladies. And different price range too. Of course the prettier ones costed more. Seriously, the more you have, the more difficult it is to choose. Luckily for me, guys don't get much of a choice, I was done in 5 mins. Nearly fell asleep while waiting for her. And wow, I totally didn't recognize her after! Totally amazed by the make-over, and the intricate hairdo. Tada!
The man

The lady
The Philosopher's Walk
For the first few moments it felt like lots of fun. Slowly, it felt like the kimonos are sucking the air out of our lungs. I wonder how those fellas (in modern samurai movies) could wield their katanas and fight off a horde of ninjas. I can't even scratch my balls in this outfit please.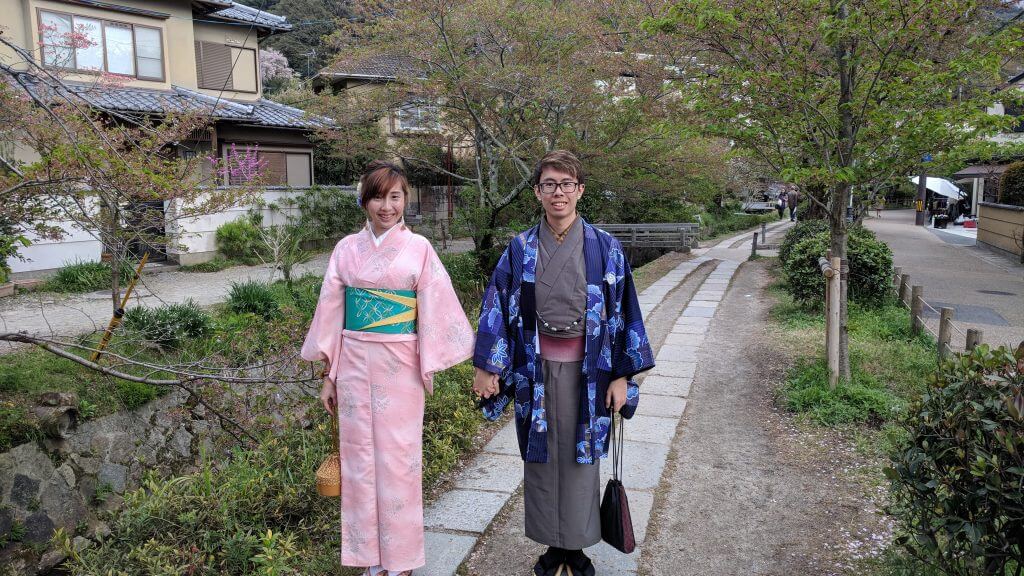 Beautiful as it looks, it is truly unsuitable for daily wear. Perhaps we haven't mastered the art of taking tiny steps without ripping off the ribbons. Not to mention, how else do you take a piss without access to your undies? In all honesty, it was indeed a memorable experience. And we were both thankful for this once in a lifetime encounter. No regrets.
I think I look kinda weird.

Loving my back view a lot more than my front view.

Not cute at all please

Trying to do some chicken move
Have to shamelessly promote my Google Pixel once more. Don't you think this shot is perfectly taken? Also have to admit that the hairdresser did a pretty good job with this.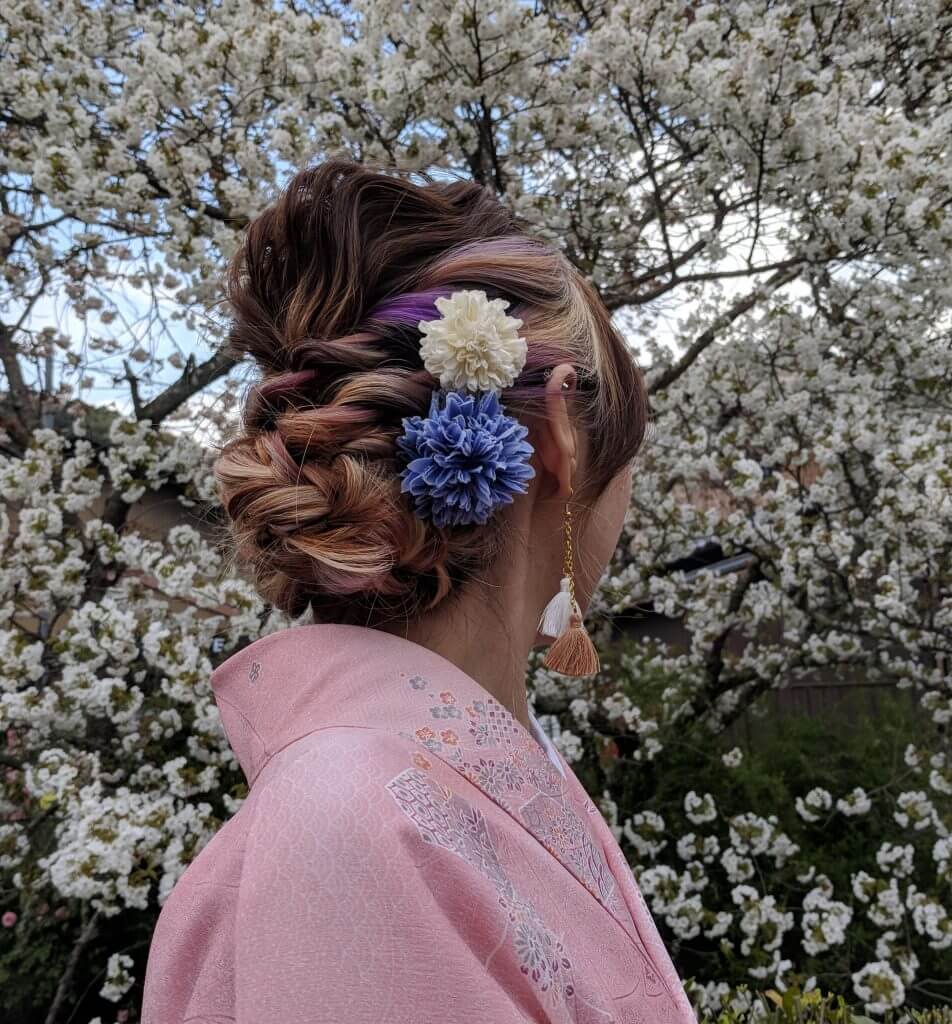 One of the key highlights of the day. Not entirely sure which is sweeter, the green tea dessert, or my girlfriend right now.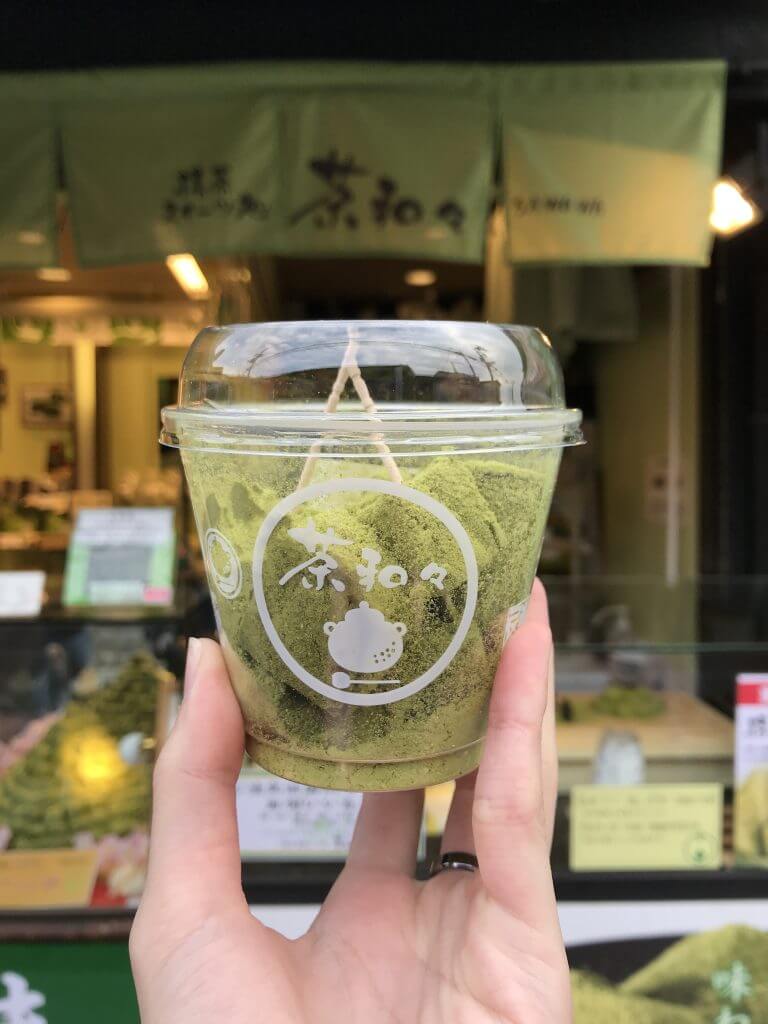 Tendon Makino Kyoto Teramachi
Unfortunately, due to the rain, we didn't manage to go to all the places that we have initially planned for. Instead we headed back to our ryokan to rest. Also made it a point to show Okami-san our cute kimonos.
Times's up, needed to return our kimonos and I wasn't feeling well suddenly. Could be the tightness of the kimono robes. Went to return them, and headed out for dinner at Teramachi. I felt like a pregnant woman after childbirth, finally being able to breathe properly. (Except that my tummy still looks like a pregnant woman's.) Somehow, I miraculously recovered when we arrived at the food street. The smell of food is the cure to all sickness!
Tendon.

The clam soup. Thumbs up!

No words to describe the awe in these.
Dusk was a couple hours earlier than in Singapore. Sky turned dark too early man. Initially wanted to explore our area before heading back to our room. But damn, the cold wind is unbearable!