Back to City Life at Nagoya
We're headed to Nagoya, back to city living after being close to nature for the past 2 days. By now we're already fatiguing on the consecutive Kaiseki-style meals. No doubt the breakfast at Gorakan was fantastic, we're feeling a little overdosed. One thing different today was the hot-pot tofu, absolutely delicious!
It's a straightforward ride from Hakone to Nagoya. We're right at Gora station anyway, so it's a scenic train towards Odawara, and from Odawara we took the Shinkansen towards Nagoya. Smooth. Once we landed at Nagoya, we went to get our bus tickets for tomorrow's trip to Takayama. En route, we saw Nana-chan. Pretty sure the other passersby were staring at us, wondering what the heck we were doing.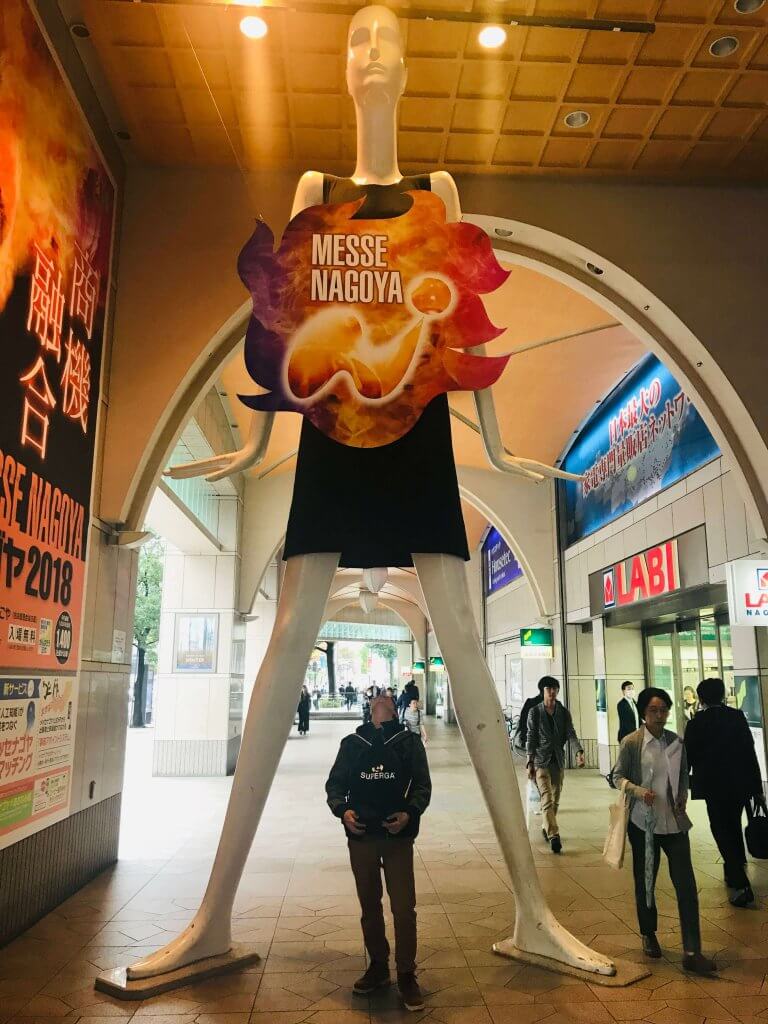 Gram Cafe & Pancakes
Alright, Red Planet Nishiki wasn't too shabby after all. Just minutes away from the Marounochi subway station. And the most important thing is that our luggage arrived safe and sound. Our rooms were ready and we were able to check in, so we had a refresher before heading out.
We've always wanted to try the famous Gram Cafe & Pancakes when during our last trip. Just didn't have the time back in Osaka, so now we're gonna check it out since there's one nearby at Sunshine Sakae. The perks of being a tourist on a weekday afternoon – you'd get a shot at places that would've been otherwise very crowded on weekends. A set of their signature Souffle Pancakes and a drink. Bouncy, and awesome.
Osu Kannon Temple
Nearby Sakae is a popular Buddhist temple called Ōsu Kannon. As with most temples in Japan, this one is equally majestic. The only thing is that it was situated among some high-rise buildings. As you can see, it didn't look as good with the buildings in the back. For some reason the temple was closing soon. It was like, 3pm? Couldn't get to explore the temple, but we went up to the main hall to get some blessings and felt holy nevertheless.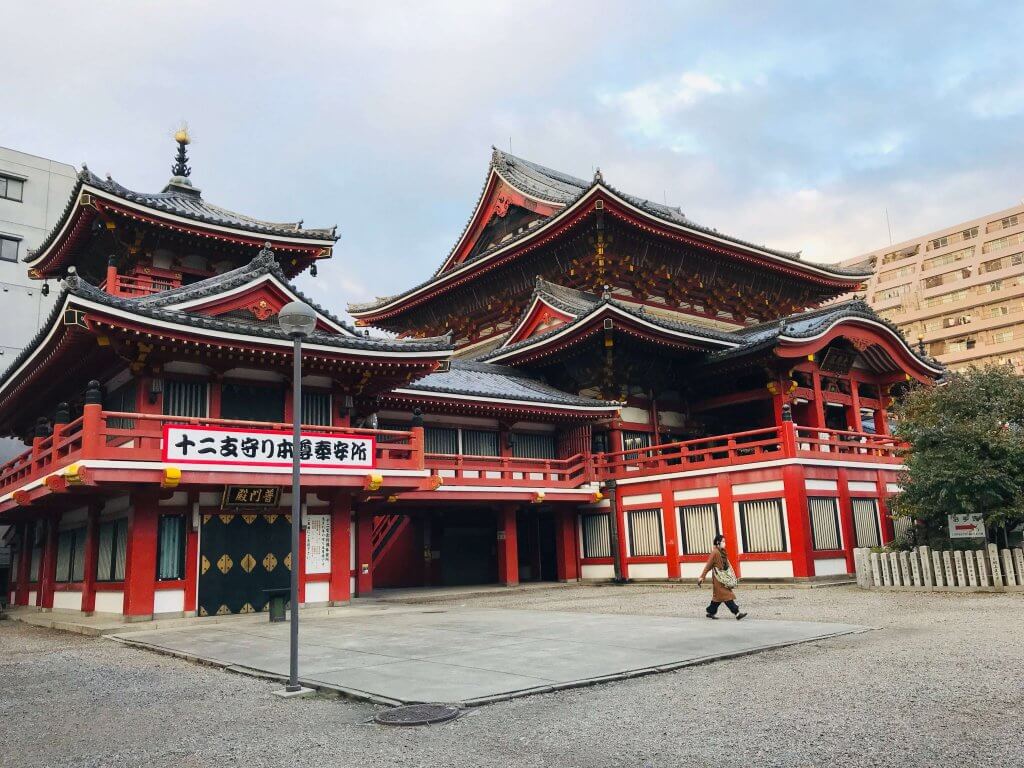 Osu Shopping District
Just right beside the temple, was the shōtengai, Osu Shopping Street. It wasn't as crowded as what you'd find at Asakusa, or any other mainstream touristy spots for that matter. Also it felt a little dated compared to the rest. But it was huge, almost 400 shops and restaurants. It had a nostalgic charm though, we felt like we time traveled a decade back. I like this place, for the fact that it wasn't crowded AF.
We got ourselves some finger food of course. A pack of popcorn chicken, not fantastic but somehow popular amongst the Japanese students. We saw many of them though, chilling out after school I suppose. There was an interesting shop called Alice on Wednesday here, we bought some of these beautifully designed chocolates back for our friends.
Hitsumabushi in Nagoya
Basically Nagoya is famed for two dishes. Hitsumabushi and Miso Katsu. We're gonna look for hitsumabushi for tonight's meal. So hitsumabushi is basically grilled unagi, or grilled eel, you first eat a portion as is. Next you eat it with the condiments. Third you mix some soup broth in it. There's been a recent rave about this back in Singapore, called Man Man. We've tried Uya twice, it was good enough for us to not bother trying Man Man.
The Hunt For Hitsumabushi
So anyway, we didn't research where to go. And we simply hit up this word on Maps, and went to the closest one. We decided to try one called Omatsu, but the pin on the map was a little wonky. And we had a difficult time looking for it. We finally found it at the basement of some video game arcade, well played. And the worse thing is, the "closest" shop was literally closed. Like for good. So no Omatsu, and onward to our next choice.
We finally found one closer to Sakae station called Unagi Shirakawa, which was equally difficult to find. There wasn't any queue at this time, lucky for us. The food was even better than Uya. The unagi skin was crispy, and the flesh tender. Not to mention the authentic Japanese rice, and fresh condiments. Now, we can safely say we've had the best hitsumabushi ever.
Nagoya Oasis 21
Since we're right next to the Nagoya TV Tower, we went to the nearby Oasis 21 to have a look. I've been here the last time, but it was during the day. The nighttime view was more spectacular though. We went to the oval shaped glass structure on the roof to take photos. It was a relatively bad idea because we didn't bring our jackets out.
We've this impromptu idea to look for an Eki stamp book. Along the way we've noticed these stamps at major train stations, we should have collected them. It's not too late to start though, so we tried our luck at the nearby Tokyu Hands store. We tried our best to describe it to the staff because we didn't know what it was called. Amazingly, they had a collection of these books. By the way, this book costs like 25 SGD. We chose the most Japanese looking one, it's going to last us through our vacations yay!
For some reason we were a little hungry after all the walking. And so we bought our favorite cup noodles – this curry flavored cup noodles! It was a pretty slow day at Nagoya. We're ready for our day trip tomorrow to Takayama!