From Kawaguchiko, to Lake Ashi Hakone
Rise and shine to an amazing view this morning. It's a pity we won't get to admire the scenic view for long. Today we are going to visit yet another lake in the region, Lake Ashi Hakone. Which means we will be changing Ryokans too!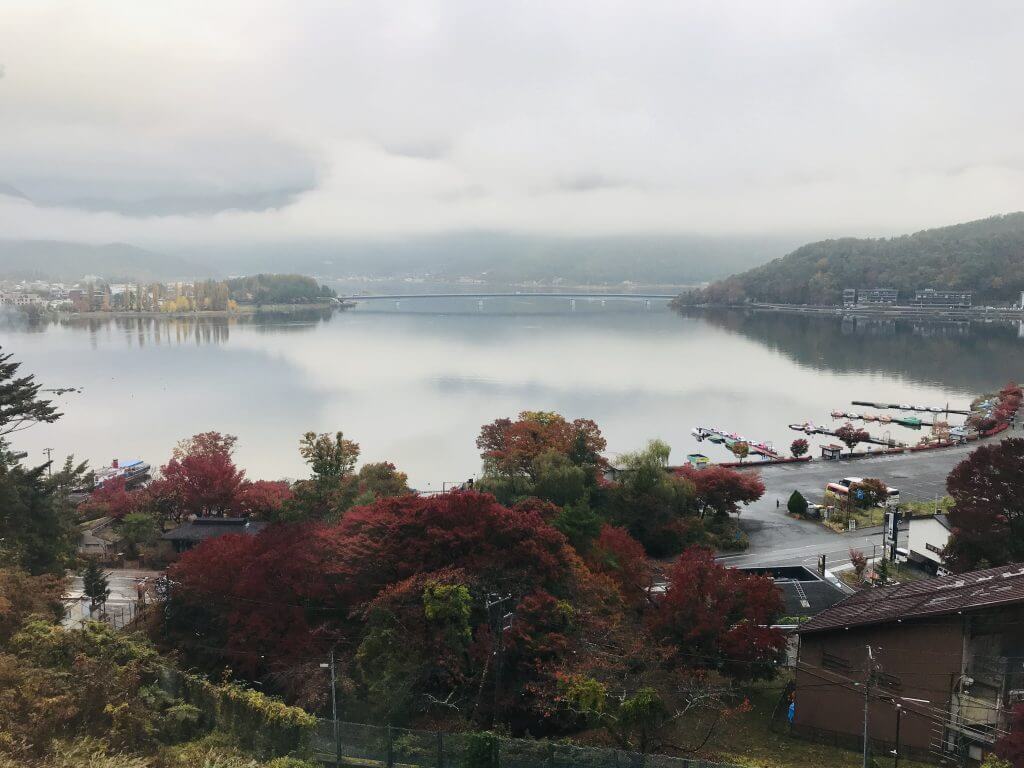 The next best thing to waking up with a view, is to have a Kaiseki-style breakfast. Just like the dinner from yesterday, there were 8 unique courses on the menu. Each of them were beautifully presented, I would say, prepared with love and passion too.
Goodbye Rakuyu, it was a pleasant stay. We took their shuttle service down to Kawaguchi station. But we realized that our map was lost, must have left it at the receptionist while we were checking out. It was important to us, because that's the only copy we had from the Odakyu center at Shinjuku. Without hesitation, our driver dropped us off at the station, made a U-turn back to the hotel and fetched it for us. Kudos!
Pitstop at Gotemba Premium Outlets
So the journey goes like this, take the Fujikyu bus from Kawaguchi to Gotemba Premium Outlets, then change to the Hakone Tozan bus to Gora. We had a good 30mins rest at the Premium Outlets, wanted to explore but our legs just won't budge.
And as soon as we reached Gorakan, we left our baggage at the reception and headed off for our next adventure. Gorakan was not as pretty as Rakuyu, but it was still top notch nevertheless. On a side note, I'm pretty sure Gorakan = Gora Ryokan.
Ōwakudani Valley
The cable car station was literally just right outside our Ryokan. We took it upwards to Souzan, before transferring to the Hakone Ropeway towards Ōwakudani Valley. The locals call it Hell Valley, or the Boiling Valley. Literally because it is filled with active sulfure vents and hot springs. Damn this place stinks so bad! We literally had to hold our breaths.
The famed item here is their black eggs. Basically hard boiled eggs with shells blackened by the sulfur. It is said that one's life can be prolonged by seven years just by consuming one of this. But they sold these eggs in packs of 5. The high cholesterol levels attained by eating so many eggs will probably negate the prolonged lifespan. We felt cheated because the eggs just tasted like ordinary hard boiled eggs.
Lake Ashi Hakone Sightseeing Cruise
We met Papa and Mama Lee here at the pier for the Lake Ashi Hakone Sightseeing Cruise. Supposed to meet up earlier but our Kaiseki breakfast took us a long while. They were supposed to be ahead of us, but apparently the old folks dilly dally until they missed their original cruise timing.
Had some family bonding time right here. So coincidental to meet all the way at Hakone. Luckily for us, and thankfully, we got the "reserved deck" by paying a fee. Otherwise, the commoners area was packed with a bajillion tourists and that would've sucked bad. Anyway the ride lasted for like half an hour. Bade goodbye as they left for their journey while we went for ours.
Ancient Cedar Avenue
A short distance away from the Hakonemachi pier lies a path lined with gigantic cedar trees. In the past, this use to be a path for soldiers to transport their stuff. Probably a lot more history that our tiny knowledge. Right now I guess it looks suitable for a ninja movie, like you know, samurais camouflaged in the trees and hurling shurikens at one another.
Minmin for scale

Not sure what he's doing
Hakone Shrine
One of the items on my bucket list was to find this shrine, the red torii gate that overlooks the lake. There's actually a queue to take pictures with the shrine. The Japanese being Japanese, queuing up was orderly. Each party at the queue will help the group in front to take a shot. We queued for about half an hour, longer than any ride we've queued for over at Disney. Started to drizzle shortly after, and indeed we were lucky to have taken this Instagram-worthy shot!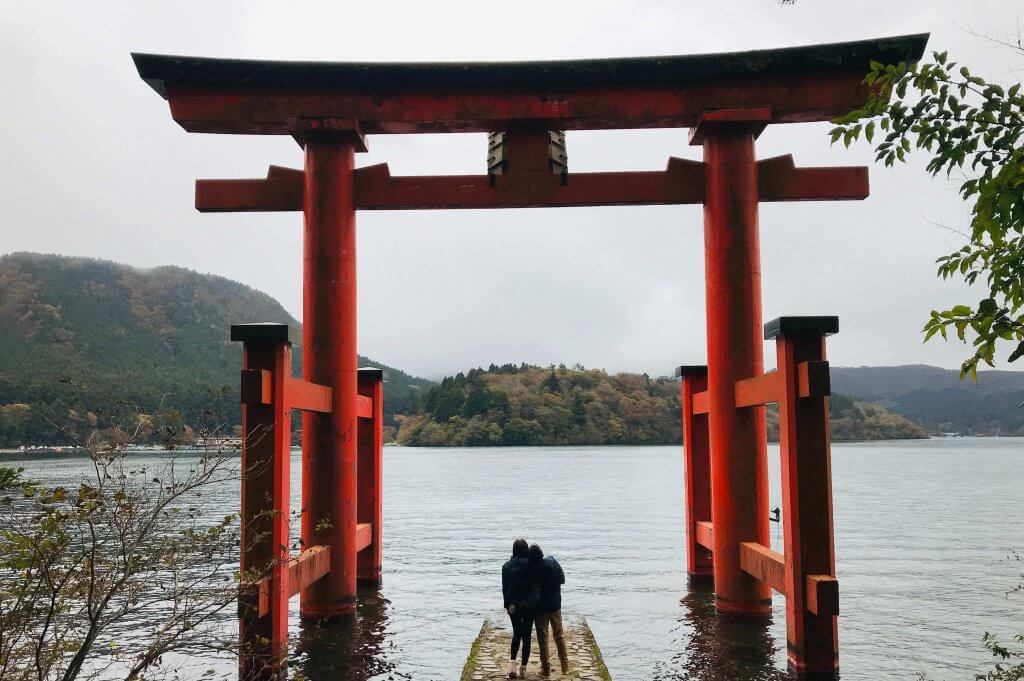 Back to Our Ryokan, Gorakan
Indeed the room had no spectacular view as with Rakuyu. Obviously because we're not exactly right beside the lake. However the Ryokan felt more homely here, and even colder right here. I also like the fact that the corridors had traditional walls and were narrow and less busy.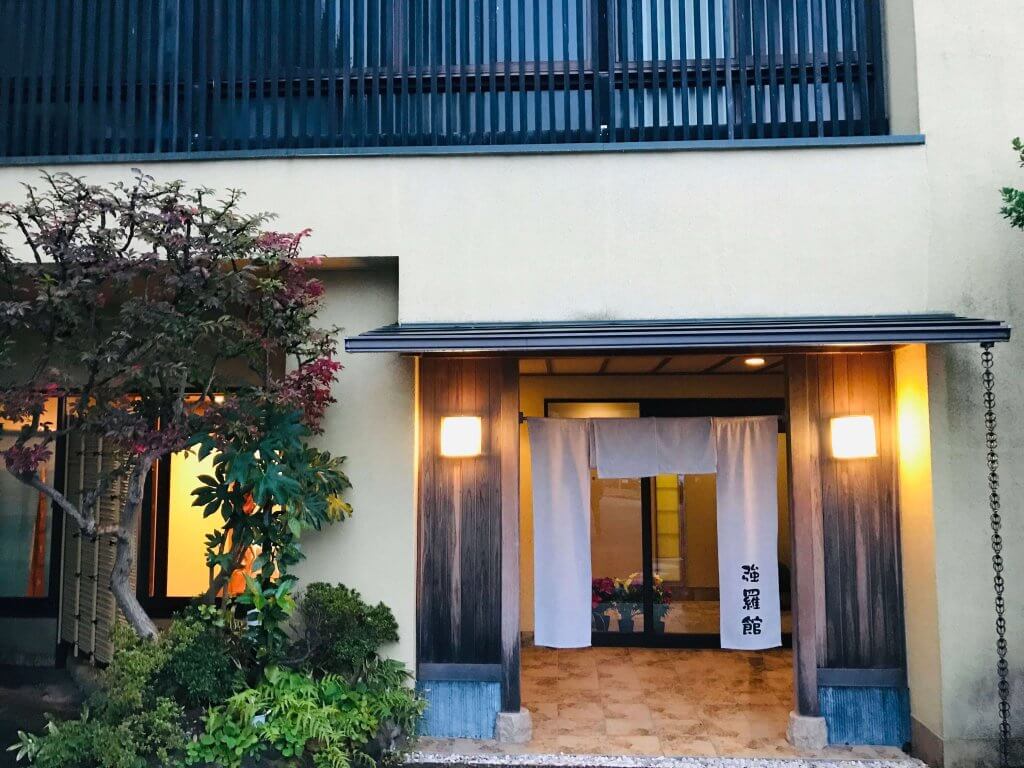 We're gonna have dinner, Kaiseki dinner once again. Oh my, we're gaining lots of weight now. Again, every single one of the 9 course was plain heavenly. There is really no clear winner for the food we've had here versus Rakuyu.
Right after dinner, we went for our onsen bath. Thankfully the water isn't boiling. The cold was equally intense, we were stuck in a dilemma of freezing our butts out or burning our asses inside the tub. The springs here were more sulfuric, and it's said to make our complexion as smooth as a baby's butt. However though, there was an acquired smell that stuck onto Minmin's hair. Smells like a garbage truck at first, but actually quite nice if you get used to it.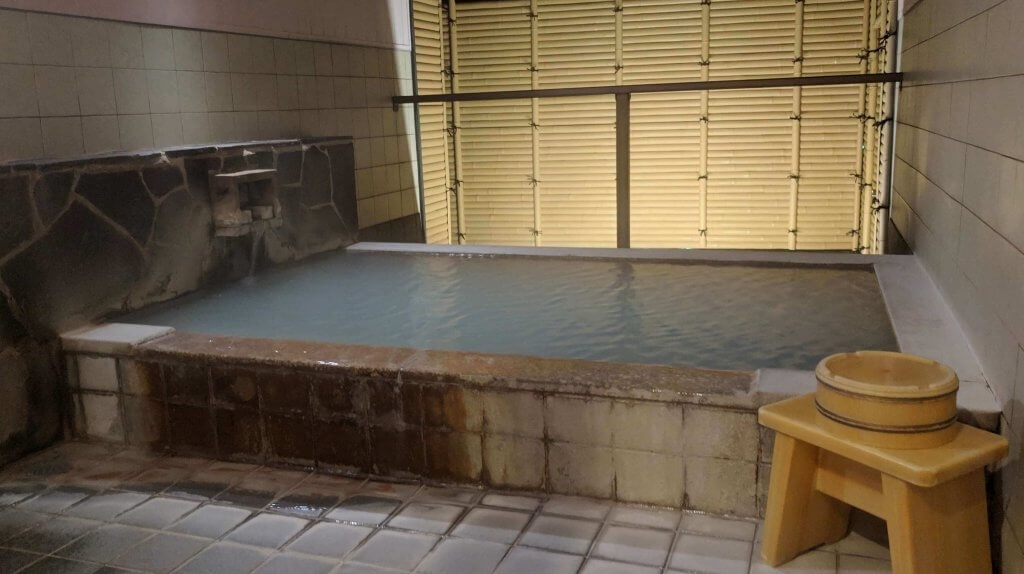 Fuji Kawaguchiko vs Lake Ashi Hakone
Our onsen ryokan experiences these 2 days were fantastic. Both Rakuyu and Gorakan had exceeded our expectations! In terms of food, we were never dissatisfied. And in terms of the room and overall location, both were good. Most importantly, the futons were damn comfy! Tomorrow, we'll be heading to Nagoya, and to meet our luggage there. The stays by the lakes were definitely worth it!