Towards Mount Fuji and Kawaguchiko
Rise and shine! Literally, because I was expecting the sky to still be dark, but in fact it was already shining brightly at 5AM. This morning, we left super damn early to catch our bus from Shinjuku bus terminal. Bus leaves at 6 yo, towards Kawaguchiko. Kawaguchiko literally means Lake Kawaguchi, and it is loosely interchangeable with Fujikawaguchiko. I'm not a master of the language, but no points for guessing that it means Mt. Fuji Lake Kawaguchi.
Goodbye Tokyo! We've actually been in Tokyo for a week now, time flies faster as we're enjoying. It was close to 2 hours ride, so we basically had our onigiri breakfast on the bus. And promptly fell asleep right after eating. We were so excited, in high hopes of catching a glimpse of the majestic mountain.
Minmin with her barang barang.

Our hotel lobby!
The weather was much colder here, probably because of the mountainous area. And because we are too early, the tourist information center wasn't open yet. No buses too, so we just got to walk to our ryokan – Rakuyu. Quite a far walk by the way, with our backpacks and a uphill journey. Our legs died, once again.
Kawaguchiko Chureito Pagoda
Our ryokan lobby was amazing. But we got no time to waste. Let's head on to our first stop, the Chureito Pagoda. Luckily, the ryokan had a shuttle service to Kawaguchiko station and that saved us some strength.
To get to the pagoda, the closest station is the Fujikyu Line Shimoyoshida Station. There're plenty of signboards leading the way there, and once you see the 2 orange lamp posts leading up a flight of steps, you're on the right track.
Actually from the base, there were still 400 steps up. Oh gosh. The trail up was very pretty though, the foliage had a good mix of autumn colors, orange, yellow, red and green. As we reached the top, we found that the weather was too cloudy, and Mt. Fuji was nowhere to be seen! Why? I read that it could get cloudy, but didn't expect a zero visibility of it. The disappointment is real. Sigh, maybe next time. Damn, I thought we could get a signature shot of Chureito Pagoda with Mt. Fuji in the background and sell it on Getty Images or something.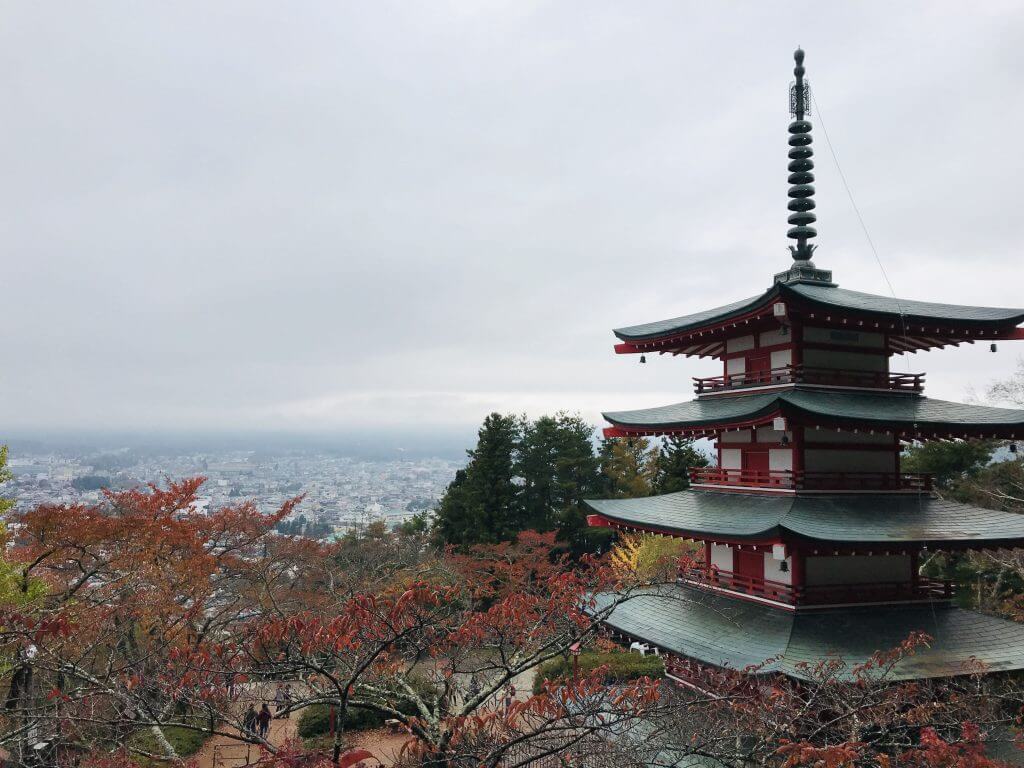 Narusawa Hyoketsu Ice Cave
We had limited time at the area, with so many places to visit. Therefore we had to pick some on the spot. This part wasn't planned for, so we chose the Narusawa Ice Cave and Fugaku Wind Cave as they were pretty much a pair of attractions, very close to one another. The main reason is, 'cause stylo. Ice and Wind caves, how cool can it get?
Its a good 30 minutes ride to Narusawa from where we were. A good time to rest our legs. The cave was said to be perpetually at 0 °C, but I guess we were already feeling cold enough. First off we need to put on our safety helmet before descending in. Actually, it's all ice inside the cave. Duh, obviously and hence its name for a reason. Nothing spectacular about it, just be careful as some parts are quite slippery. We were duck-walking most of the time, and we finished the walk in the cave within a few minutes. That's all folks? Stop by at the cafe to rest, and have some ice-cream after the Ice Cave. I think we spent more time eating the ice-cream than in the cave itself.
We saw signs at the shops that the Wind Cave was a short walk towards the west. There were 2 paths, one via the main roads which we alight just now, one through the forested woods.
Aokigahara, Japan's "Suicide Forest"
The adventurous spirit in us made us choose the path. There was literally no one else on this route. The woods looked serene, and the silence was deafening. So much so it felt rather creepy. Curious if we were still on track, I opened my Google maps. And I found out that we were just trekking at the north of the famous Aokigahara, also known as the Suicide Forest. I really shouldn't have Googled, because it made our walk slightly creepier. All we want to do right now is to GTFO as fast as we could.
Fugaku Fuketsu Wind Cave
Fugaku Wind Cave wasn't any more interesting either. We also had to don the stinky helmets. And the cave too, looks pretty much like a cave. Not as much duck-walking this time but still, nothing fantastic. Fun fact about this place: because of the cooling temperature, it was ideal to store silkworm cocoons. I'm not sure why they would do that. Again, we completed it in minutes. While waiting for the bus to the next stop, we bought a bun from the store. It is noteworthy to mention that this bun sucks. It's a unique experience to finally eat something that sucks so bad in Japan.
Yay steaming bun

Wtf is this shit?

Min the builder

Descendants of the cave

Old school biscuits
Saiko Iyashi no Sato Nenba
The next station was the Iyashinosato Ancient Japanese Village. It was destroyed by a landslide during a typhoon in the 60s. And it was reconstructed as an open air museum. The buildings were beautiful, each had its unique cultural crafts, e.g. some taught painting, some sold pottery wares or even soba noodles.
In the distant skyline, you'd see the mountain range. Breathtaking and spectacular are the only words that can describe the view here. But still, no sight of Mt. Fuji. We were curious and wanted to know which was it (or if it were even visible right here), so we asked the stall owner where we got our Taiyaki from. Like chicken and duck talking, she couldn't understand what we were asking. I think she finally caught the words "Mount Fuji", and we kind of figured out that she was implying we can't to see Mt. Fuji today because it's too cloudy. Today we're on a diet, surviving on that measly sweet potato we bought while waiting for our bus back to the Ryokan.
Fuji Kawaguchiko Onsen Rakuyu
It was a tiring day, as with almost every day in Japan. Our room at the Ryokan was perfect, the windows faced the beautiful Kawaguchiko. Too bad, Mister Fuji was still hiding behind the clouds. We booked an onsen session, equally amazing. It was open air, so you could literally feel the cold weather. However, the water in the onsen was too hot for my liking. Stepping in the tub was too hot for me, staying outside was too cold either. Damn. Not sure how Minmin's butt wasn't burning, she could comfortably soak inside…
Our room with view

Cozy little chairs

Private onsen

Sexy Minmin
It was dinner time right after our onsen session. Not sure what magical effect the onsen had, but we felt extremely hungry. It was a traditional Japanese Kaiseki dinner. We played the part by also wearing their traditional Yukatas to the restaurant. These meals usually come in the form of 8 or 9 courses, right now it was 9. I can't describe the amount of amazing in each and every single dish. Delicious is an understatement. Right after dinner we went to weigh ourselves at the onsen area, Minmin's added 2kg. Yay, couple goals.
We were told that the accommodation includes breakfast for tomorrow. Weird, I thought I didn't choose the breakfast option, but I'm not complaining. Guess we'll be reaching Hakone a little later.
Staying one night at a ryokan in Kawaguchiko was one of the best decision. The food and accommodation were perfect, the weather was enjoyable (cold but bearable) and our room had a spectacular view. Will revisit if we have the chance.