Red-eye Flight to Tokyo
Ohayo Japan, once again, we are back at the land of the rising sun! Oh we miss you so. This trip we flew red-eye, directly from Singapore to Tokyo. Initially thought we could catch some sleep, but we ended up watching movies and eating all night. That's SQ for you, you'll never be able to stop eating. Kind of lethargic when we landed, but no, somehow we'll squeeze every ounce of energy for Harajuku and Shibuya today!
Hello Shinjuku, It's Been Two Years
I first came to Japan with @eventualchan and gang, there's still a tinge of familiarity: equally bustly in this labyrinth of a train station. Today, it is my turn to guide Minmin as we navigate Tokyo. First, let us get our Odakyu tickets and JR Tokyo Wide passes. There's no procrastination, do it now, lest we lose ourselves in the wonders of Tokyo and forget about our passes.
Early morning workout

Vending machines excite us
The weather wasn't that cold, at least for now. Probably because we had to lug our baggage across several buildings. Found our hotel, wasn't too shabby. They held our luggage till checkin as usual, while we head off to explore the city!
Colorful and Quirky Harajuku
Felt like a déjà vu moment. Because this was exactly what we did first with my poly mates. Back then we also went to Harajuku and Shibuya. Upon arriving, the first thing we did was to take a picture of the iconic Harajuku Station. It still had the old school "choo-choo-train" feel, whereas most other stations in Tokyo were already urbanized.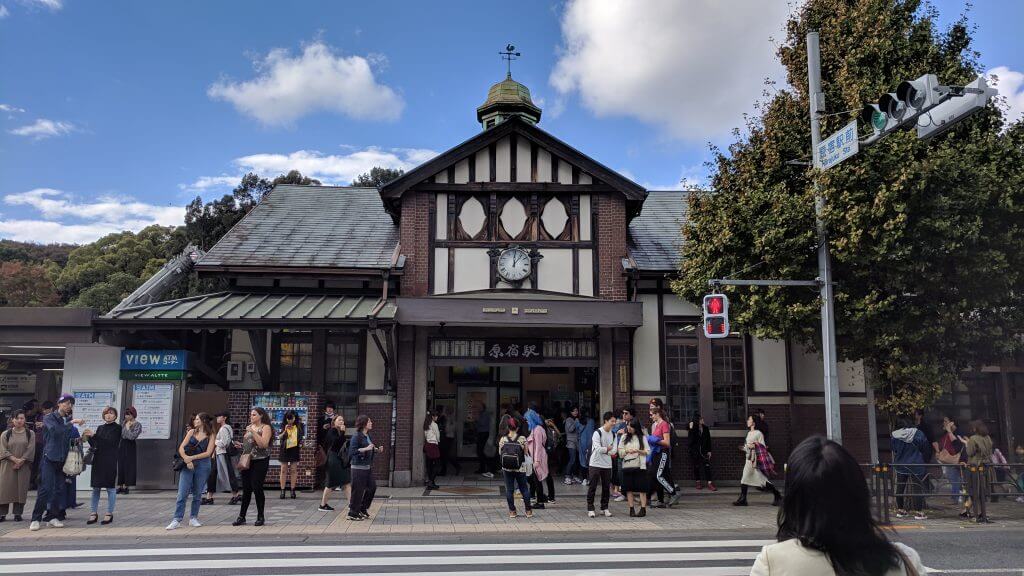 Followed by the damn awesome Takoyaki right outside. I cannot emphasize how delicious these balls are. Harajuku is also known for their crepes and sweets. It seems that every 3-4 shops apart, there'll be a stall selling crepe. With the exact same flavors, and similarly pink storefront.
Frigging awesome tako balls
Another unique trait of this place is this. The obvious number of black men, fluent in Japanese and English, who'd go, "Yo brother, check out my store." And no I'm not gonna buy your t-shirts just because you called me brother, thank you.
The Tranquility of Meiji Jingu
There's no wonder why every single article on itineraries of Tokyo would include the Harajuku-Meiji pair. That's because the Meiji Jingu is literally just right beside the streets of Harajuku. As with all tourists, we just had to take a shot at the main torii gate. Pretty isn't it?
There was a ceremony going on inside apparently, men in black suits and several classy looking couples. Not sure what exactly was going on, but we stood by to admire their beautiful white kimono. Kind of reminded us about the last time when we wore our own kimonos.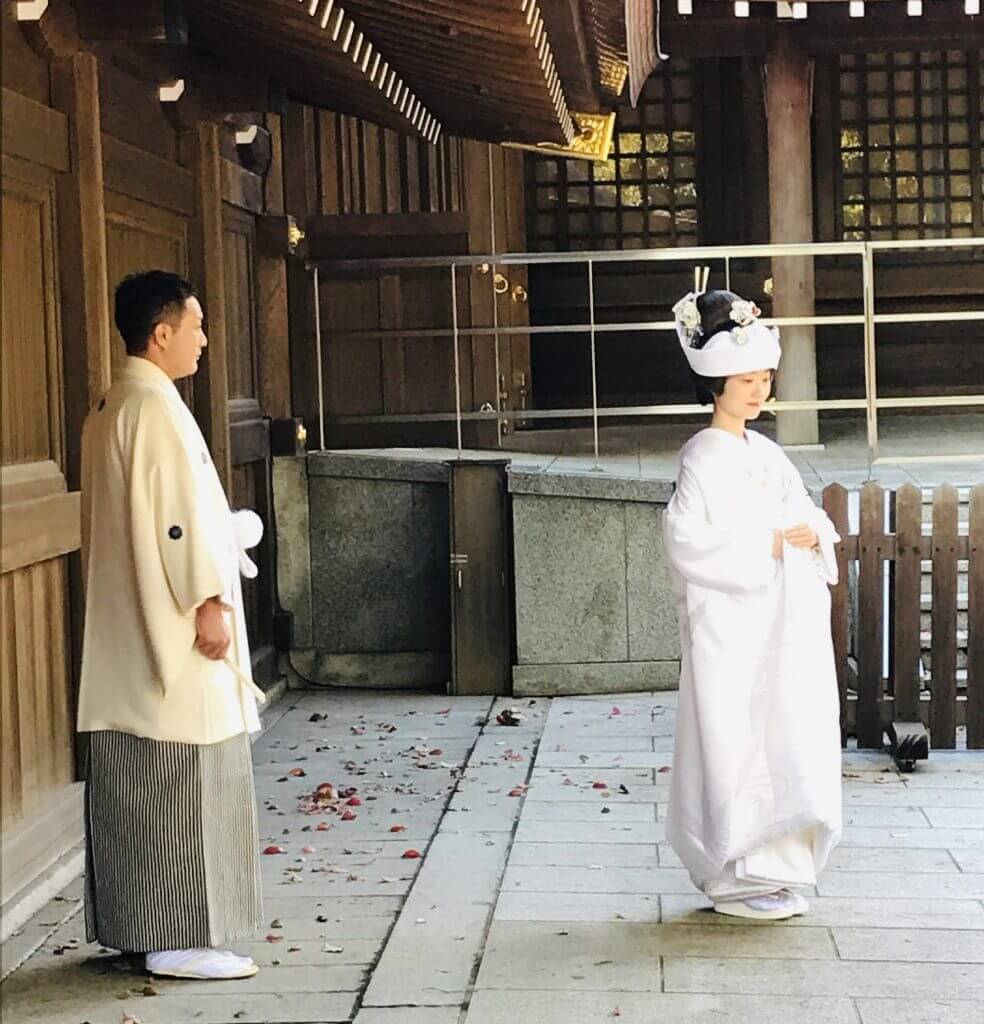 The Crazily Messy Shibuya Crossing
We are here for two things. The first is to witness the 90 seconds of madness, and the second is find the Hachiko statue. We wanted a clear view of the crossing; I read that the best spots are at Starbucks and L'Occitane Cafes. Judging by the silhouettes of the Starbucks outlet, we ain't got a chance. Popped by L'Occitane, but we figured we are not going to pay 15 SGD for a drink just to see the crossing. We found the next best spot, at the JR Shibuya Station. Free entry, yay.
Just right at the entrance of the station, there were multiple signboards leading the way to the Hachiko statue. Oh man I love that show, cried a pail of tears. As usual, the Japanese have a high level of politeness, and will queue up to take photos.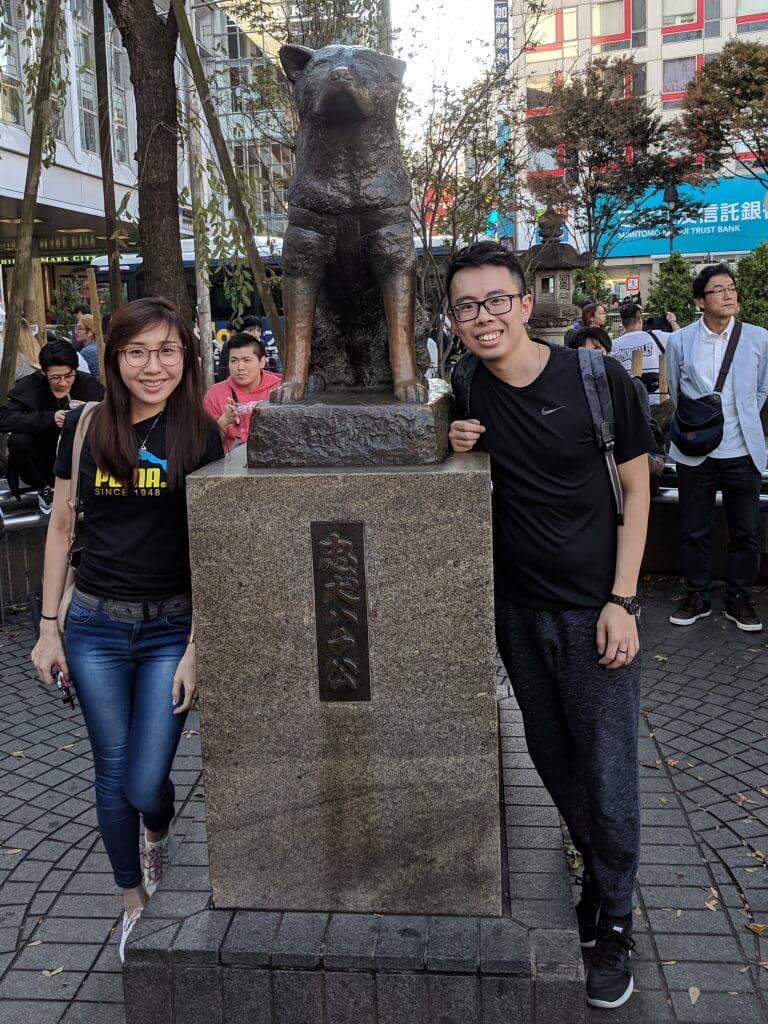 Shinjuku Omoide Yokocho
After exploring Harajuku and Shibuya, we headed back to our hotel to rest. It was past the check-in time, so we could enter our rooms now. Nightfall came pretty quick, and our tummies began growling too. We were strategically located near the Omoide Yokocho. In fact, anywhere in Shinjuku will turn to life after dark. There's really no shortage of food choices here, but we settled upon some meat skewers from the alleys of Omoide.
Cozy alley

Food, food, everywhere
Prior to this trip, I contemplated on purchasing tickets for the Robot Cafe at Shinjuku. There were mixed reviews on it, some say the crazy mindless (non-understandable) singing and dancing was worth it. While others mention not to waste money on it. I figured we were nearly drained by now, and the 6000 yen would have been better spent doing something else. Besides we've still got the next two weeks!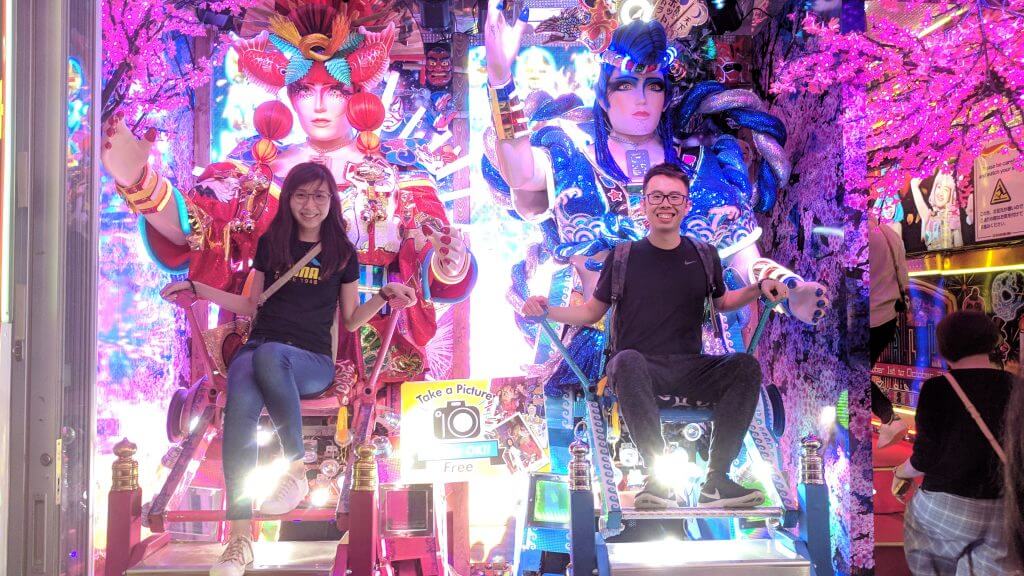 Pardon our shag faces, the lethargy is real. After a long and tiring day, we're finally back in our hotel room, ready for the next day. And as usual, an adventure awaits!