Journey to East Coast of Japan
It's going to be a 2.5 hour ride to Hitachi Seaside Park, therefore we've got to settle our breakfast on the go. There's something exciting about buying breakfast from the Japanese convenient stores. Perhaps it's the unknown flavors that excite us, or colorful bottles that make it ever so attractive. It is also because of the fact that we need to board our train at 6.30AM and we can eat inside the trains, that's why we're hyped. Direct opposite of our rules and regulations back home.
Onigiri

Milk tea and Coffee
Hitachi Seaside Park
We reached there at about 8.30AM, Singaporeans being Singaporean. However we soon realized that the Singaporean spirit has been beaten by others. The crowd was insane and the park operators had to usher and regulate the queues. Oh my, what a morning!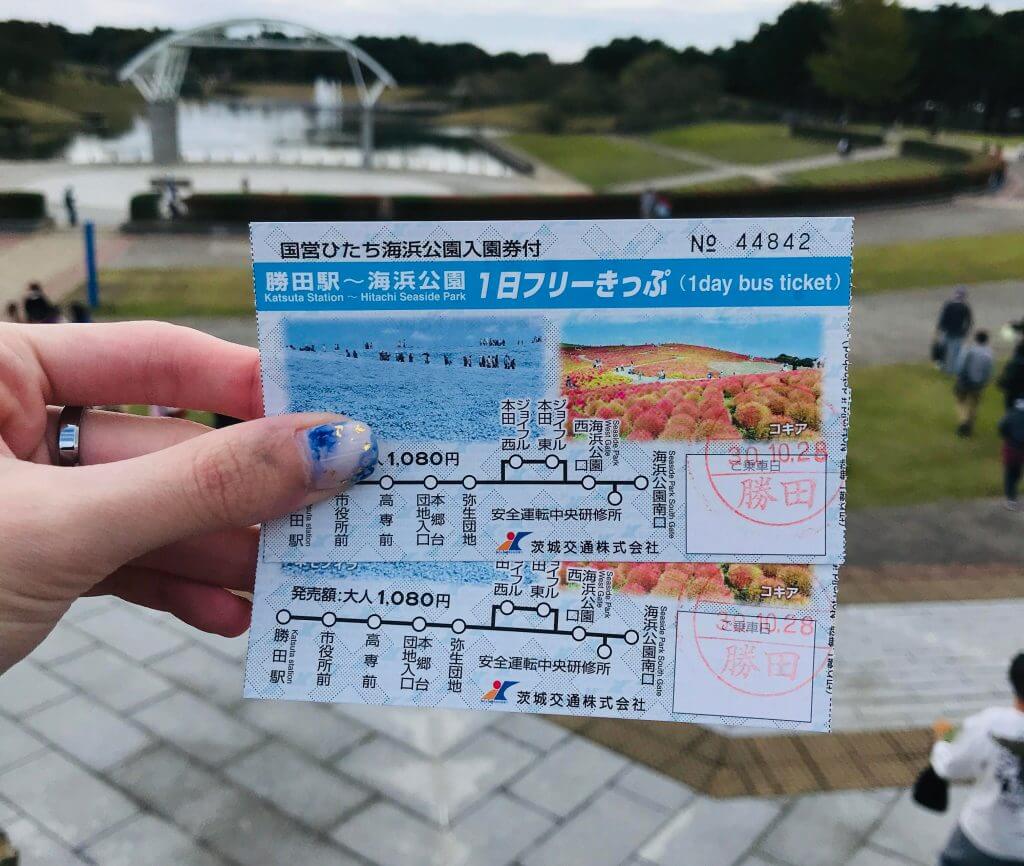 We've seen photos of this place, with blooming vibrant colors everywhere. Largely recommended as "best places" to visit. What we were not told is that different parts of the park bloom at different seasons of the year. Our hopes to take beautiful floral shots were dashed the moment we looked at the brochures.
As you can see, the place looks greener than not. Nevertheless, we were still happy and excited to be here. We told ourselves, it could be just this plot of greenery, the next part would be better!
Some minutes in, we found a humongous Ferris wheel, a part of the park that seems like an amusement area. And there was a mini carnival of sorts, like all theme parks. Except that this place was quite dated. Why not enjoy the cooling weather and take a breather while we're here?
Our first ice cream

Juicy hotdog. Very.
Hitachi Seaside Park Omoshiro Tube
Having replenished some energy after our bites, it's time to march on. Very soon, we reached this very old and outdated playground, and by old I mean as old as Minmin. Not even sure if we are supposed to be headed through this direction into the obstacles. Decided to just try since we were already too far into this direction of the park to make a U-turn.
Honestly there were about a 100 times more spiders than human beings here. What I'm truly emphasizing is that there were only the both of us in this area. It was fun in a sense we had the area to ourselves. But also not as fun because the place was just too dilapidated. If the sky was slightly darker it would have been the perfect setting for a horror movie.
Finally done with the obstacle course, after a session of intense maneuvering! Back to see some 'flowers' again. We are not joking when we say that there are more lalangs than flowers. By now we're already came to accept the reality of the blooms. The focus here is still my lovely flower, Minmin.
This section really looks like random vegetation. It was so far in and our legs were already aching badly. I'm a firm believer of my Google Pixel, surely my phone can do some mojo right? Seems otherwise.
Where are my flowers?

The flowers look dead.

La-langs

More La-langs
The Correct Side of the Park
We finally found a section of the park with flowers and some civilization. We realized that this was where the hordes of tourists went. It seems we have deviated from the paths normally taken.
We were exploring the Hitachi Seaside Park hashtag on Instagram and came across this cute ice-cream. Thereafter, we contacted the fella, and he actually directed us to the stall! No prize for guessing why we are always getting fat. Then we also got us some cute little beary looking pastry. Looks can be deceiving, don't taste good at all, these damn bears.
Have to admit that these red shrubs are quite unique. In contrast to the first leg of the trip, the sea of orange flowers make a loving backdrop for our photos. At least we ended the trip with some colorful pictures.
Soba Lunch at Katsuta Station
We were actually ahead of schedule; we overestimated the amount of time required here. Thus we headed back to Katsuta station, thinking we could explore the area. Unfortunately, the area was as deserted as the obstacle course just now. There was literally no eatery in sight to appease our raging tummies.
Beggars can't be choosers, we don't have a choice except this random soba stall. It was a cosy shop, you'd order through the vending machine, and stand at the bar to consume your food. We have the Standing Sushi Bar in Singapore, but this "standing soba bar" is pretty unique too.
We had 1.5 hours to go, and we refused to sit here in the middle of nowhere doing nothing. Tried swapping our tickets at the JR office, but the closest they could give us was an unreserved slot that was in 15 mins or so.
Totally regretted not getting a reserved seat for the journey back. Pro-tip: Always get yourself a reserved seat for any journey longer than an hour. The additional top-up is worth the energy you save, and that energy is going to fuel your next leg of the day.
Visiting Shimo-Kitazawa
Shimo-kitazawa is a small quaint town near the outskirts of Tokyo. In fact, the streets look just like our very own Arab Street. There were paintings, artsy looking structures and funky street lamps. Even the shops were similar, and sold the same hipster nonsense that we have in Singapore. Meh, we weren't interested in shopping, besides, most of the shops were closing soon. As a result of walking the whole morning and standing the entire train ride back, our legs were dead and our priority is food as usual.
Conveyor belt sushi dinner.

Our plates of sushi.

Our favourite Clam soup.

G for Gyoza.
It was relatively late by the time we're done with dinner. While walking back we also found some gyoza stall. We missed the chance to try it during our last Osaka trip, it seemed like one of the top tier food items. Why not stuff some into our stomachs? And as always, we ended our day satisfied, in preparation for the next day!