The Freezing Cold Karuizawa Town
This morning we are going to Karuizawa! Don't know what to expect, except that it's going to be cold there. Heroic Minmin still asked if we need to bring jackets. Again, breakfast is settled on the go, as we need to travel from Shinjuku to Omiya to Karuizawa. Staying at Shinjuku has it perks, it being a main station, connectivity is good and bento boxes can be found everywhere.
Oh seriously the weather is damn cold here. It says 10 °C but it felt like a freezer. The chill literally goes to the bones, we should have brought more heat packs, damn. We couldn't find a lot of information about this place prior to our trip, so we had to pop by the visitor center to ask our touristy queries. Got ourselves the bus pass which allowed for unlimited rides from here to Onioshidashien. We figured it was shitty value because the intervals were in the 1.5 hour ranges. Doesn't make sense to me, but we'll cover the costs (barely).
Mt. Asama Magma Stone Park (Onioshidashien)
In the year 1783, Mount Asama (I think the one in our pictures) exploded big time. The magma rocks flew here. And then the park was formed. I'm not kidding, I just rewrote the facts from wiki in my own shitty English. There was something about this place that fascinated us. I think it must be the unique black rocks all over the place. We've never seen a sight like this before.
We completed the park, and had 20 mins or so before our next bus departs. I insisted we'd only have 10 mins as we need to figure out where the bus is arriving from. The timetable is confusing, the place had so many damn buses, and the signs on the buses don't make sense. Anyway we found some ice-cream. Matcha ice-cream to be specific. It wasn't exactly photogenic, to be honest the ticket stub looks classier than the ice-cream itself.
Shiraito Falls
The bus map cum timetable is confusing as hell. It also doesn't help when the bus driver is speeding down the hills like Jay Chou in Initial D. Needless to say, we missed our stop unknowingly. Fortunately it we managed to get off at the next stop. Right now we're stuck in the middle of the mountain road, waiting for our bus (hopefully) towards Mine no Chaya for another line towards Shiraito Falls.
Like I said, the bus intervals suck. But it was a blessing in disguise because we actually had enough time to lunch. Thankfully (or not) there was one single shop in the entire vicinity that sold noodles. Udon and soba specifically. Such a cozy shop with a friendly storekeeper, and surprisingly tasty noodles. Not to mention, photogenic as well.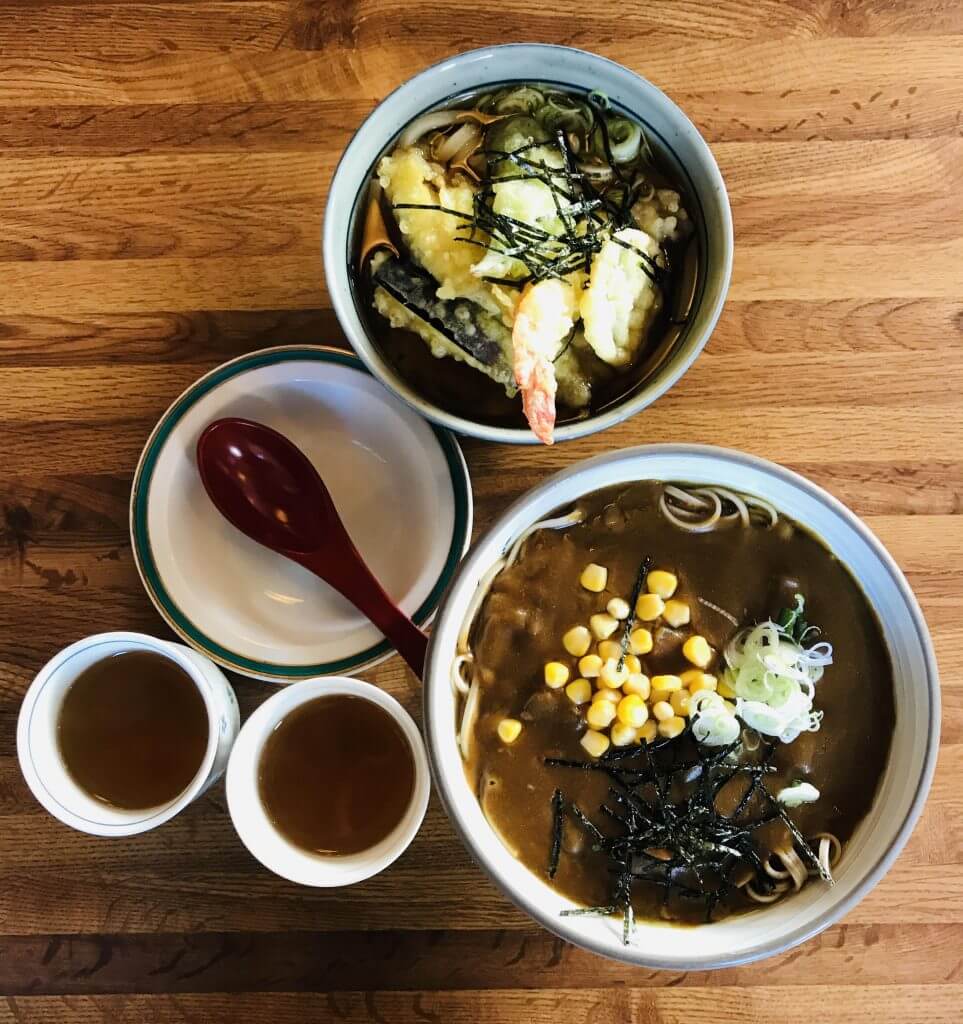 The timing was about right, didn't have to rush through our lunch. But because Google Maps was a little haywire in the mountains, we didn't know where the exact bus stop was. Based on gut feel, we stood by this sign-board that had the timings that matched our timetable. This should be it I guess.
A short bus ride brought us right to the base of Shiraito Falls. It wasn't the usual kind of waterfall; there wasn't any river that connects here. For some geographical reason, it was only about 3 meters tall. It was a pretty sight nevertheless, and the surrounding body of water made the area very cooling. Interesting place, if you're into nature, do pop by!
Kyu Karuizawa
Before we head back to downtown Tokyo, we dropped by Kyu-Karuizawa. Like every touristy spot, there'd be the shopping street. As sadistic as it may sound, having ice-cream in the cold weather felt really good. We seem to be on a quest to taste every available flavor of ice-cream in Japan.
Kyu-Karuizawa

Jam pudding

Honey flavored

Cute manhole cover

Goodbye, Karuizawa
Karuizawa felt special, and it was unlike any other town we've been to. The combination of upscale landed property and the Japanese streets lined with maple trees that made it so unique. Perhaps this will be one of the choices of our retirement spots.
Yurei Kichijoji
We did not manage to check out the scary themed cafe yesterday. And now we are on our way to try another similar one – Yurei Kichijoji. This felt more like a Halloween themed cafe than anything else. Not sure if it was still part of the Halloween decoration since it is still October. As usual, Minmin is jumping at every single thing that moved.
We had to make it through the doors ourselves, nobody served us although they knew we were entering. I guess it is part of the experience. I was more amused than Minmin apparently, she was hiding behind me the whole time.
One of the waitresses dressed as a ghost, welcomed our entrance. She played her part, welcomed us and brought us to our table and did some explanation. I wasn't paying attention to her. I was meddling with the hanging spiders that were voice/sound activated. They'll drop from the top to scare the shit out you (not me, Minmin). Actually I was trying not to laugh the whole time the waitress was explaining. As much as she was trying to set the mood right, I think she was more cute than scary though.
Verdict: The food was nice visually but doesn't taste good. Simply put, it was just hotdogs and crappy canned food decorated to look scary. There was also part where you could "enter the coffin" and have them perform some ritual. In all Chinese superstition, my grandmother would have killed me if I did that. The next table of angmors tried it though, they were having lots of fun.
We are not going into the coffin

Our scary dinner
We headed back early tonight, as we need to pack up for our next leg: Disneyland and DisneySea! The hype is real!