The Happiest Place on Earth
Today we are going to Tokyo DisneySea. We left our luggage back at Shinjuku and brought 2 days worth of stuff with us. Reached Maihama at 7 AM, bought our Disney train passes and checked-in at Sheraton Grande Tokyo Bay. The concierge was world class, they'll bring our bags in while we head off to the park. Bolstered with our extensive research over the last few weeks, and deep understanding of the fast-pass system, we were pretty confident with ourselves.
Our 2 day train pass.

Everything is Mickey
We reached at like 7.30 AM, and we thought, nah nobody's gonna be here so early. Oh we were so wrong. We were probably the 5000th visitor right now. By the way, the park open at 8.30 AM today, duh. Never knew our Singaporean spirit could be overshadowed by the Japanese.
Now a little background about the FastPass system (which you read here). Basically it is an ingenious system that gives every ticket holder an equal chance of riding the popular rides. The main reason why we are here so early is to rush for the most popular ride.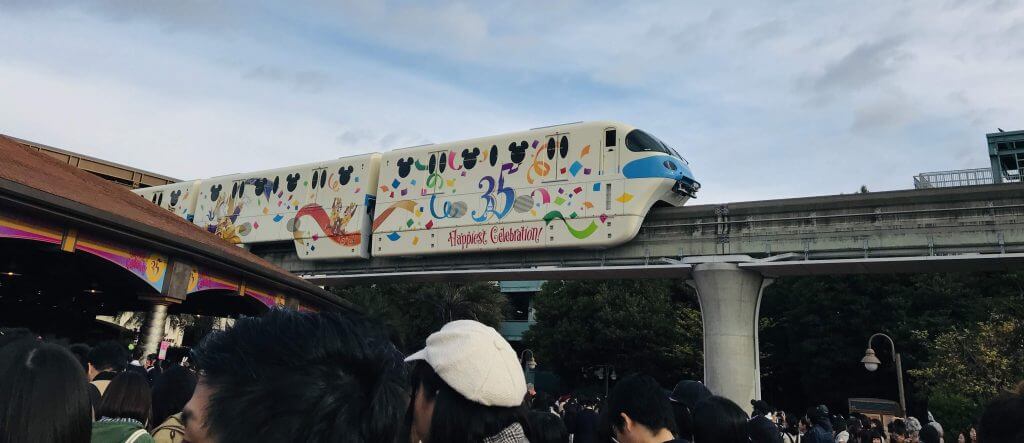 The Rush for the First FastPass
At around 8.15 or so, they slowly let the crowd in. As with all large scale events/attractions, there's the standard security checks. Seriously past the gates, it was chaos. Everyone was running to their desired FastPass stations. Literally. We too ran as fast as we could. I suggest you do so too. But please be civil and polite, do not push.
Anyway we ran to our first FastPass station which is Toy Story Mania. As much as the park staff tried to dissuade the crowd from running, almost nobody cares. We squeezed our way through the chaos and clocked our FastPass at 8.44 AM. Amazing feat for a first-timer I guess. Looking at the insane queue right afterwards, we were relieved. A few minutes late and we'll end up at the back of this crazy queue.
Our first FastPass Ticket.

Look at the queue!
Tower of Terror, Tokyo DisneySea
Objective met, and now we can relax and queue up. The most widely accepted Disneysea FastPass strategy is to first clock the ride of choice, and queue up for the next most popular FastPass ride. For us, it would be the Tower of terror which is just nearby. Because it is just minutes into opening time, the queue was moving fast. I'm amazed by how efficient the rides' queue systems work. It looked as though there were a gazillion riders, but the queue moved really fast.
And yes everything was in Japanese, the dialogues of the ride, the signboards and decorations within. We are totally clueless about this attraction, and their storytelling. We just went "oooh" like this. Basically you'll take the "elevator up" and sit inside the platform, in total darkness watching random laser animations in Japanese. Then in a split second, the windows open, you find yourself 5 floors up, you see the park beneath your feet and you feel your heart in your mouth as you free fall down.
Can you spot us? We are at the top right corner.
Now that we are wide awake after a heart throbbing ride, it is time to relax and slow down. We realized the Japanese really dress-up in Disney themed costumes. Initially we thought they were the park staff, but no, they are park visitors. Some even come in here specifically for photo-shoots. Madness.
20000 Leagues under the Sea
As we entered Mysterious Island, we found another FastPass ride – 20000 Leagues under the Sea. There was no queue at all, so we walked right in. We came to accept the fact that we won't understand a shit here. In this ride you are in a tiny underwater capsule, with lots of spectacular decoration and light settings. It was just fantastic nevertheless.
There's no shortage of food in Tokyo DisneySea. Just nearby, we bought a Gyōza Dumpling Dog and some coffee from the kiosks. The paper cups and food wraps are so cute, how can you bear to dispose them? Anyway it was almost time for the next FastPass window. Minmin rested while I went up to clock our FastPass for Journey to the Center of the Earth.
Gyōza Dumpling Dog and Coffee.

Our 2nd FastPass.
Kiddy Rides at Mermaid Lagoon
Each section had rides that were perfectly themed. Previously Mysterious Island looked like some volcano place. As we entered Mermaid Lagoon, it felt like a different theme park altogether. It was literally the home to The Little Mermaid and all her fishy friends. The rides here were more kiddish, but we decided to go for it anyway. We managed to lock in 3 rides, first being Scuttle's Scooters. Followed by Blowfish Balloon Race. Lastly, Flounder's Flying Fish Coaster. Nothing much to shout about, simple kids stuff. We were basically vying with little kids in queue. No shame at all, no shame.
Port Discovery, Tokyo Disneysea
After all the kiddo rides, we walked over to Port Discovery area to clock our 3rd FastPass – Nemo & Friends SeaRider. After collecting the FastPass, we walked back to Mysterious Island for our ride at the Journey to the Center of the Earth. Basically, the whole ride is in the dark. It simulates an underground mining cart, rolling through the volcanic center. Jerky turns and explosion everywhere. Quite thrilling indeed, it is no wonder this ride is among the most popular ones.
After this, we went to our next FastPass ride – Toy Story Mania. You'd realized by now, because of us fully utilizing the FastPass windows, we had to walk back and forth the different areas. Toy Story Mania was rated as one of the best rides in DisneySea. It is an interactive shooter game, incorporated into a mini ride. So you basically shoot your way through the entire ride and aim to score points with your partner. I must say, this is a truly impressive ride. 101/100!
Head back to Port Discovery for our Nemo & Friends SeaRider. I don't know how many times we've walked past Mysterious Island, because it's right smack in the center. We're actually starting to get really tired. It's actually a 4D ride animation. We can't understand anything so let's just enjoy the animation.
And then for the last section we've not explored, the Arabian Coast. A rather unpopular area, but it had a beautiful Taj-Mahal looking kind of building. Still, this area was scenic and pretty by itself. There wasn't any interesting rides here except for the Caravan Carousel. Nobody wanted to ride this thing, so it was good as we had the whole ride to ourselves.
Smoked Turkey Leg

Isn't it cute?
The Villains World, Tokyo DisneySea
We queued for some random flavored popcorn despite being relatively full. Very soon we realized everyone was heading towards the Mediterranean Harbor. So there was a show upcoming, as there were announcements made on the PA system. I realized we can't make it across the lake in time, so we found a spot nearby and camped there for the show. I don't know where they hid like 15 boats, fully decorated with Disney characters. They just appeared out of nowhere. Couldn't understand the show at all, but we enjoyed the splashing water and energetic music. Love it!
Aquatopia & Indiana Jones Adventure
We had one last pop at a FastPass ride, Indiana Jones Adventure, before the park closes. Contemplated for awhile before getting this FastPass ticket because Minmin was scared. The park staff mentioned it was fast ride but it had no drops so Minmin reluctantly agreed. In the mean time, since Aquatopia got no queue, we went ahead to get some spinning dizziness. Pretty much nothing to do after this already, so we got us some ice-cream and rested our dead legs before the Indiana Jones ride.
Indiana Jones FastPass

Indiana Jones ride
Fantasmic!
As the sun set, it began to get really cold. Knowing how popular the shows would get, we set off the for waterfront at 7 PM to secure a seat. Pro-tip: Bring a ground sheet with you, that is the culture of the Japanese Disney-goers. We really felt dumb sitting in the freezing weather for the hour. It was like 10 degrees, with occasional cold wind. I went off to get us some hot tea, which turned cold by the time I arrived back at our spot.
The whole parade was spectacular. It had amazing light shows, super coordinated pyrotechnics and very interesting animation. I cannot describe how or what it was, imagine the light shows we have back at Marina Bay Sands. But a hundred times more grand. We enjoyed the show, and after a long day, we were still very happy. Truly the happiest place on Earth.
Time to return to our hotel. Before that, went to grab some cup noodles at the family mart. Eating dinner inside DisneySea will cost a bomb, moreover, we had tried all the snacks + ice cream. Let's save up for tomorrow's Disneyland!
Sheraton Grande Tokyo Bay
We finally got to see our room tonight. Our room was huge, we had like 2 king sized beds to ourselves. The biggest hotel that we've stayed in Japan I guess. They say this is the happiest place on Earth. We had a fun time at Tokyo DisneySea, no doubt a tiring one. Some day we will be back!