Nara, Deer, Deer Everywhere
Before taking the Kintetsu Line towards Nara, we popped by Family Mart again to buy our breakfast. This time round we got sandwiches. Damn nice! Henceforth it is decided that our breakfast would be settled via convenient stores. Period.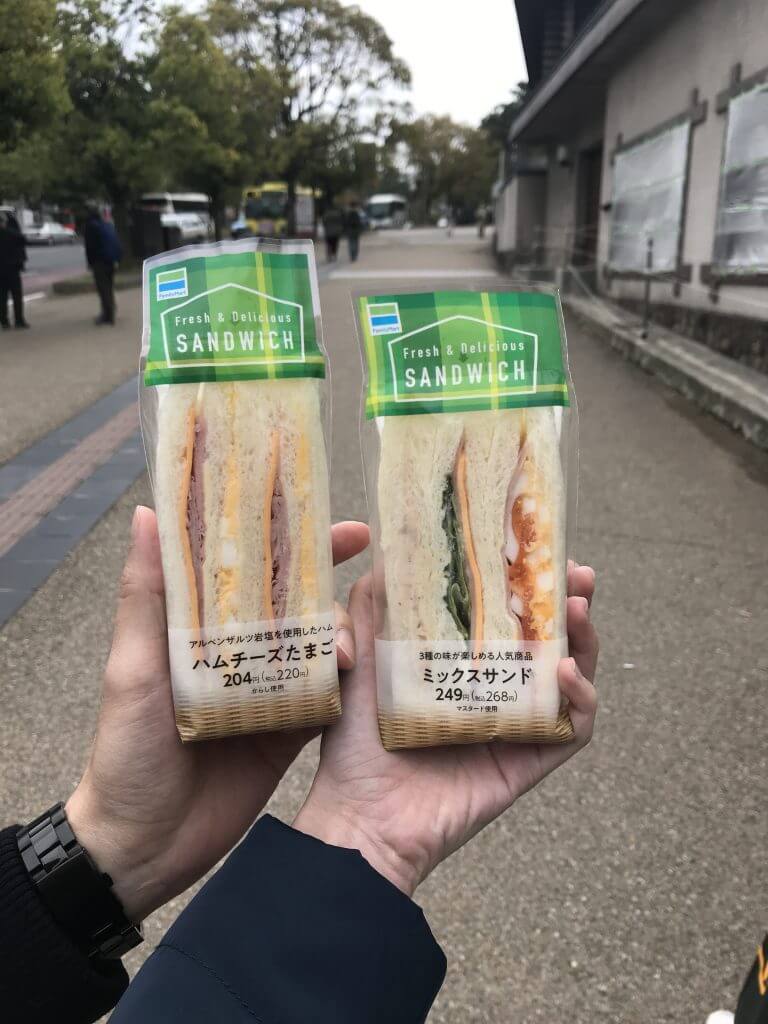 As legend suggests, the God of Thunder, Takemikazuchi once rode a white deer into town. These divine creatures began populating the town till date. Now you may ask, who is Takemikazuchi? Think of Chris Hemsworth as Thor. Now replace his face with 金城武. There you go.
Nara Station, for some reason the temperature here was so much colder than at downtown Osaka. While walking towards the park, we could literally see deer roaming along the streets.
Deer everywhere!

Can you not?
There was a vendor selling crackers for the deer. 100yen for a pack. So we decided to just get 1 pack for the deer. And immediately after purchasing, we were surrounded by these creatures. Amazingly they know the vendor has many more crackers but they don't dare pester him.
Basically the trick is this. Keep the whole pack in your bag and only take out 1 piece at a time to feed them. We've seen the family in front hounded by these furry animals. Yes once they spot you with a pack of their favourite senbei, they will come after you!
Though it didn't cost much, we tried not to be too generous with our treats. Pro-tip: try to distract them with a slice of cracker so that your partner can take a candid picture of you and your deer (no pun intended).


Shit, no more already la dudes!
Isui-en & Yoshiki-en, Nara
We found two gardens at Nara. Reviews suggest that these are a must-go. The old lady at the gates told us that tourists get to enter for free. Free stuff, what's there to consider?
The place is so peaceful and tranquil. In fact, so full of zen that I almost wanted to become a monk. And the best part, we could easily take photos that didn't include random strangers bombing them.
I suggested looking for a place for lunch before we head into the actual park. Based on what it seems like on the map, the area would take us the whole afternoon. It took us awhile, but eventually we found a store. It was a home/store kind of concept, except the owner could only speak Japanese. We were lucky the other diners could relay our message across. To illustrate it's delicacy, if food had GPAs, this meal probably scored 4.5.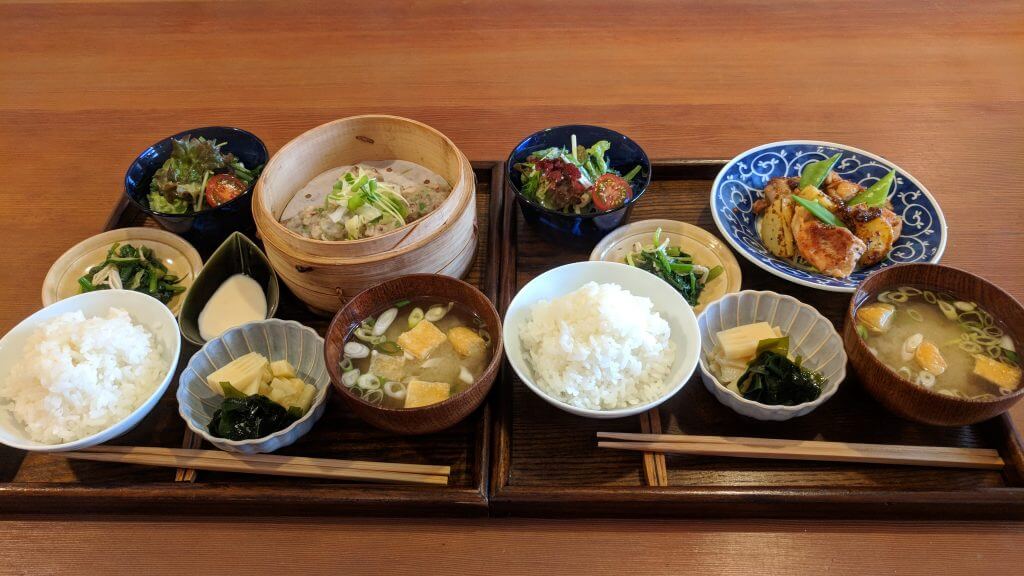 We continued on after filling our tummies. The next few stops were the temples. Got rather switched off by the immense crowd. Additionally, you need to pay to enter the premises. Made the right decision to turn back. Because for whatever distance we've walked in, now we need to walk out. Damn.
Meanwhile we fed the remaining crackers to the deer. So we picked the lucky ones to give the whole pieces to! Judging by the sores on our feet, we must have already burnt off the calories from the past few days. In other words, it is time for desserts.

Sakura flavored ice-cream. Because reasons.<


Green tea mochi. Can still feel the dude's warm hands.
Okonomiyaki & Takoyaki
Dōtonbori, the heart of Osaka. It's basically where we stayed at, tonight would be the first night exploring this area. No words can properly describe the atmosphere here; lively, brilliant. You just have to be here.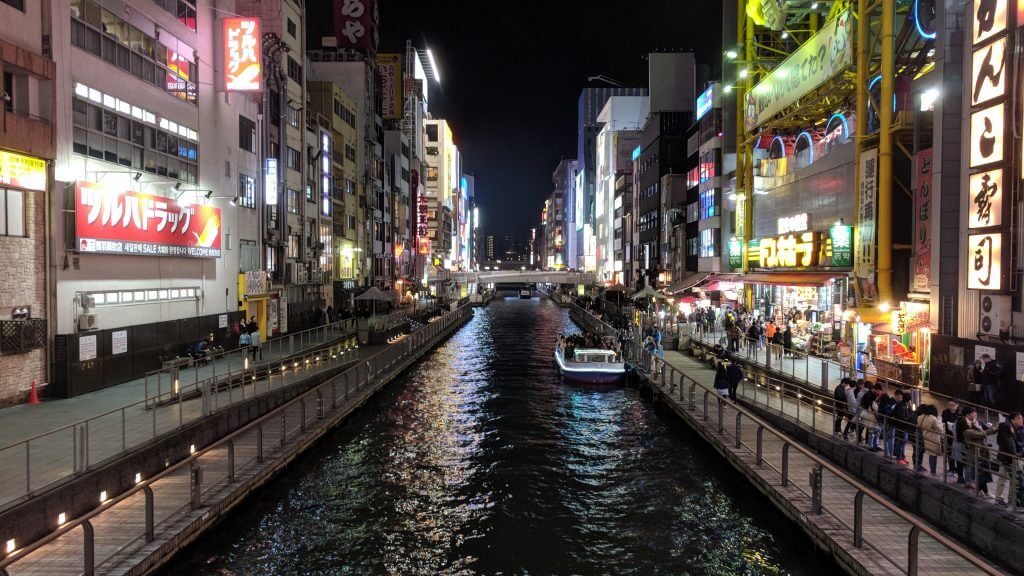 Two dishes that the area is famed for. Okonomiyaki – savory pan fried pancake. And takoyaki – octopus balls. We found this Houzenji San Pei place, small shop with limited seats. There was a long queue, but it was worth every single minute of wait. Including the stink from the smoke inside.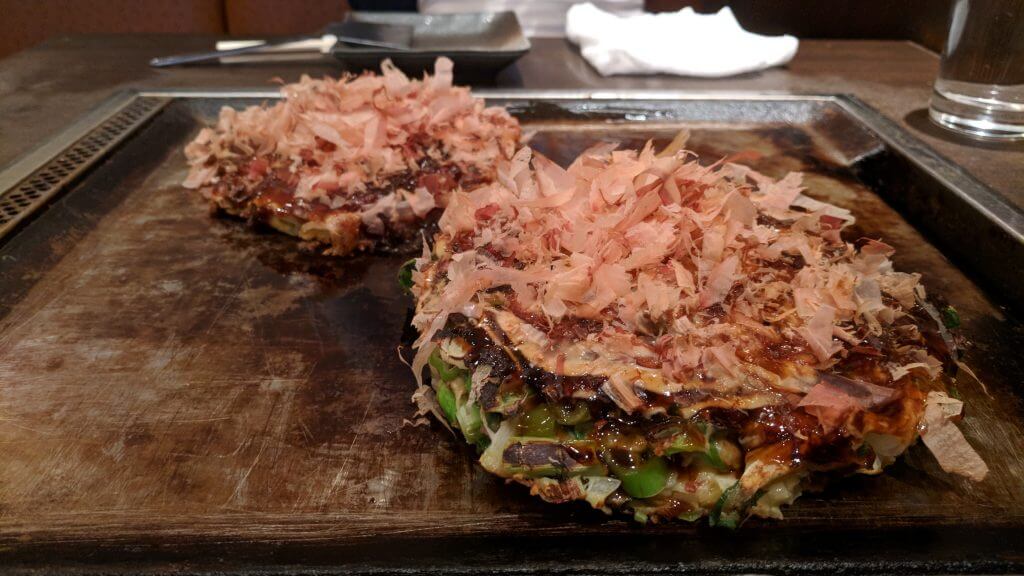 Guess what. Immediately after our dinner, we got ourselves some takoyaki. Ain't nobody got time for digesting! Just look at the squid. And the texture -crispy on the outside and soft on the inside. We'll never ever buy those from Plaza Singapura anymore.
Dōtonbori Don Quijote
No vacation to Japan would be complete without a trip to Don Quijote. I need to show Minmin how chaotic it is inside, with the plethora of random shit that can be found inside. This, is the Japanese equivalent of Mustafa Center. And while trying to get out of this madness, we discovered their very own Ferris wheel. It's actually attached to the elliptical exterior of the building. Like kids getting excited over a playground, we made no haste to hop on the ride. Truly a unique experience I must say.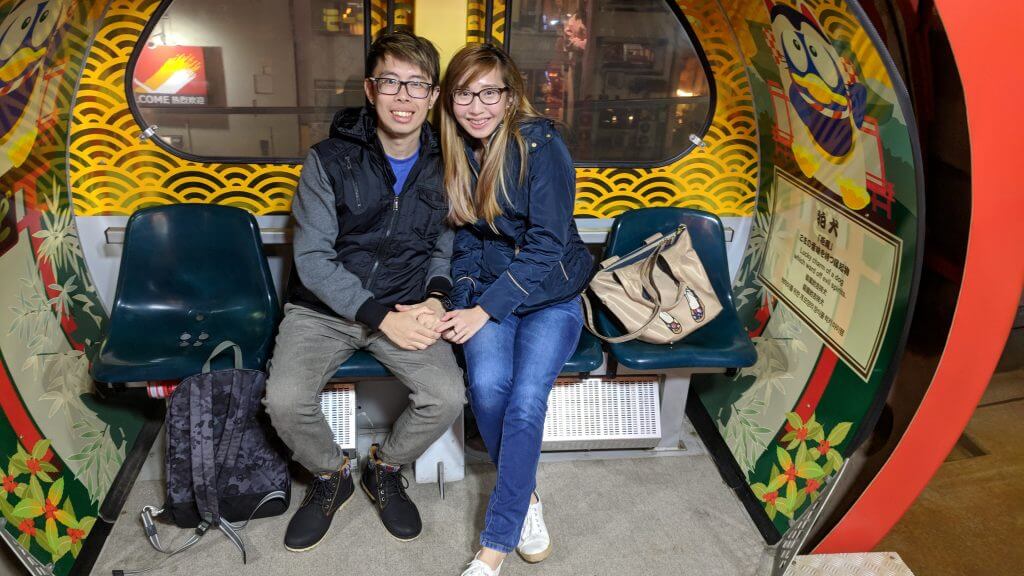 The view from inside the Ferris Wheel.


Oh it is called the Ebisu Tower.
We're loving this place, every moment, every bit of it. One last crazy shot of my girlfriend. I'm not entirely sure what she is trying to do. Well. It's cute though.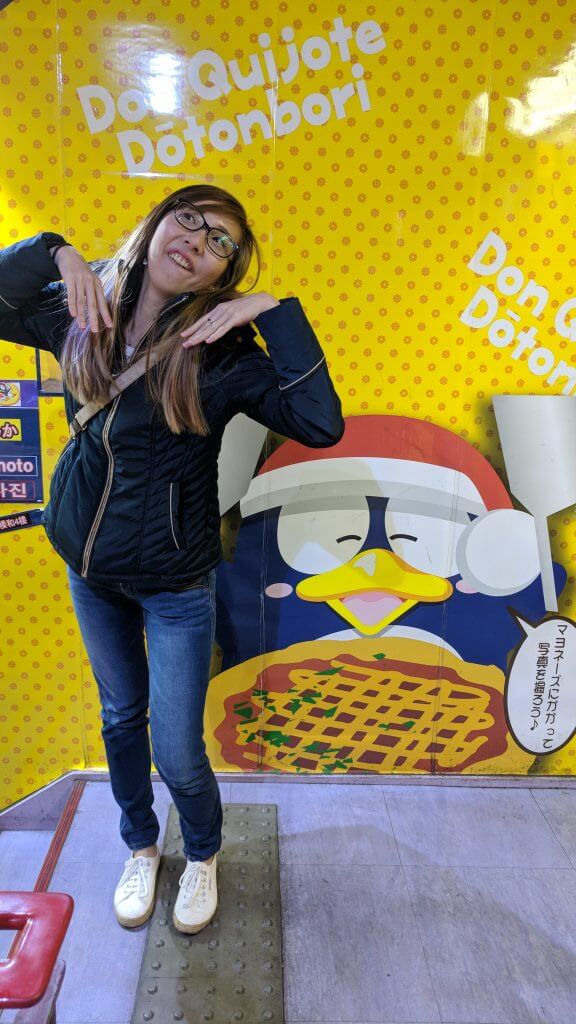 Our accommodation is just round the corner so we could stroll back. The perks of living in the Dotonbori area – there is no shortage of good food, and there's always something to see while walking back home. And so this concludes the fourth day of our journey.