Off We Go to Phang Nga Bay
It's Christmas! Merry Christmas to our family and friends in Singapore!
The adventure for today is the Phang Nga Bay longtail boat excursion. We've booked a tour online before coming to Phuket. Had to say, unfortunately the website we got our tour from doesn't exist anymore. Do a quick Google search and you'd find tons of them, competitively priced.
The tour van came to pick us up at our hotel. It was a few hours ride to the place where we take the boat. Both of us were so tired that we fell asleep. It was a comfortable ride though, a quick recharge for the morning.
Monkey Cave
Stopped at this Monkey Cave attraction. Essentially it is just a cave with a shrine inside. There were several monks inside though, and tourists queuing up to seek blessings. There were also lots of monkeys around the area. Tour guide says, beware of our snacks else they'll snatch them away. Too bad we don't have any. Back to the van, on to the boat pickup point!
Phang Nga Bay Longtail Boat Ride
We've arrived at the jetty. Time to go out to the sea. Before that, we had to put our life jacket on! It was noisy because of the engine of the boat. There was a constant humming, but we got used to it. The scenery was beautiful! The most amazing part was that there was still 4G LTE signal in the middle of nowhere. Amazing indeed.
James Bond Island, Phang Nga Bay
We were alighted at the famous James Bond Island. Apparently, if you haven't visited James Bond Island, you have not visited Phang Nga Bay. It's like saying you didn't visit the Merlion when you had a vacation in Singapore.
Phang Nga Bay is home to numerous islands, called limestone karst towers. The tallest islet was featured in the James Bond movie "The Man with the Golden Gun" in 1974. Clearly it was such an old movie, and we had no idea. However though, it brought tourism to the area, and therefore helped the townsfolk thrive and develop. Kudos Mr Bond!
Touristy places require high level selfie-taking skills. And a certain amount of thickness of skin to ignore others and live in our own world. We are now proud to say that we have been to James Bond Island.
Lunch at a Fishing Village
Back to the boat to the nearby fishing village for our lunch. Not sure where we were, we've long lost orientation. Couldn't catch the name as well, no offense but we couldn't understand the guide's accent. We had a group lunch together with the other folks that are on this tour with us. Literally meeting people from a different countries. Very decent spread, typical Thai cuisines, and home-cooked style.
Had our fill and we still had time. The tour guide told us that this island is a small town. There are shops and even a school there. The townsfolk seldom go to the mainland Phuket, because if they want to, they'll have to take an hour ride by boat. City dwellers like ourselves, will probably die here in 3 days. Can't even survive Pulau Ubin how to survive here you tell me?
Liangliang thinking about Minmin

Minmin thinking about Liangliang

Our lunch

The school
Time to go back to mainland. Goodbye sea, goodbye Phang Nga Bay! It was an eye-opener for us indeed. Right before our boat ride there someone taking photos of the tour group. Now we know, they'd develop the photos while we're out, place them in a neat frame and sell them. We thought it'd make a nice souvenir, and furthermore it was not too expensive! Love this!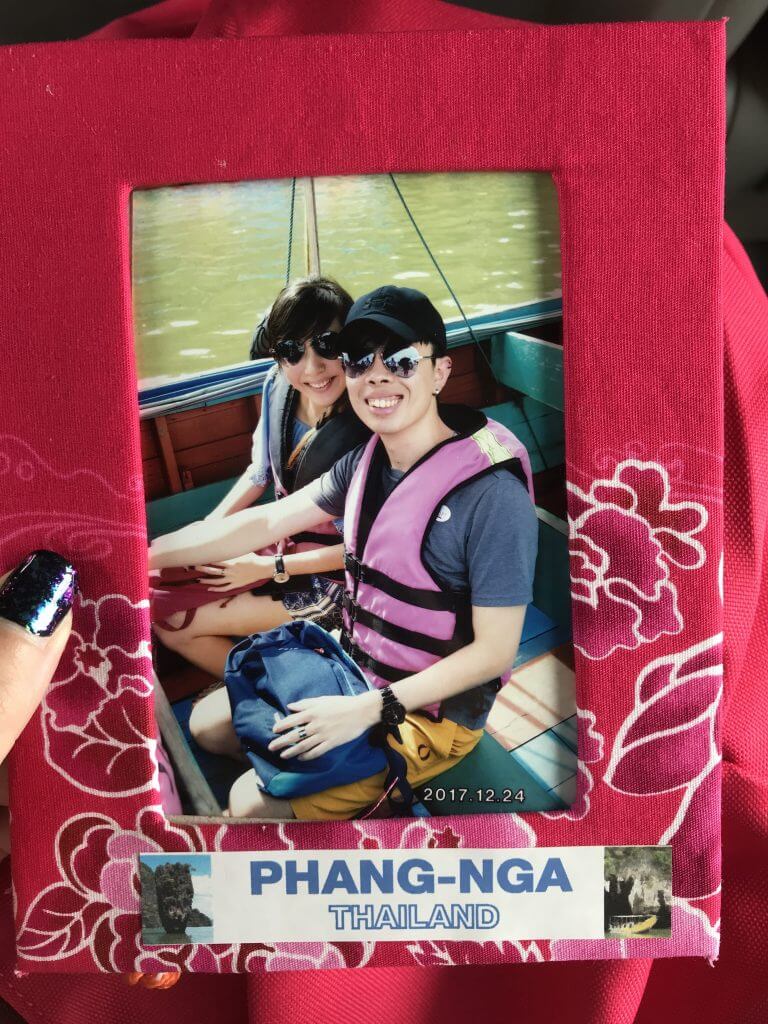 Central Festival, Again
Back to the mini van, but en route to our hotel, they sent us to another gemstone shop again. Can you not? We're not buying your pearls or emeralds or rubies yo. Concluded that all tours in Phuket will end with a stop at the gemstone retailer.
We requested our driver drop us off at Central Festival instead of the hotel. Found a familiar name – BreadTalk! At first I was overjoyed, because in Singapore, seeing a BreadTalk outlet usually meant there is a Toastbox nearby. Sad to say, not in Phuket. Sadded, no Chinese kopi. But our coffee and egg tart was pretty decent, nonetheless. Nice!
Moo Moo Moo Mookata!
How to say you've been to Thailand if you've never eaten their local Mookata? Again it's like saying, you didn't eat laksa or chicken rice in Singapore. Surprisingly, the Mookata there was really affordable. It's about 10 SGD per person. Whack all the meat and seafood! There was a section where we could personalize our sauces and spices. I asked the staff which is the spiciest because Minmin loves spicy. And oops I dropped the ladle into the pot of spices. He didn't seem shocked at all, but instead, immediately stuck his fingers in to retrieve it. I guess I wasn't the first one.
We hitched those motorcycle taxis back to our hotel again tonight. Back to our hotel early because we got to pack our luggage. We'll be leaving Phuket tomorrow. Time flies, especially when we're having loads of fun. But thank you Phuket, you've been nice to us!