Hello Chillva Market, Hello Naka Market
Today's plan is to shift to the next hotel in downtown Phuket, away from the beach area. Then go to two night markets: Chillva Market and Phuket Weekend Night Market Na Ka.
But first, one last breakfast at IndoChine. We don't seem to get sick of the breakfast though. Largely similar but today there was spaghetti, awesome beef spaghetti. Minmin actually ate so much beef bolognese sauce that I believe some other poor tourists have only got plain spaghetti left.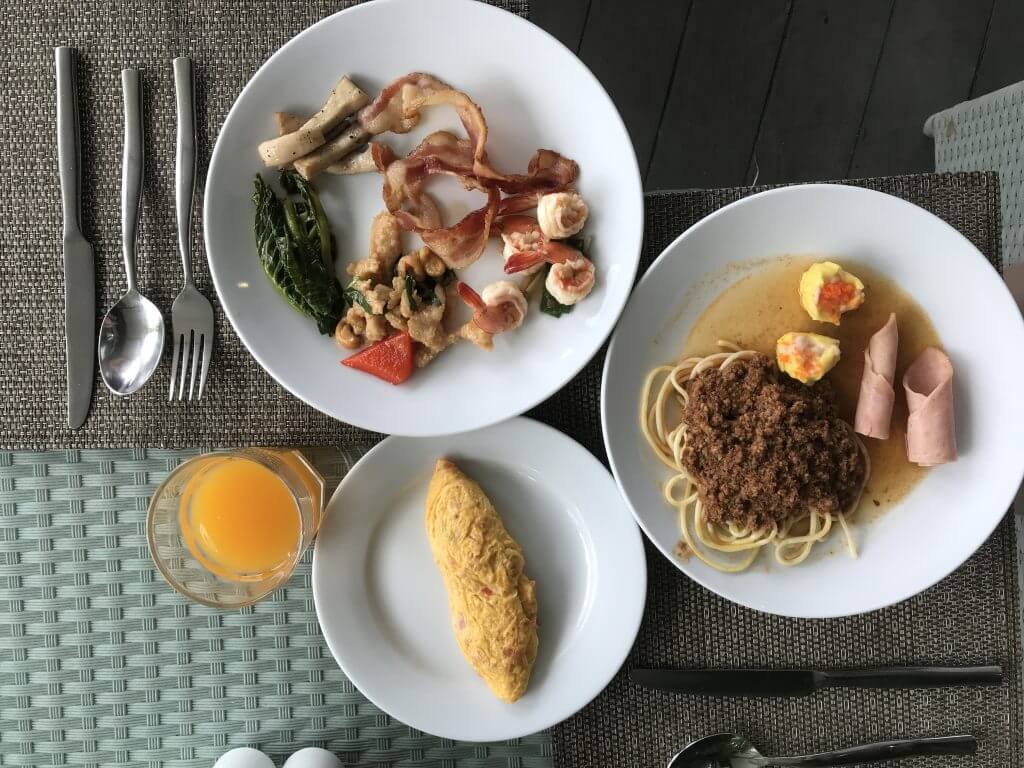 Walked around the resort area, checking out the place before checking out. Time to say goodbye to IndoChine. It was really a nice place to stay in, thank you for the fine experience!
Don't feel like saying bye to IndoChine.

Their swimming pool area.

If you zoom in, you can see a naked man sitting there in his balcony.

View from atop.
To save us the trouble, we hailed a cab directly to Little Nyonya Hotel. Our second accommodation for the trip. This place looks pretty neat too, it was a small boutique hotel. The only downside is that the area was pretty deserted.
The sofa area.

Our big bed.

A bathtub outside our room.

The swimming pool area.
Sugar Dark Cafe
We Googled and found a cafe near our us, so we attempted to walk to the cafe. Then we realized that estimations on Google Maps shouldn't be trusted, espcially in Thailand where there are no proper pedestrian walkways. After all the walking, we finally reached Sugar Dark Cafe. It was a quaint place, in fact, nearly impossible to find amidst the lanes of random houses. We ordered two dessert sets: strawberry waffles and Oreo Shibuya toast. As the saying goes, one's eyes are bigger than one's stomach. We regretted our orders.
Sugar Dark Cafe

Strawberry Waffle (Clearly she's playing Cookie Run)

Oreo with ice cream and bread
Wanted to hail a tuk-tuk but there isn't any available. It was very different here from the touristy beach resort areas. There was clearly zero tuk-tuks on the roads. Meanwhile, I was forced to do a MaximBady rendition.
Chillva Market
We finally found a ride to Chillva, by cab instead of tuk-tuk. There was some event going on here, cheerleaders and emcees and booming loud speakers. Apparently some celebrity whom we have no idea, nor any interest in. Most people were actually excited to see him. We are more excited about the food actually. Wish we had capacity for everything here though. We tried their Thai iced milk tea, sausage, stir-fried beef, and sweet potato balls. Save some space for later on.
Phuket Weekend Night Market Na Ka
We found a tuk-tuk driver that would fetch us to the Weekend Market. He was very friendly, and he gave us a reasonable price for the ride. We call him Mr "OK", because throughout the ride he only said "OK". To an extent we are unsure if he actually knew what we were saying. We told him to pick us up at the hotel tomorrow morning, to kind of pre-book him so we don't need to worry about transport. He said OK. Not sure if he knows what we meant, we'll see tomorrow.
Anyway, more food incoming! What a fat trip. The night market was super crowded. As with all night markets I guess. The thirst was overpowering, and the first thing we got was coconut juice. But they didn't provide us with any spoon, neither did they cut the coconut properly. How do we even eat the coconut flesh? Angry.
Decide to get face masks for later tonight. Minmin was the one that helped me with the face mask. Apparently I don't know how to put it on. When I saw her with her mask I started laughing damn badly. Not sure why but both of us just can't stop laughing at each other!
Our face mask

Handsome Liangliang

Trying not to laugh

Keep laughing at ourselves
For some reason our tummies began growling at around 10 PM. I think it is because we laughed so hard for a good 15 minutes. Earlier on when we walked back, we saw a Thai Boat Noodles just a few steps away from our hotel entrance.
And here we are, delicious boat noodles to end the evening of fun and laughter.