Morning Spent Chilling in Our Bath Tub
The highlight for today will be Baan Teelanka – The Upside Down House of Phuket. Though the affair will be in the afternoon, we decided to get up early and not sleep the morning away. Breakfast was included in our stay, similarly a buffet style breakfast too just like IndoChine. But then, of course not as much of a spread as before.
Right after breakfast, we went for our morning swim. Not that brilliant of an idea, I know. But whatever. We had to make full use our bath tub facility, so we turned it on before going to the pool. We knew it will take a long time to fill up, felt like geniuses when we came back to a tub of warm water. Thankfully it was not as cold as the waters of Patong beach.
Upside Down House
So Mr "OK" really understood us and promptly appeared at our hotel lobby at noon. Really thankful for your service, Mr "OK"! And here we are, on the way to the Upside Down House, on his little yellow and red tuk-tuk. He waited outside for us though, and we felt bad because it seemed like he'd have nothing to do. We bought the combination ticket to all the mini attractions of this place: the main house, the tree-house, the garden maze, and the drunk box.

Even the dustbin is upside down.

Hugging the upside down house.
Of course we went to the main area first. The house was literally built inverted and fully furnished with a living room, bedroom, study room, and even a toilet. Basically every household item was glued to the ceiling. All we had to do was to pose as though we are upside down. Once taken, flip the photo around and it'll look as though we are floating.
Doing handstand on the drawer.
We pretty much finished the house in an hour. Next mini attraction was the nearby Tree-house. Nothing much, just a scenic tree-house built with some old school objects inside. Got a feel of how simplistic life was in the past.
Ms Minmin

Mr Liangliang

Perfect shot, courtesy of the staff there, and my Pixel.
The Garden Maze
I'm not sure how this can be deemed as an attraction. It essentially is an area of overgrown shrubs, trimmed into a maze. The most difficult part of this "game" was to endure the bombardment of mosquitoes. This morning we had a buffet breakfast, and now it's our time to pay back to nature. While we were at the top, Minmin decided to snap an aerial view so we'd be able to get out easily. How smart!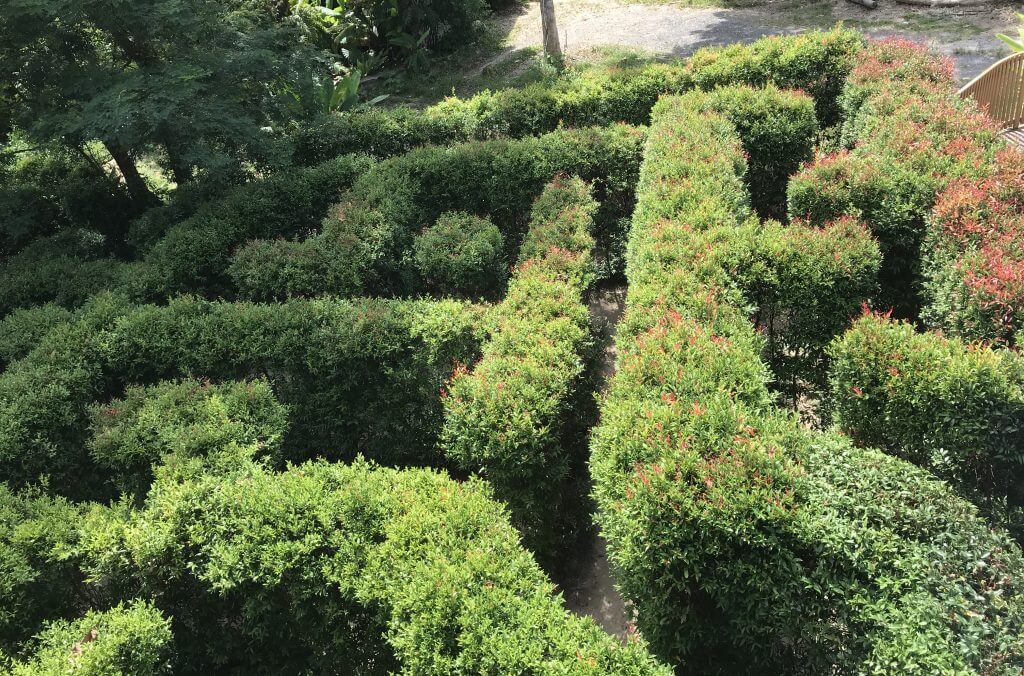 Upside Down House, The Drunk Box
The Drunk Box is a smaller attraction right outside the maze, with about 3 rooms that were built with everything tilted. It gives an illusion of you about to fall down, yet when your body tries to counter and stabilize, you'd fall the other way round. It's quite dizzy actually, and very much of a mindf*ck. Fun, but we can't stay longer else we'd puke our breakfast out.
Oh no. I'm feeling giddy.

He thinks he's Michael Jackson.

Oh yes. This is so fun.

She thinks she's Superman.
Mr "OK" was supposed to send us to the next location. However his tuk-tuk broke down. He asked someone else to fetch us instead and we got a car to travel with instead. Goodbye Mr "OK", we'll miss your red and yellow tuk-tuk!
Thank you Mr "OK"!
Old Phuket Town Walking Street
Our tummies were complaining badly. Didn't care less, and we popped into the first eatery we saw when we arrived near the Old Phuket Town Walking Street. Simple yet tasty, basil chicken rice and phad thai.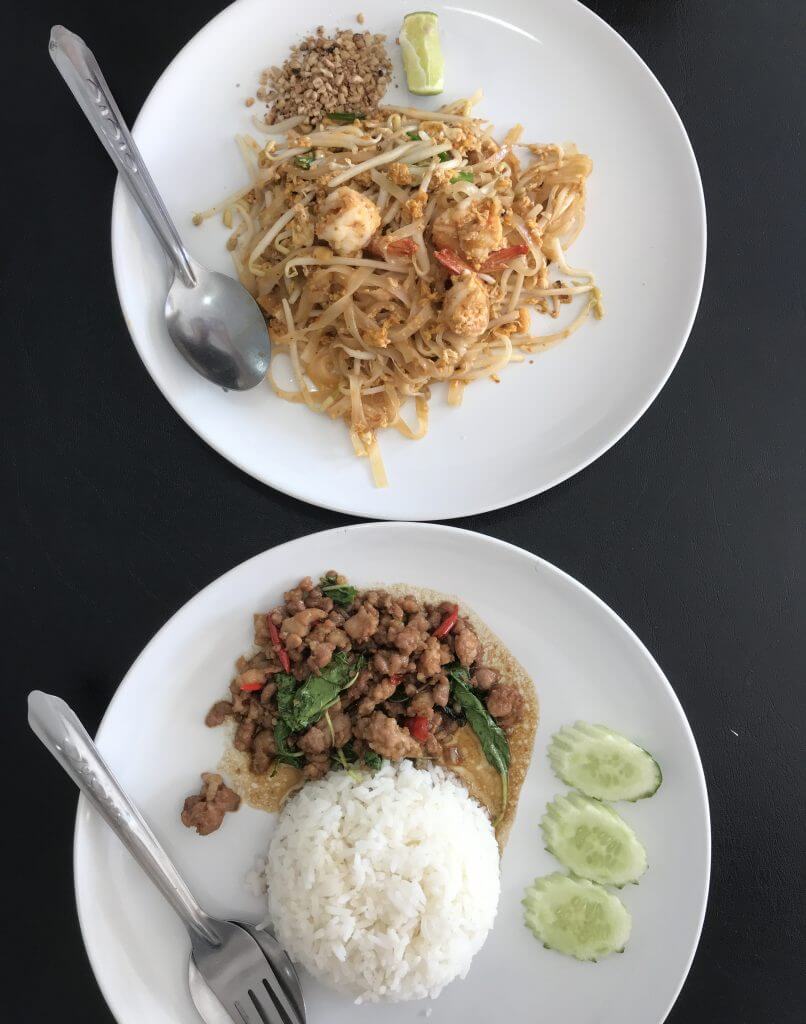 The area was very much like our Arab Street. The shop-houses were painted with vibrant colors, and there were pop-up stores in the middle of the street. Very much like those we'd find at flea markets. However the sun was blazing at its peak, and we tried our best to hide along the streets for a bit.
Bought some pastry snacks along the way. It was not bad though. Till this date, we still have no idea what we ate. The closest relation to what we have in Singapore, is mee jiang kueh.
The tiny Mee Jiang Kueh.

There are fillings inside. Taste good!

The circle looking snack.

Taste good too.
And, we finally found a cafe selling Chinese coffee. Well, it stated on the menu, kopi, and the cafe interior does look very Chinese. Made my heart skip a few beats when I found it, only to become extremely disappointed when I took a sip. It's just like any other Italian coffee duh. Fine, give them credit for making the interior of the cafe look interesting.
The Pizza Company
Hopped on a tuk-tuk bound for Central Festival. It's a large shopping mall, very similar to Tampines Mall or Plaza Singapura. Brought Minmin to eat at The Pizza Company for dinner. Surprisingly, the pizza was delicious, soft crust and springy cheese. Pricey but still affordable, worth it!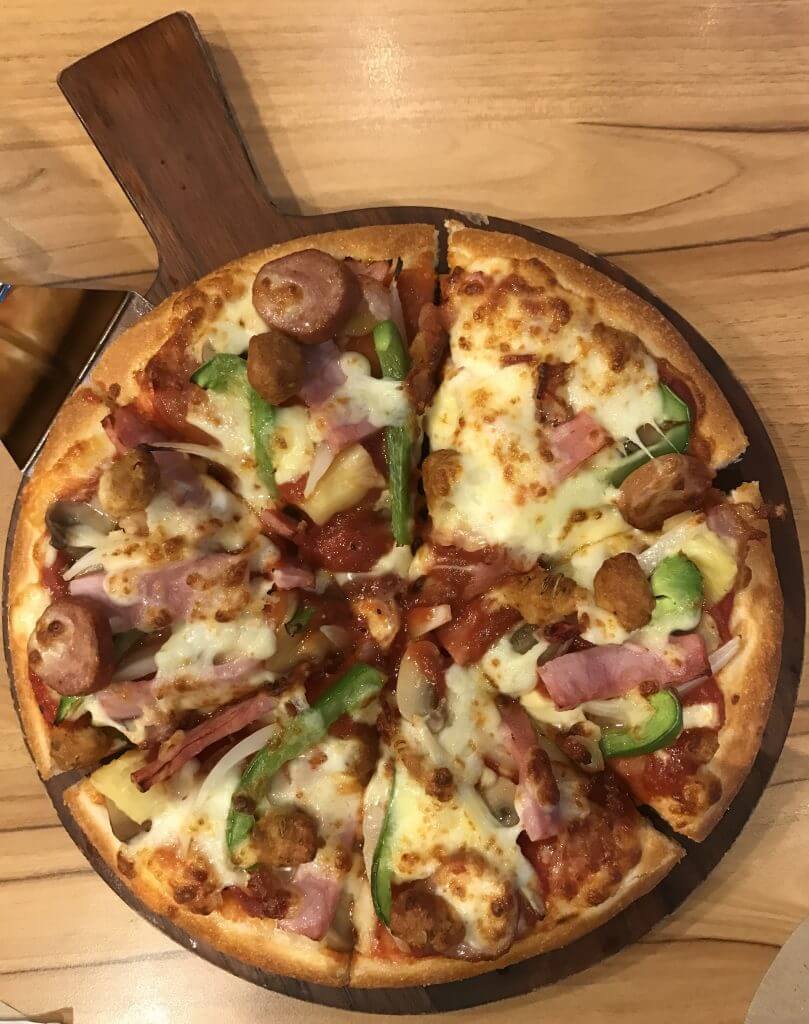 We wanted to take a cab to Naka, but realize it will cost us quite a bit. There were a number of motorcycle taxis right outside the mall, at a fraction of the cost of a cab. I don't mind trying, but Minmin was nervous. Nevertheless she agreed, so driver first, Minmin in the middle and me behind hugging her.
We came here again because we didn't complete the area last night. We bought a rubber chicken toy for Minmin's sister. She's so going to regret this haha! Sweaty and all, we decided to just get ice cream roll for ourselves before walking back to our hotel.
This was our first time spending Christmas overseas. I actually brought her Christmas present and handmade Christmas card. Kudos to myself for lugging a pair of Superga all the way from Singapore.