Rokkosan, or Mount Rokkō
A few days ago we exchanged for our Rokkosan Tourist Pass. Remember that I said, spend some time exchanging all your passes in the first or second day? Without that we wouldn't have had this amazing farm experience today.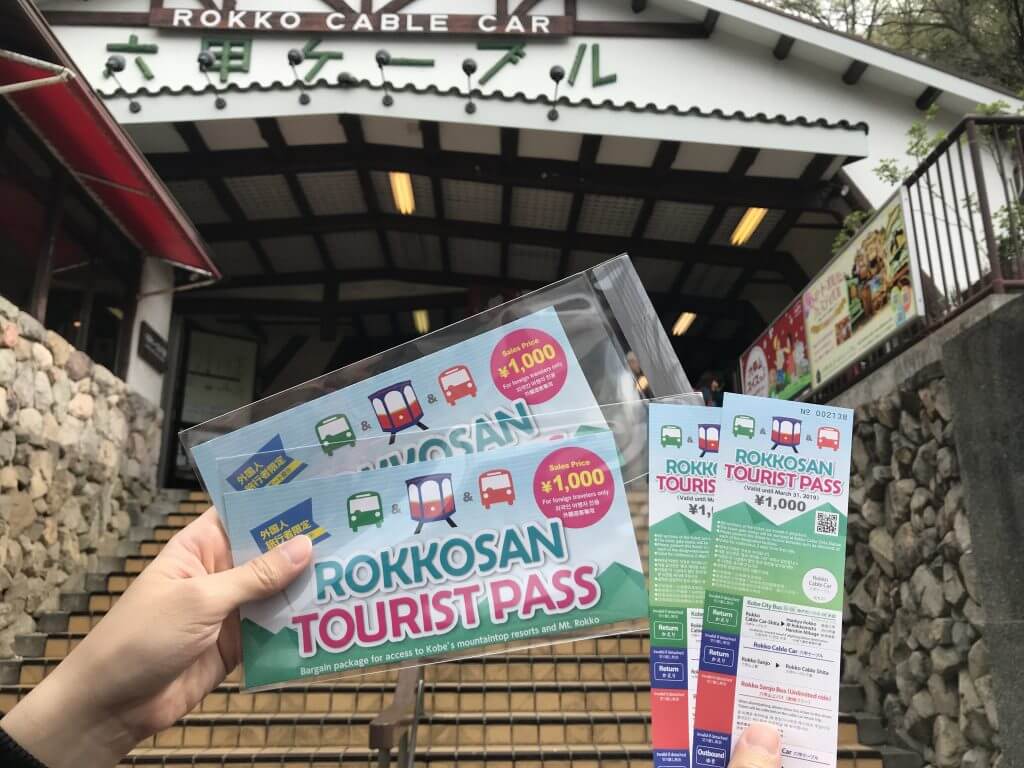 So up we go, to the top of Mount Rokko. The first leg of the journey was a cable car ride up to the top (obviously). Now there's a fundamental difference in the way we term our Singaporean cable cars (Mount Faber and all), versus how the Japanese call it. Our version of cable car is what they call "ropeways" here. Cable cars in Japan meant these diagonal looking single directional floating cabins.
It was a cool trip nonetheless
For some reason though, the entire cabin was filled with senior citizens. Not sure if we went on the wrong tour. When we reached the top, the disappointment skyrocketed too. The place looked like it hasn't been renovated since my grandmother's era. Sad to say, win some, lose some. Why not make the best out of this while we're here?
The ticket looks nice but…

Thumbs down for this
Random picked one of the attraction of the area. One that we thought looked coolest. We went with zero expectations, given the state of this place. And we still needed to pay 200 yen. Nothing amazing. Not impressed.
Rokkosan Pasture
Now this place was more like it. We were spared of the torturous attractions earlier on. This place was so much better. In terms of looks, it still looked as old as Minmin, but nevertheless the activities inside were fun-filled.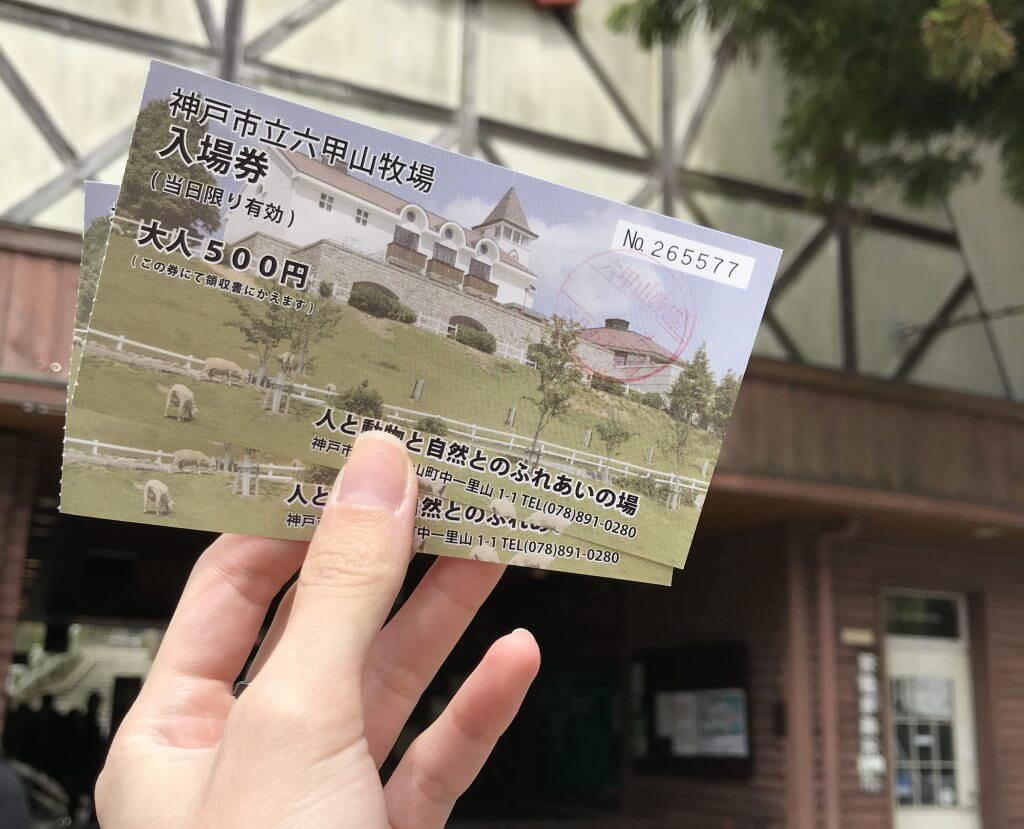 The white sheep

The black sheep
In all honesty we've never been to a real farm. Closest thing was the zoo. This place is like an open zoo. Sheep roaming freely around the place. The first station was the goat pens. Bought a bunch of goat feed for them. Now some of these animals are being assholes. Those with developed horns literally ram off the younger ones just to get the food from us. Duh. Bad goat!
Best Friend Forever

Look at his tongue

Communicating with the goat

Look at the tongue! So cute!

Dude why you bite my jacket
And as we moved on, we fed the sheep with the same goat feed. Don't think we were supposed to do that, but it looks like they'll eat the same shit anyway.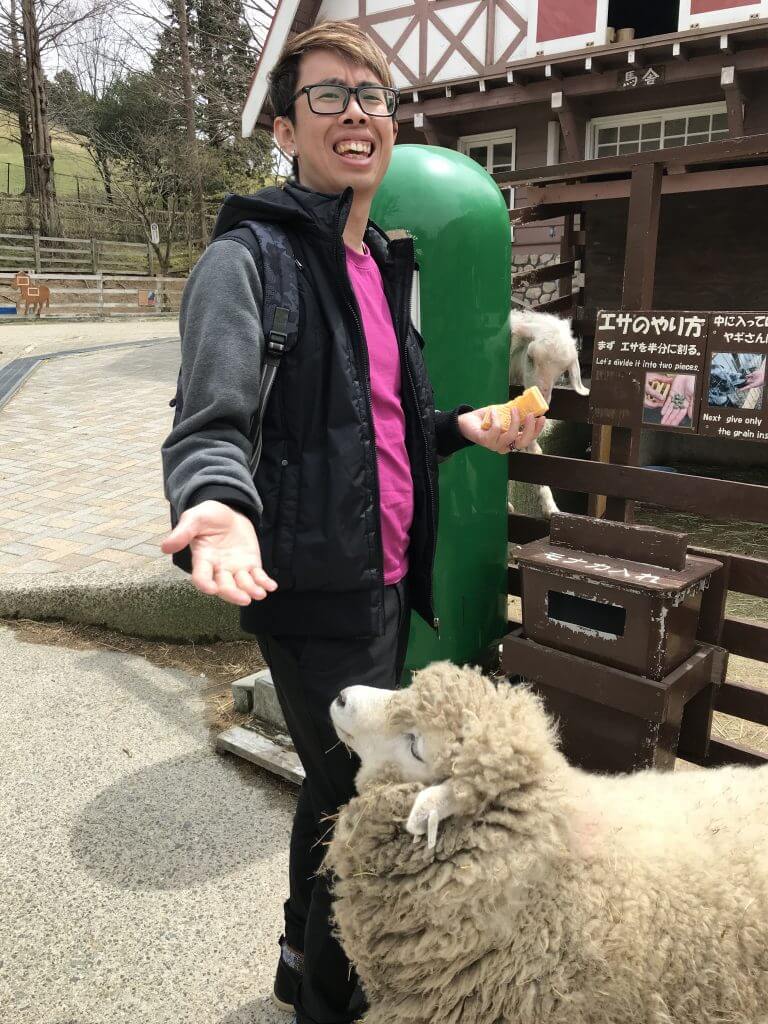 And then we encountered the horses. Literally gave them the same shit as the goats. As can be seen, these farm fellas eat about anything that is given to them. I'm not an animal nutritionist, but they seem to be loving the food.
I think the horse want to kiss Liangliang

Hi Mr Horsey
I seem to have an affinity with the farm folks. They allow me to take pictures with them this close. But when Minmin tries to, this happens.
Liangliang with the cow

Minmin with the cow
Not sure why but all the animals seems to love me a lot. I think I was an animal charmer in my last life. And that's how I could charm this pig over here; her name is Minmin. Actually we both know the reason why the animals prefer me over her. And that's because she didn't wash her hair this morning.
Lunch Time at Rokkosan Pasture
There was almost no food options up here at the farm. Unfortunately, most of the shops were either closed today, or closed for good. Therefore we had our lunch at the only available stall. Not photogenic, but decent taste nonetheless.
How is a meal complete without ice-cream? We found a stall selling cow milk ice cream and fresh cow milk. Then again, what milk doesn't come from cows?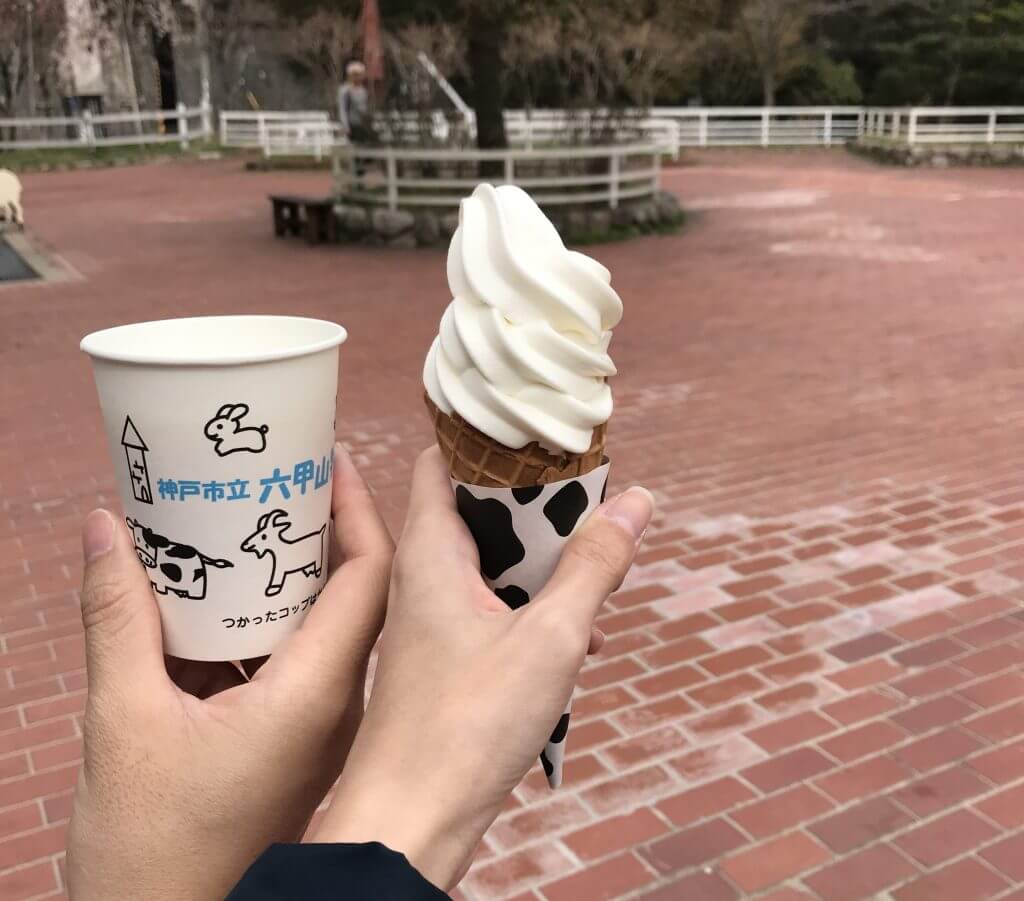 Meriken Park, Kobe Harborland
Next up on our list is Meriken Park. The journey was long, and on our way we saw Mister Donut. Seems that this shop is on the league with Dunkin and Krispy Kreme. Bought one, and some coffee, and chilled at the harbor area. Many others recommended this place, I wouldn't though unless you're here to kill time just like us.
As we made our way back to Sannomiya, we chanced upon a small stall that sells Japanese croquette. Pretty damn decent croquettes, it's no wonder why there would be a queue in the middle of nowhere.
Non photogenic food item 1

Non photogenic food item 2
After splurging our budget on yesterday's Kobe beef, we had to watch it tonight. Thus, simple meals at the nearby food street before heading back early.
It was a fun filled day, with lots of interaction with the farm animals. Felt like kids once again. Tonight we need to pack up early, as we're headed back to Osaka tomorrow!